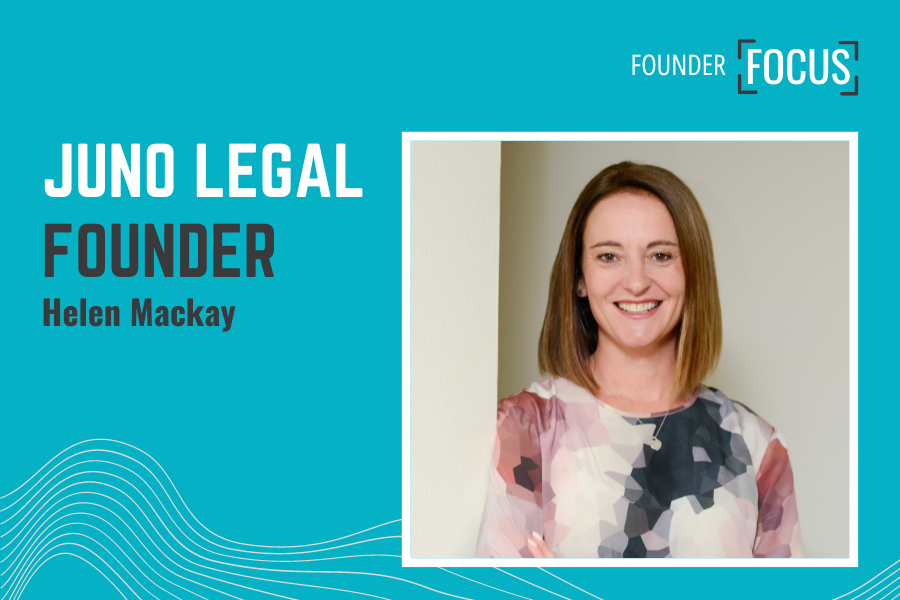 In Founder Focus we introduce entrepreneurs and innovators working on our next generation of new business startups, social enterprises and small businesses.
---
At a glance
Founder: Helen Mackay
Founded: 3 April 2017
HQ: Wellington
---
Can you tell us a bit about your business?
Juno Legal provides on-demand in-house legal services to businesses and public sector entities in Aotearoa New Zealand. Juno is one of the first law firms to transform the traditional law firm way of working. The issues associated with the law firm business model are well known – high stress, lack of diversity and lawyers wishing to pursue other interests or family commitments while also practising law.
In a tight recruitment market, Juno Legal attracts and retains talented lawyers who make a real difference in our clients' businesses. The Juno model is employee-centric and enables lawyers to engage in high quality interesting work, while leaving the space for other things in their lives. Juno creates unparalleled value for its lawyers who are well-paid for the hours they choose to work and also completely free to engineer their own work lives.
Juno listed on the Deloitte Fast 50 in 2021 as the 33rd fastest growing company in New Zealand, the first law firm to ever make this list. Juno's remuneration structure promotes initiative and social contribution. 1% of firm profits are donated to a charity or cause supported by each different lawyer or practice professional.
By building Juno as a community and putting the interests of its people and its clients in front of financial incentives, Juno is sustainable and continues to attract more demand than it can currently fulfil.
What's the backstory for your business idea?
I was a senior general counsel working in a publicly listed company working 50+ hours per week while juggling the needs of two young children and pregnant with my third. I felt constantly stressed and like I wasn't giving my best in any area of my life. Something needed to change so I took on a 20 hour per week role leading the industry association for in-house lawyers in New Zealand. To perform the role at the level required, I delivered 30-35 hours per week which underlines the penalty that many part-timer workers pay.
On the demand side, other General Counsel often told me they needed access to senior, strategic in-house lawyers on an interim basis but there is no contractor market for lawyers in New Zealand as you have to qualify to open your own law firm before you can contract.
In 2017, I decided to create a B2B law firm of in-house lawyers who could all work flexibly and get paid for every hour while delivering exceptional and agile legal services to businesses.
What programmes, learning or mentoring have been of assistance so far?
So many! I had great support from the Wellington Regional Economic Development Agency, my two coaches and numerous other founders who were generous with their time and energy.
Joining Entrepreneurs' Organisation (EO) two years ago has been a game-changer as other founders' shared experiences are so useful.
Favourite books include all the Jim Collins and Patrick Lencioni titles but new finds like Dr David Rock (we use his SCARF model all the time) and Michael Gerber's The E-Myth Principles.
---
WORKING ON SOMETHING NEW, INTERESTING OR IMPORTANT? JOIN OUR COMMUNITY OF FOUNDERS AND TELL US ABOUT YOUR VENTURE HERE.