Entrepreneur Interview: Tim Gallagher, SafeSwiss
---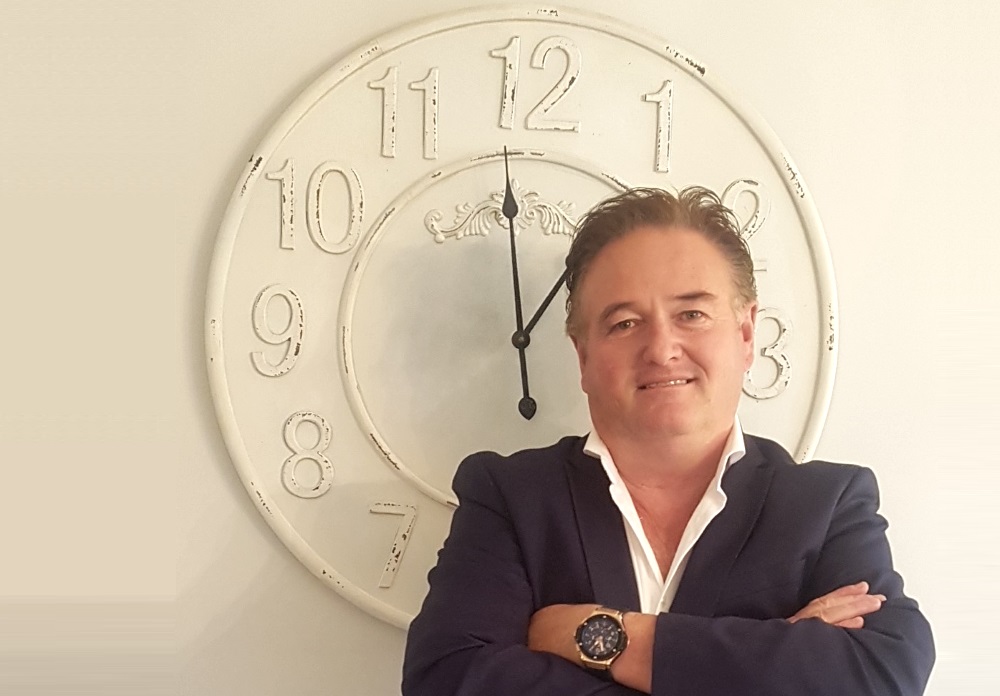 You'd be forgiven for believing Tim Gallagher was born an entrepreneur.
From starting a nationwide trellis fencing business in his garage at 3AM, to glow-in-the-dark stair nosing, to importing jet skis, to running the world's most secure private messaging app, Gallagher's journey is an embodiment of Kiwi persistence and perseverance. Along the way Gallagher has experienced some incredible successes along with some devastating lows; moments which would cause even the heartiest of entrepreneurs some sleepless nights.
As his latest venture SafeSwiss is poised to become his most successful to date, I spoke with Gallagher to hear more about the story behind it, to discuss the future of privacy in our digital age, and to hear what he's learnt in his years as an entrepreneur.
I began the call asking Gallagher to tell us a little bit more about SafeSwiss.
"SafeSwiss provides encrypted communication solutions designed for the masses. Our secure messaging apps for Android, iOS and Windows utilise state-of-the-art 256k elliptic curve end-to-end encryption."
For those unfamiliar with encryption this kind of security was (until very recently) available only to governments, banks, the military and HNWI ("high net worth individuals"). Effectively, SafeSwiss claims to provide the highest level of protection to any individual on the planet wishing to safeguard their communications.
I figured the story of how a humble entrepreneur from Christchurch came to build the world's most secure messaging app must have been a good one, so I asked Gallagher to tell it.
The journey began when he and business partner Kerry Bird had developed a unique digital media storage card and were in talks about building them for a few major movie studios in the US.
However the cards were unsecured after being decrypted at the point of sale, and the pair were forced to find a way to re-encrypt the cards. As Gallagher says, "all roads in encryption lead to Germany and Eastern Europe", so that is where they went.
The initial costings on the digital media card would end up rendering it cost prohibitive. But whilst in Munich Gallagher and Bird were introduced to an encryption specialist.
"This guy had a very basic genesis of a secure VOIP (Voice Over IP) engine utilising next-generation 256K Elliptic Curve Cryptography (ECC), but nothing to turn it into a viable consumer solution." The duo saw this as their opportunity to pivot and focus their attention on a total end-to-end encrypted communication solution.
"We came up with the name SafeSwiss, as Switzerland is synonymous with security, privacy, and quality. We purchased the SafeSwiss.com domain name, travelled to Switzerland to set up a company office, Swiss banking facilities, and a company registration."
This was around the time that Facebook acquired WhatsApp for US$19 Billion, something that "only further sparked our enthusiasm in developing a secure instant messaging VOIP offering, [and] confirmed that we had made the right decision."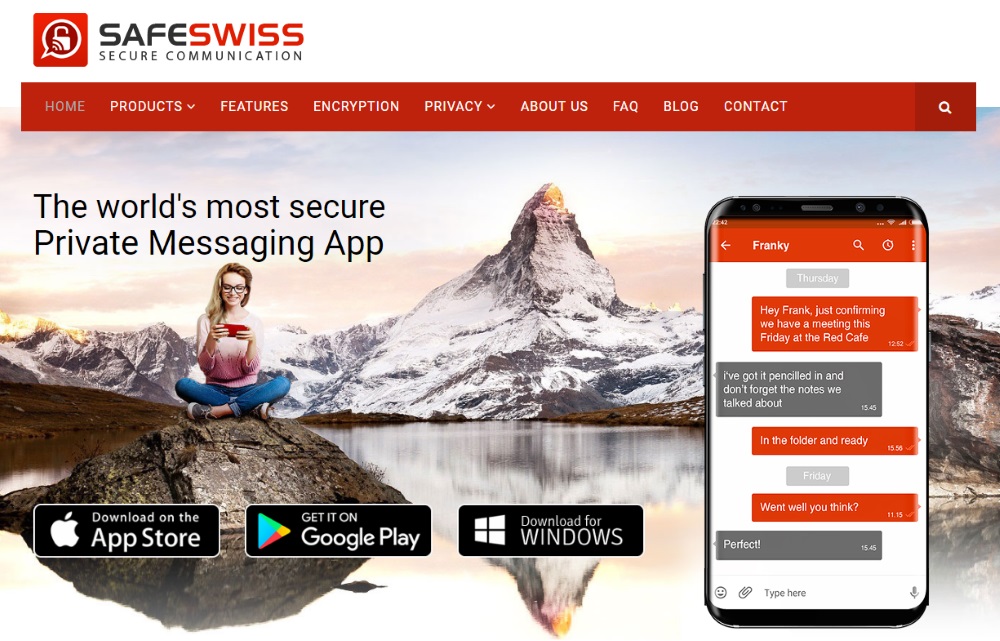 Staying on this topic, I was interested to hear more of Gallagher's views on the trends in what is a very competitive messenger market; did he believe the general trend in this market was towards a more secure form of communication? His answer was immediate.
"Definitely. Almost daily we hear about these massive cyber attacks which steal the data or communications history of hundreds of thousands of people." As these attacks affect more and more people, the market demand for a greater level of security grows. Despite this however Gallagher feels there is still misconceptions around encryption.
"People still tend to think encryption is for those who have something to hide; the exclusive property of criminals or government spy agencies. In reality everyone has a right to privacy, and should take greater steps to ensure their communications are safe and secure… WhatsApp brought encryption to the masses, which is fantastic. However our service is much more secure."
This is primarily as SafeSwiss does not harvest data from user's contact lists, a decision which has most certainly slowed their organic growth, but ensures SafeSwiss stays true to their values as a company.
As the conversation went on I changed direction slightly, away from SafeSwiss and onto Gallagher's journey as an entrepreneur. I knew Gallagher had been through an enormous amount to get to this point and I wanted to hear more about it.
"Where do we start here? I went to the school of hard knocks and the university of life". Leaving school at 15, he completed a butchery apprenticeship. But it was clear that wasn't his ultimate calling.
"At the time, I used to read about how high-flying companies like Rainbow Corporation, Ariadne, or Chase were creating business, and the lifestyles that went along with this. This was all the inspiration I needed." Having heard so much about property, Gallagher decided that would be a good place to start.
"I saved two weeks' salary and went to a Bob Jones property seminar in '86, and from this bought, renovated and sold houses in Christchurch." Gallagher would complete every aspect of the renovations himself, including building his own trellis fencing, something that would lead to his first business.
"I still recall working in my garage using pneumatic staple guns and a compressor when the garage door burst open with an super angry neighbour! Mind you, it was 3 AM… he had every right to be agitated!"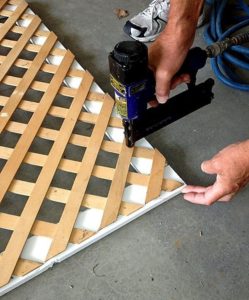 Gallagher went on to design a semi-automated machine to build trellis – which he had an agricultural engineer build – and supplied Placemakers and Carters with trellis fencing nationwide.
"I ended up with a factory manufacturing thousands and thousands of trellis sheets… crazy times."
A short while later the property market soured; interest rates rose, and Gallagher was unable to cover mortgage repayments.
"I had recently purchased a large property within Christchurch CBD and used security in other properties as collateral. A good idea at the time, but this lead myself and my young family losing everything we had worked so very hard to build. We ended up sleeping on my mother in-law's lounge floor." In what must have been a rock bottom moment, Gallagher was forced to simply make ends meet, and went back to his trade as a butcher.
But his entrepreneurial spirit never died and it wasn't long before he "became a self taught expert in photoluminescence and electroluminescence" and developed the world's first glow-in-the-dark stair nosing – the bits that provide grip and protect the edge of stairs.
But unfortunately relationships soured and he was forced out of that business. He went on and built businesses importing bathroom units and supplies from China, and importing quad bikes, jet skis and motorbikes from the US – the latter of which would nearly cost him everything again.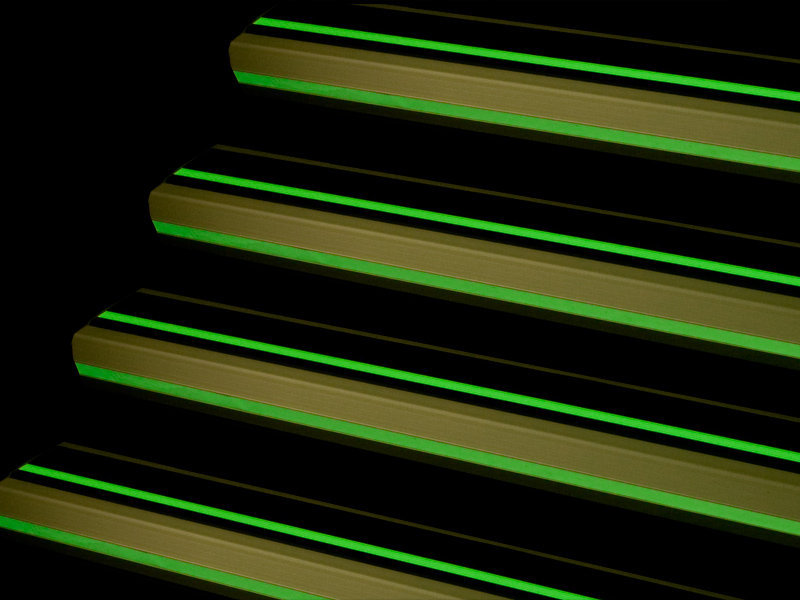 After the 2011 Christchurch earthquake Gallagher developed a system to neatly manage the inflow of reports from builders, engineers and other tradesmen relating to earthquakes. Something Gallagher says has "really been the catalyst to allow the funding of SafeSwiss Secure Communication."
Going into the interview I knew that Tim had been involved in numerous businesses across multiple industries, and thus was interested to hear the common lessons he'd learnt through all this experience. Yet without asking, it was clear that Gallagher's number one lesson is to never give up.
"Continual persistence and perseverance will ultimately prevail… It's a statistical fact that you cannot achieve any form of success without some form of failure. It's not just inevitable, it's necessary. As Steve Jobs famously said, 'Sometimes life is going to hit you in the head with a brick. Don't lose faith'."
However, it's Gallagher's roller coaster career that is really the testament to how he truly embodies this belief.
With any successful individual there is commonly a deeper motivation that inspires them even in the toughest of times, and I was curious as to what this was for Gallagher.
"My primary motivation for being an entrepreneur is to create and add value, to try and solve what you see as an existing problem. Obviously if done successfully, wealth will be acquired."
Furthermore, I asked Gallagher for one weekly habit that he would suggest a reader adopt to better themselves as an entrepreneur. His answer was quite simple. "Reading motivational books by well-respected businessmen, businesswomen and entrepreneurs is an absolute must. Also take notes, go to seminars."
Right before we ended the call, Gallagher shared a few details of the new B2B offering that SafeSwiss would launch soon. Even over the phone you could sense the excitement in his voice, speaking of how the product would solve a problem that to date has remained unsolved.
It was clear to me in these last few moments of our conversation that Tim was an entrepreneur to the core, and a man who loves every single aspect of building businesses.♦
---
Interview by Nicholas Lane