Don't sell yourself a myth
---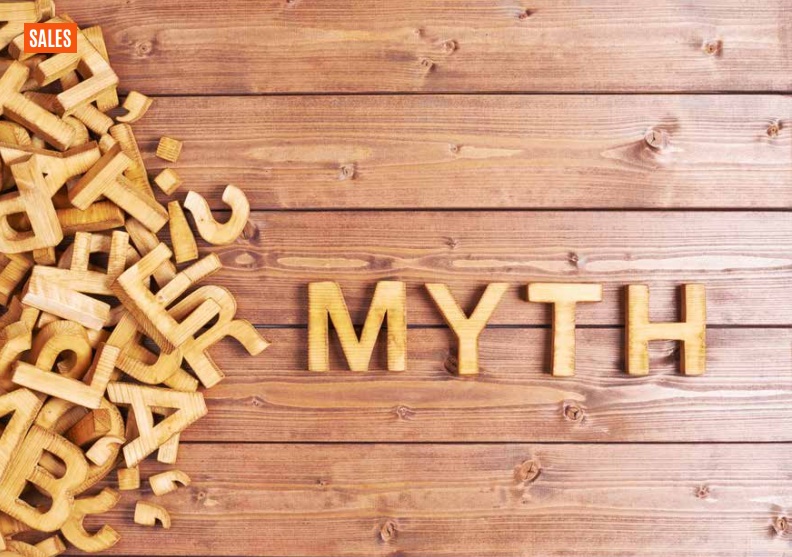 For many entrepreneurs selling is the stuff of nightmares. But it may be because you've bought into some of the common myths about what selling is.
Effective selling is not about building a relationship, not about identifying a need, not about doing a certain number of calls, not about closing techniques and it's not about being an extrovert. In my opinion, these are myths. Let me explain why I think this:
MYTH 1: EFFECTIVE SELLING IS ABOUT BUILDING A RELATIONSHIP
According to behavioural science, around 50 per cent of our clients are not interested in building a relationship. They don't mind being friendly but they are far more concerned about what we can do for them than how much we connect with or know about them. For the sale to take place, trust needs to happen and for the 50 per cent who need the relationship first, that's one path to trust; but 'relationship' building with the other 50 per cent might well be seen to be time wasting and unnecessary. The irritation that occurs in these cases erodes any chances of trust. With the 50 per cent who are more interested in the task than the relationship at hand, trust is better built by getting to the point, doing what we say we are going to do and respecting their time.
MYTH 2: SELLING IS ABOUT IDENTIFYING A NEED
The myth, in this case, is more about when the identifying occurs. In most cases, we do this the wrong way around. We have a product/solution or service in mind before we approach the client. Attempting to fit our solution to the client again erodes the trust process. Doing this is much like going to see a doctor about stomach pains and have him tell you what he does best and prescribe accordingly before he has given you a chance to tell him what you need. Please don't laugh, this happens all the time in sales situations and keeping the doctor scenario in mind is helpful when you feel the urge to prescribe your expertise too early in the process.
MYTH 3: SELLING IS A NUMBERS GAME
A certain number of calls will lead to a certain number of deals. Focus on the numbers. This is something I have been teaching for years so to place it under myths is going to surprise many clients but this is about quality in place of quantity. The number of calls can easily be misunderstood as a reason to launch ourselves half-cocked at a certain number of prospects (known as shotgun marketing) and forget to do our preparation purposefully beforehand. In my opinion, this is where many online strategies fall short.
MYTH 4: SELLING IS ABOUT DEVELOPING AND HONING GOOD CLOSING TECHNIQUES
Again, I refer back to my behavioural science foundation which suggests that there are four different 'types' of communication styles. 'Closing', as many of us understand it, will do more to push these clients away than to encourage them forwards in a sales process. There are ways to get an indication of interest and overselling once someone has indicated they are ready to buy is another common mistake – but 'forced' closing destroys a trust relationship early in the process.
MYTH 5: SELLING IS ABOUT BEING AN EXTROVERT
An extrovert in a sales situation used to mean someone who was charismatic, unafraid to approach a new client, cold and comfortable in a crowded room. But an extrovert in the sales environment has become a different variety. A marketing email received from a person (I don't know) who professes to have a killer solution for me with bold statements, highlighted words and "how could you possibly not?" questions is the new sales extrovert. When we go into someone's 'space' in a selling introduction without an invitation – we need to do it respectfully. An extrovert can so easily be interpreted as pushy, inconsiderate and trust destroying. Being an extrovert can lead us to be less respectful and less aware of our clients' space. An introvert behind an online email marketing campaign is no different. It doesn't work, it never did. So what is selling about?
In short, it's about a process. The EnQ (entrepreneurial intelligence) definition is 'managing the buying process'. This is not a completely new process but there is a new way of navigating this process in a world that is overloaded with information and becoming more schooled daily to ignore us in self-defence of the avalanche. Whilst some previous sales theories still apply, many are becoming less relevant by the hour. Maybe the above points discussed are less about myths and more about out-of-date thinking.
---
Sandy Geyer is an entrepreneur and mentor and teaches the principles of entrepreneurial intelligence at ENQ Practice.