VizLink's maps and plans minimising farm mistakes
---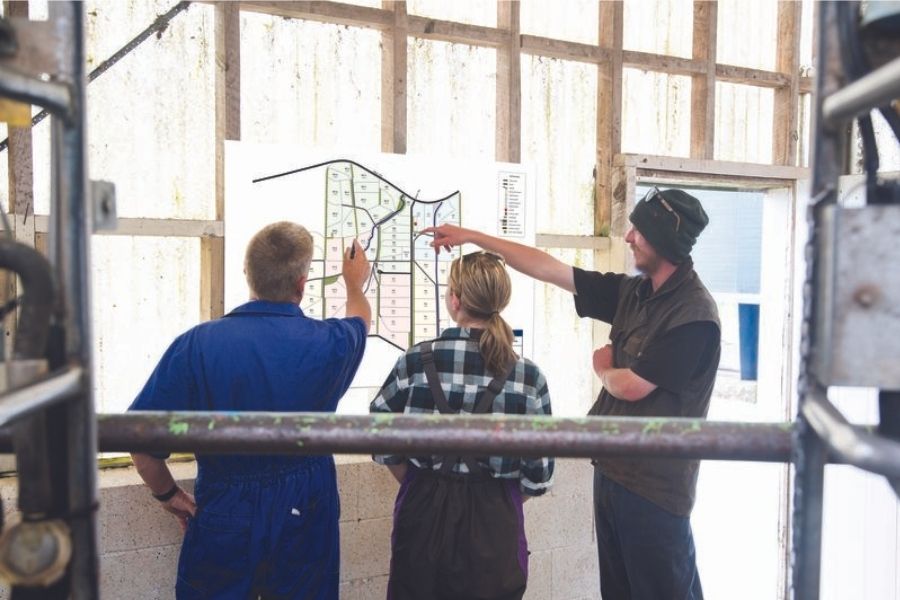 A Taranaki company offering printed and digital farm management products is minimising inefficiencies for farmers, with the inventor still getting up each morning to rear calves herself. Michael Botur spoke to the founder.
Farmers have cultivated our land pretty successfully for hundreds of years, though it wasn't until the 2010s that Taranaki entrepreneur Gemma Adams realised daily inefficiencies on farms could be solved by addressing one core issue: giving farm workers maps, charts and planners.
From her base in Mangatoki, near Hāwera, Adams today wears four hats. Not only is Adams CEO of VizLink, a mother of two and a graphic designer, she remains a farmer and currently starts each morning taking care of calves.
Adams told NZ Entrepreneur her parents ran businesses and helped her accrue expertise in graphic design. Adams fell in love with farming when she and husband Terry went to work on dairy farms across Taranaki in the early 2000s.
In her 20s, Adams learned she could confidently function in the worlds of graphic design and business management, but it was becoming evident she was dyslexic.
"Because I see things in pictures, it helped me to draw a map of the farm I was working on," says Adams, now in her 30s. "Terry would explain things to me in the [cattle] race and I saw a need for visual communications which would improve productivity and farm safety and, most importantly, instil confidence in the workers."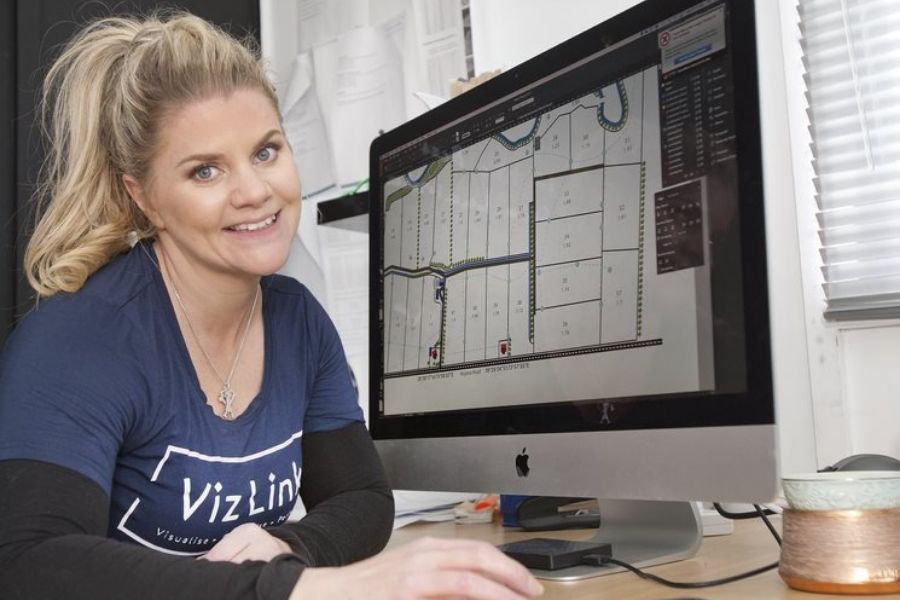 "I have dyslexia so I only see things visually. I used to hide that and hate it. I've now worked out that I can see things differently and I can empathise with others for whom oral instruction doesn't always adequately explain things. So dyslexia is my superpower."
Adams and husband Terry learned how to create efficient maps, charts, whiteboards, signs and planners and tested these tools during fourteen years sharemilking at farms in Pungarehu, Ararata and now Mangatoki. Adams realised that the visual aids helping her would likely be helpful to thousands of farm workers nationwide who want to do their job well but might be hindered by lack of maps and plans, an eagerness to please their boss without fully understanding a task, or language barriers which make written instructions suboptimal.
A poor payout from Fonterra in 2016 nudged Adams closer towards backing herself. "After the payout I said to Terry, 'There is something in the visual graphics we've been developing – I feel I can help people."
Having validated on her own farm what the business would offer the market, Adams took her shot, launching VizLink in 2017.
A typical use case for VizLink services is the following: Take a farm owner who for decades has run an average NZ sheep farm (200-1500 hectares). "That farm owner may say to a new shepherd, 'I want you to go out to Bill's Block and muster the ewes and bring them to the yard. Find the ewes by going to the gate that used to be orange but is now yellow, you'll go past the big tree and three gateways, then you'll turn left, find the other cabbage tree… This is how they talk!" Adams laughs.
"The farm owner might have had years in that paddock and knows how the dogs will position themselves and where the sheep are likely to get stuck – but think of the hours which might be wasted without a map and a plan. VizLink stops those hours being wasted."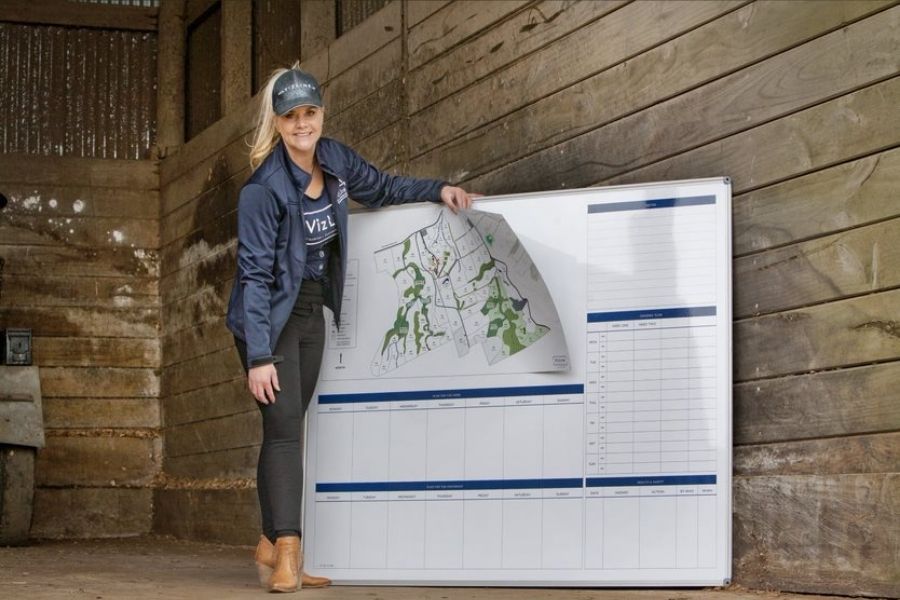 VizLink reduces human error by offering tools such as clear records of which fences need fixing, records of which feed needs to go to which animals, maps of different water pipe lines, dynamic charts showing when and where livestock are pregnant, and tracking to locate sick livestock.
The VizLink team has grown to seven members. Adams takes care of graphic design and running the business, while others in the team specialise in farm mapping, accounts and design.
VizLink needs tech partners, too, and works with GeoSync for surveying,and 3DImageVU for farm mapping. Most properties have to be digitally mapped from the air so a VizLink team member coordinates aerial photography and surveying. FarmIQ for digitally interactive farm management as well as HawkEye and for farm mapping.
VizLink is picking up blue chip contracts for clients throughout NZ and as far away as Chile and Australia. One rewarding contract has been with the NZ Defence Force, which earlier this year contracted VizLink to assist on a project animating a set of data – which all came about because Adams made an impact on an NZDF executive with their impressive site at Fieldays.
Fieldays seems to be the place where Adams looks back each year on five years of continuous improvement – with almost none of the belly-flops some startups can encounter.
"I always crack up at Fieldays when I see people designing agricultural technology without actually listening to what farmers need," Adams says. "Our core strength is we've gone ground up and listened to people, rather than inventing things and testing the market. And it's the power of us being farmers. We've gained trust."
Story created in partnership with Venture Taranaki.
---
Innovation Nation is a series celebrating stories of innovation and entrepreneurship from around New Zealand.
Innovation Nation proudly supported by: