Cancer drives Altitude Conservation founder to persist with wildlife tracking tech
---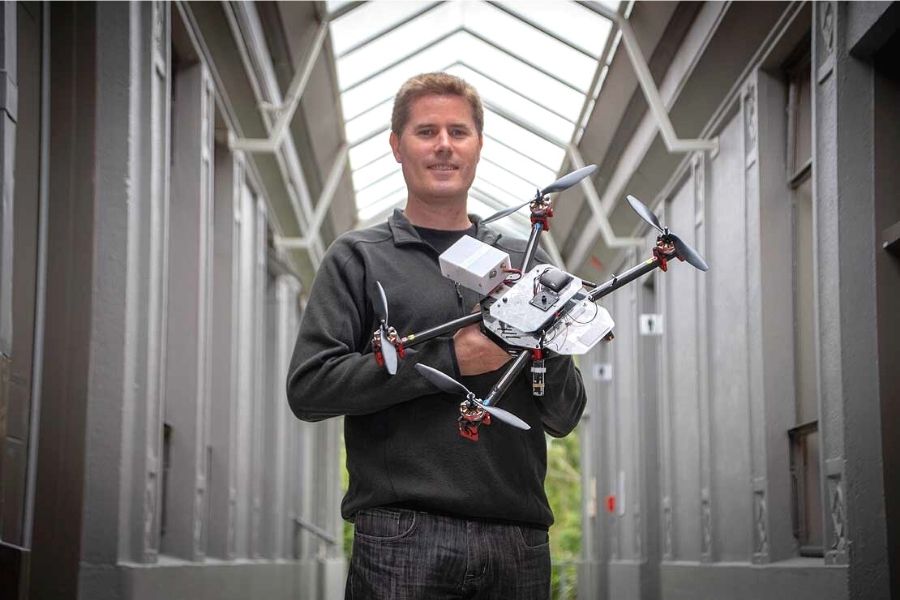 In the same month Chris Muller won an innovation award for co-developing drone-based VHF radio-tracking equipment for monitoring endangered species, he was challenged with cancer. Instead of throwing him off, Muller doubled down on the goal of revolutionising wildlife tracking and now has customers ready and waiting. Michael Botur tells his story.
For three years from 2015, Massey University Ph.D. candidate Chris Muller was on a subantarctic wildlife-tracking mission, battling near-impenetrable bush on the Auckland Islands to find the nests of yellow-eyed penguins. He quickly realised that aerial tracking would be much faster, safer, and more efficient than trying to cover the terrain on foot.
A high point for Muller was demonstrating that a drone with a multifrequency radio receiver could cut down nest-locating times by 97%. "It absolutely saved my PhD. Otherwise, I would probably still be out there looking for nests!"
It wasn't long before Muller hit a low point, however, as the Palmerston North biologist was diagnosed with cancer. The devastating news came just one week after the Innovate 2018 Competition, where Muller's drone technology scored the highest prize. The competition, powered by The Factory in Palmerston North, celebrates the finest of the region's technology innovators. Earlier that year, Muller had also picked up the top prize in the Massey ecentre's 'Go, Innovate!' competition.
Following multiple surgeries over the next few years, Muller's cancer is now in remission and today he is dedicated to growing Altitude Conservation, the company taking his wildlife tracking tech to the masses. Rather than signalling the end of his dream, Muller says the cancer setbacks have pushed him harder to realise his dream to make the world a better place.
Currently at pre-revenue stage, Altitude Conservation's team will soon offer the Drone Ranger, a package combining their ground-breaking new technology with embedded software to radio-track tagged wildlife. Drone Ranger cuts out the guesswork from wildlife tracking, meaning improved speed, safety and efficiency for the people who have to keep a close eye on animals facing extinction.
Muller chose the Drone Ranger as Altitude Conservation's first product because VHF radio-tracking technology can "see" where cameras can't, so has a lot more potential for locating animals in thick forests and rugged terrain.
Muller combined his prior experience working for Sirtrack, a longstanding New Zealand wildlife-tracking company, with his studies towards a doctorate on the topic of 'Population ecology and foraging behaviour of yellow-eyed penguins on the subantarctic Auckland Islands.' Add in a collaboration with researchers at the Wireless Research Centre at the University of Canterbury, and the Drone Ranger was born.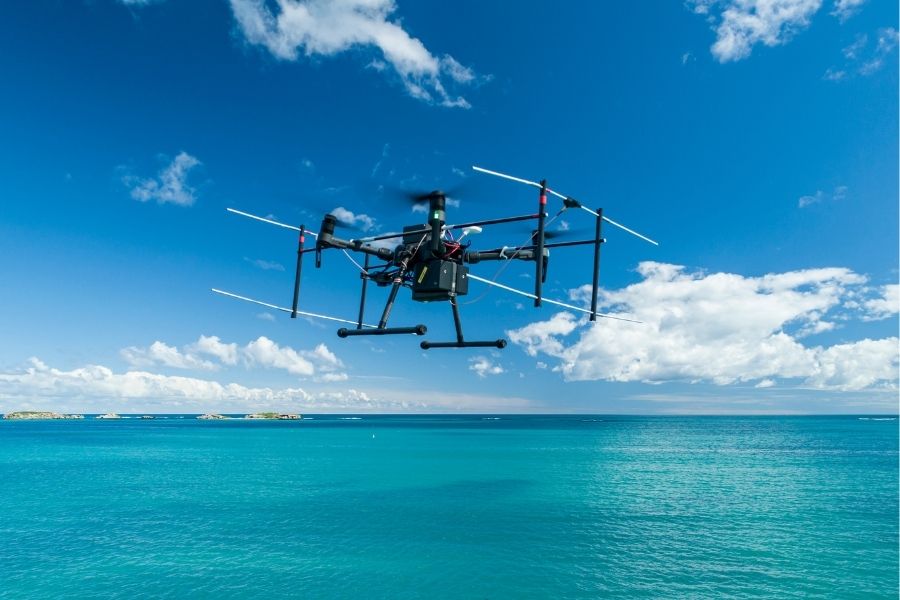 Until now, wildlife tracking was difficult. Rangers have to hike through the bush carrying an antenna, and listen to beeps from a receiver trying to work out which direction an animal is. The Drone Ranger lets users replace walking with flying, and its groundbreaking new multifrequency receiver design can monitor all of a researcher's frequencies at once –up to 500 frequencies simultaneously –instead of having to "channel surf" through the list checking them all individually. "We can monitor all your animals at once, instead of just one at a time, and the system will automatically work out which animal is where and map their position for you."
Unlike a drone fitted with the standard single-frequency receiver technology, the Drone Ranger doesn't have to hover in place, rotate, or fly to multiple locations to triangulate where a signal is coming from. Instead, the system automatically scans the area below and maps all the signals while the drone cruises overhead, Muller explains. The Drone Ranger system is compatible with commercial drone platforms, so researchers can easily attach it to their drone of choice. No software needs to be downloaded either –users can export their data in GIS file format straight to any device with a wifi connection and web browser.
The next steps will be Altitude Conservation following its vision of "solving the world's tricky conservation problems."
Product testing, and scaling up are all going well. Interestingly, Altitude Conservation hasn't had to go out and 'track' customers –Muller says many customers reach out to Muller's business because they have read published research describing the efficiency savings the Drone Ranger provided for animal tracking. It's hard to think of a more high-brow advertisement than an academic research paper, and such endorsements are bringing Muller blue chip customers who have to date used his tools for tracking birds, turtle hatchlings, bats and more.
As for the cancer that's become an unwelcome addition to life, Muller says Altitude Conservation gives him a way to continue to contribute to conservation and research. The Central Economic Development Agency (CEDA) and Callaghan Innovation have helped along the way, and Muller says the business training provided by The Factory as well as Massey University's ecentre "was really useful in terms of learning about running a business. I couldn't praise them enough."
By the numbers:
• Based in Palmerston North with staff working remotely from around New Zealand and the world.
• The Drone Ranger VHF mapping system finds animals in 3% of the time ground searching would take.
• Muller's testing found 50 penguin nests on the Auckland Islands in one week, compared to several months previously when ground searching was used
Story created in partnership with Central Economic Development Agency.
---
Innovation Nation is a series celebrating stories of innovation and entrepreneurship from around New Zealand.
Innovation Nation proudly supported by: