New Zealand Quinoa Company founders Kate and Hamish Dunlop have just planted their fifth crop of the nutritious grain, having made it through cyclones, raising children and occasional supermarket scepticism.
It's been a good year for the quinoa couple, who now supply the shelves of 150 supermarkets. 
Natural Quinoa Puffs and packets of Natural Quinoa are currently flying off the shelves, although it took five years of hard yards working out how to get their product to sit on the shelf beside larger producers.
Quinoa is a seed containing twice as much protein as rice and twice the dietary fibre of couscous. "Quinoa is gluten free, GMO free and is a great source of dietary fibre," Kate says. "It also contains lots of minerals and it is one of only six plants in the world that are considered a 'complete protein', that contain the right proportion of all nine essential amino acids that the body can't produce on its own."
The only problem with quinoa, until now, has been the 11,000 kilometres of 'food miles' that make every import from South America less than desirable.
"As farmers, and parents of young children, we care greatly about sustainability as well as providing nutritious, natural food," Kate says. "Quinoa seemed a perfect fit for us thanks to its impressive nutritional profile and its light footstep on the land. Currently around 90 per cent of the world's quinoa is grown in South America, but we wanted to provide New Zealanders with a locally grown option."
In 2015-2016 the couple planted five hectares of their 390ha Hawera sheep and beef farm with quinoa, and the journey began. 
While sheep and beef have been their mainstay, the quinoa fits in nicely as part of the Dunlops' long term re-grassing programme. "We are looking after the long-term health of the soil, rather than growing quinoa intensively on the same piece of land for years on end."
The couple are conscious of the benefits of plant-based diets on people and the planet, and Hamish says he sees the quinoa as an extension of the quality protein the Dunlops were already producing. "We wanted to be multidimensional with our farming, part of the future, not left behind." 
With backgrounds in legal work, raising meat and parenthood (the couple juggle childcare around running the farm and the business), the past five years have seen the Dunlops rely on family and friends' support as they learned how to manage packaging, sales and marketing. "When you're a startup, you can't pay people to do everything," Kate says.
After successfully getting their Natural Quinoa (raw quinoa seed) on supermarket shelves across the country, the Dunlops wanted to diversify their risk by expanding into value-added products. 
Venture Taranaki linked them with Massey University's FoodPilot™ whose experts helped narrow down which quinoa products were ideal for getting into supermarkets, and how. 
Feasibility studies on multiple options were done, after which the Dunlops decided to run with an extruded quinoa snack which FoodPilot helped to perfect. After much work, Natural Quinoa Puffs were launched, firstly in boxes containing 8 small kids-size packs.
Next, tough sales were required and Hamish was challenged to persuade hundreds of supermarkets to stock the product.
"We had to develop thicker skin – there were lots of knockbacks," Hamish recalls. 
"Foodstuffs' model is each supermarket is locally owned and operated and the buyer decides half of what goes into each supermarket. They are the gatekeepers. Then Countdown is a different model. You deal with one category manager in Auckland. From that relationship they arranged us in 60 stores. That was a massive moment."
The result of careful market analysis, product refinement and difficult sales meetings has been that gross revenue is on track to double on last year. 
Next up, NZ Quinoa Company will build on its strong branding by expanding their Natural Qunioa Puffs into larger 90gram bags.
They've won the 2019 Healthy Food Awards Winner in Sustainability and Pantry categories, plus a bronze at the 2019 Food Producer Awards.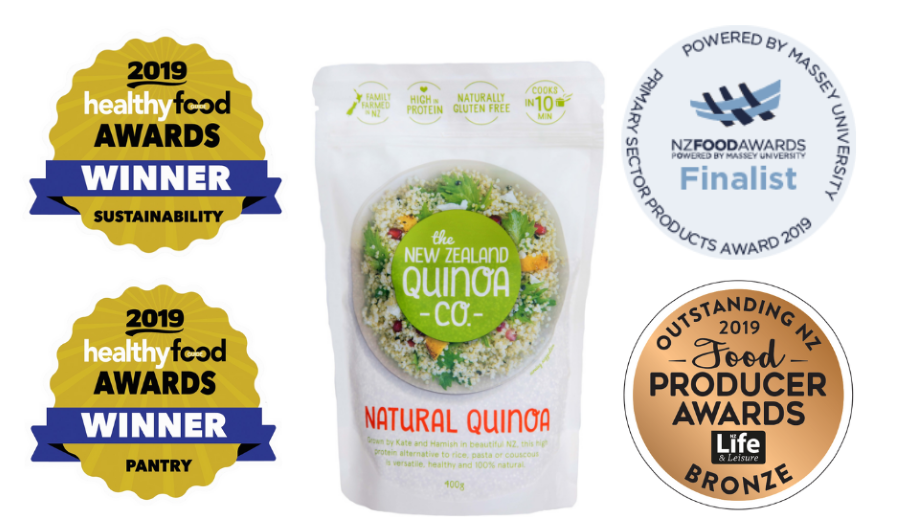 The Dunlops aim to scale up, having increased their crop yield from 1.8 to 3 tonnes. 
An essential target market is China. "We've got the scalability; a lot of land to grow on. And we're still learning. Our systems are getting better. COVID created huge demand. People were making sure their cupboards were stocked with long-lasting food during lockdown." 
Word is spreading and it helped that the Dunlop farm featured in a Country Calendar episode this year which Hamish describes as "slightly terrifying but an amazing opportunity to share our story."
"There is hunger, for want of a better word," Hamish says. "Hunger for nutritious NZ-grown produce."
"Low food miles and a small carbon footprint are significant points of difference that our quinoa has over imported South American products," Kate adds. "We have a fully integrated supply chain – we control the entire process from the seed going in the ground to the food on your plate. 
All the businesses we work with, from the local contractor who sows it, to the packing company, are New Zealand businesses. We farm it sustainably with minimal intervention, using no spray. We are just your average Kiwi family who love healthy, natural food, trying to be a positive part of the future of food."
---
Innovation Nation is a new series showcasing stories of innovation and entrepreneurship from around New Zealand.
THANKS TO OUR SUPPORTERS: