Medsalv projected to save hospitals $100m each year
---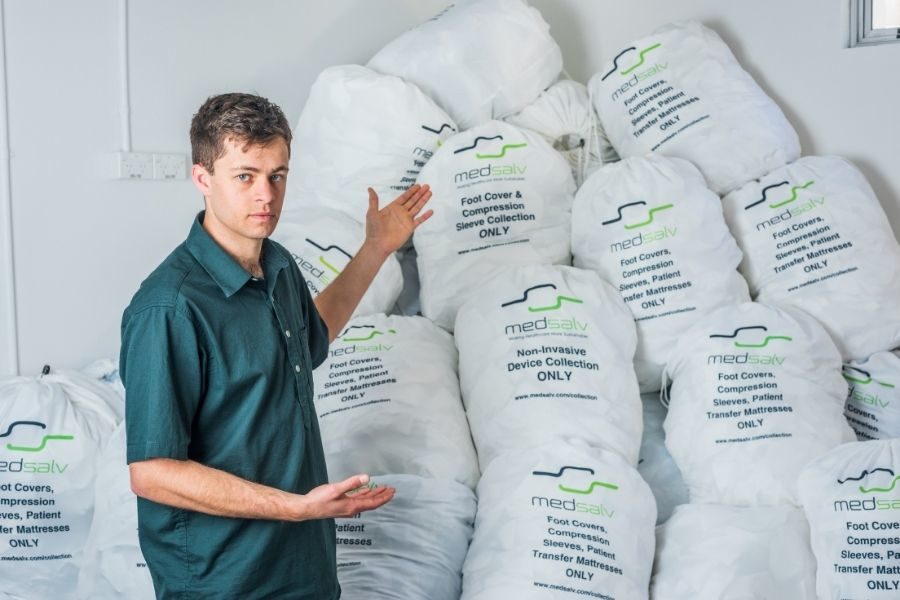 A medical technology company says it could save New Zealand's health system $100 million each year by stopping 1700 tonnes of medical waste going to landfills.
Christchurch-based startup Medsalv has come up with processes for remanufacturing single-use medical devices so they can be safely reused. Single-use device remanufacturing is the practice of taking medical devices and subjecting them to specific processes to make them clinically safe and suitable for reuse, despite them being labelled 'single-use'.
Locally managed District Health Boards are being rolled into one centralised Health New Zealand with a Māori Health Authority tasked with a systemic overhaul of indigenous health care delivery.
"Aotearoa's healthcare system is looking down the barrel of its most significant moment in recent history," Medsalv Chief Executive Oliver Hunt says.
It's a state of flux which Medsalv, founded by Hunt in 2017, could do well from – and also assist the country to meet its environmental goals. Medsalv has developed methods to take used single-use medical devices – usually destined for landfill – and remanufacture them back to their original quality. It then sells them back to hospitals for a lower price than the originals.
These processes are not found in or undertaken by hospitals.
Hunt estimates that remanufacturing of single-use devices across all New Zealand hospitals would stop 1,700 tonnes of medical waste going to landfills and generate $100 million annually in savings.
"Our healthcare system is having to take a good hard look in the mirror. Sustainability in every dimension will be the most pressing thing to get right" Hunt said.
Hunt, a mechanical engineer, founded Medsalv while completing his Master's in Engineering Management at the University of Canterbury. The social enterprise was his Master's project, and was assisted by a $100,000 award in early 2018.
Medsalv'sproprietary processes have been developed with the support of many government and local government agencies, including Callaghan Innovation and The Ministry for the Environment's Waste Minimisation Fund.
"My master's project was essentially about the process of creating a company, and what it took to be successful there," Hunt said. "My uncle, a surgeon, showed me the scale of the problem with medical devices that weren't able to be used – as their sterilisation had expired, and he pushed me to figure out a way to safely reuse them."
"It's great to be making significant progress towards this goal."
Medsalv now has a team of 17 and the leading social enterprise works with public and private hospitals from Whangarei to Invercargill, and continues to grow.
"We deliver sustainability to the health system. Our customers do care about environmental sustainability, and they care about financial sustainability too," says Hunt.
Hunt says Medsalv's growth was primarily to do with understanding the market, and being adaptable to risk, and changes in the sector.
Hunt says Medsalv spent considerable time understanding their customers, which now include more than half the surgical hospitals in New Zealand.
"Our equitable, customer focused approach has allowed people everywhere to contribute to a more sustainable health system. We've designed our programmes to work for hospitals of all sizes, which has helped us get to where we are today."
While Medsalv is making progress, Hunt says there is more to be done.
"I'm proud of where we've been able to get to in the last four years, but there remains to be lots to do for New Zealand to be proud of our health system in terms of sustainability, and that's where our focus lies."
"Success for us is if we're achieving what we set out to. We set ambitious goals and push ourselves to meet them – it's working hard but on the right things – working smart."
By Dave Crampton. In partnership with ThincLab.
Innovation Nation is a series celebrating stories of innovation and entrepreneurship from around New Zealand.
Innovation Nation proudly supported by: