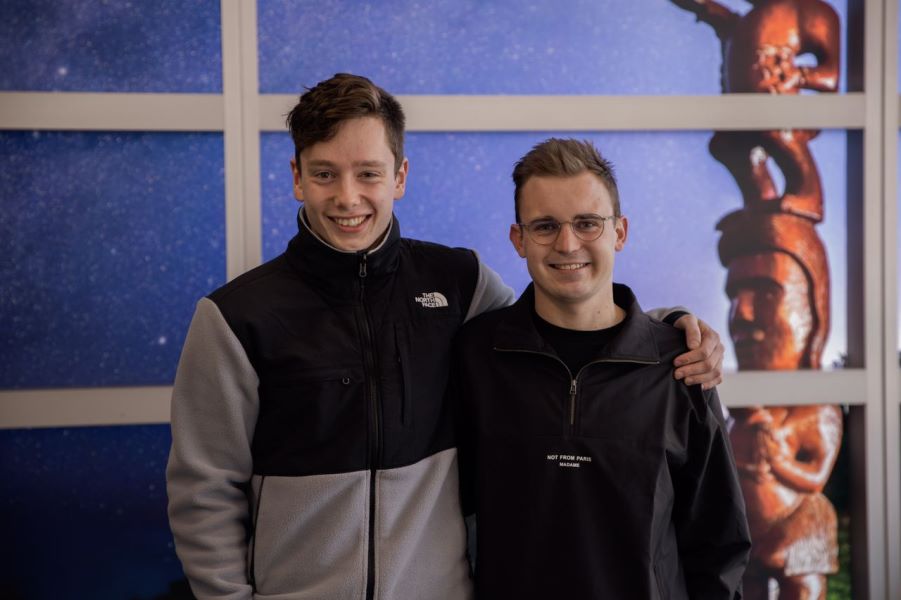 A random chat about technology led friends Benji Pritchard and Conor Doherty-Craig to create Techne, an online platform that teaches Kiwis how to code.


Techne, set to launch in early 2021, is an e-learning platform designed to help Kiwis of all ages learn to code and to develop their digital literacy.
"We realised how much technology is around us yet so many of us don't actually understand it and how it works," says Benji.
"Especially in social media with apps like Instagram," says Conor. "Everyone knows how to use them inside and out and even how to find out who's liking what, but no one actually knows any of the mechanics behind how they function."
The last eight months have been a whirlwind for Benji and Conor—since deciding to create Techne they've received support from Te Herenga Waka—Victoria University of Wellington's The Atom—Te Kahu o Te Ao innovation space, Manawatu-based innovation hub The Factory, and have even received a grant from TSB Bank after winning funding in their nationwide Good Stuff awards.
"The general traction and seeing everything come together has been huge," says Benji. "Its really cool getting to see everything we've been building interlock and join together as well as the connections, network, and following we've been building continue to grow. The support has been amazing."
That support has been crucial for Benji and Conor as they've worked to bring Techne to life and overcome the challenges they've faced.
"One of the challenges for us has been timelines and being able to realistically plan those," says Benji. "A lot has changed as we've gone on and everything's reshaped itself. We've faced different challenges where we'd have aims to do something by a certain date and it would just be delayed and delayed as we realised there's all these different things we want to get right."
"A lot of unexpected challenges have really tested us in a good way," says Conor. "For example, we used a lot of business plans in the past that didn't quite work for us and then we realised there's actually a newer one called Lean Canvas. The foundational thinking behind Lean Canvas is that it's a model which is useful as things, especially in software, change so much that by the time you've got a very detailed ten step plan you've probably already changed half of the things you think the customer actually wants."
In the short term, Benji and Conor are focused on launching Techne and promoting it to schools around the Lower North Island but long term they hope to spread Techne far and wide.
"The whole issue with digital literacy is that it's not as accessible as we'd like it to be so if we can allow every Kiwi kid to have better access to digital literacy then why not extend that to the world," says Conor.
Even though Benji and Conor are only in the early stages of their entrepreneurial journeys, they've already learnt some valuable lessons.
"There's always going to be compromise or remodeling of your thinking," says Conor. "There's always going to be situations where you're going to come up against something unexpected and a lot of the time the hardest thing isn't even pivoting, that's the nature of entrepreneurship, it's being on the same page as your team for this new version of your vision."
"I think the importance of personal development is a good lesson as well," says Benji. "It's one thing to be developing the business but at the same time you need to be developing yourself to get there. It was important to realise just how crucial and valuable that was for both of us."