Listen on Soundcloud

Founder/s: Brittany Earl, Taylor Abernethy, Gerard Molloy
HQ: Auckland

What problems do you solve and what products or services do you sell?
Joblist is an online marketplace (website and app) that connects people who need odd jobs and other tasks completed, with people who are after extra work or income.
From gardening, baking cakes, ironing, moving house and everything in between, on Joblist you can get stuff done, and find people who do the jobs you don't.
The wider, more universal problem, we are trying to help with is to enable more joy and ease in peoples' lives. Be it that by listing jobs on Joblist, people get to spend more time doing something other than their life admin and household jobs. Or at the same time, for others, making things easier financially as they pick up extra work.
Who and where are your target customers?
Our user base while largely Auckland based at present continues to grow across the countryside.
Given we are connecting both sides of the market, we have users who may be either job listers, job workers or both.
Our listers comprise the kind of people that have stuff to do but lack the time or skills to do it, whereas our workers comprise people that are after money to supplement their income or those who want to use their skills to help others.
How and when did you first come up with the idea for your business?
Saturday mornings would arrive while I was busy working as a lawyer and all I would want to do was go to the beach and go surfing. Instead, I found myself tied up with life admin. I personally hate life admin. Who wants to spend Saturday morning washing the car or doing ironing? I was also surrounded by other busy professionals who were very time poor and could have done with a way to get an extra pair of hands. Like them (and most people!), I would rather spend my time doing something fun, which is where the idea for Joblist came from.
What are your three biggest unique selling points?
Joblist's three biggest unique selling points are:
Within a matter of minutes, users can access a community of humans ready to help with on-demand jobs that need to be done. We have even seen jobs being assigned within two minutes of them being listed on the platform.
The job lister has complete freedom when organising their job to be done. They review and select the worker, they set a fixed price they are comfortable paying and they choose a time convenient for them to have the job done. We also don't allow workers to bid down or offer lower amounts, which keeps the quality and fairness as a priority.
Payment is simplified, with no need for cash, and in many instances no need to meet with the worker prior to the job being undertaken. The money is held securely in our escrow account once a worker is selected to complete the job and then released once both parties have confirmed they are happy, giving peace of mind and transparency.
What are three things about your business that you are proud of?
We are proud of how helpful Joblist is for our users. People frequently contact us with positive reviews and affirmations about how much of a saviour Joblist has been for them. As frequent users of the platform ourselves, it is really encouraging to meet listers and workers alike who bring their awesome personalities and pride to the platform. It is really encouraging to see we are making people happy.
Joblist has been an incredibly life-changing journey for us, both personally, and as founders of the platform. We are really proud of what we have achieved so far in bringing our idea to life from the ground up and the life lessons we have learnt along the way.
At Joblist our primary objective is joy. We try to show the love to and appreciate our users, learn from user feedback and constantly aim to find new ways to make people around us smile. We are proud of this and believe that the ripple effects of this are evident in that it creates a culture around our business that people want to be a part of.
How do you market your business and what advice do you have for others around marketing?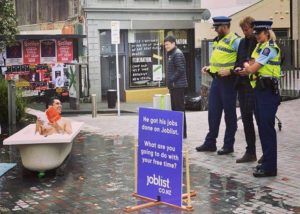 We have tried and implemented a range of different marketing approaches. I think it is fair to say that we have hustled almost every avenue under the sun in a bid to reach our tipping point. From letter-drops, cold calling to creative offline marketing; we gave out flowers in the street, and even put somebody in a bathtub filled with bubbles in the central city with a sign that said 'He got his jobs done on Joblist, what are you going to do with your free time?'
More traditionally we use a lot of social marketing strategies on all the major platforms. We have found that our homemade video content creates a lot of traction as people start to get a feel for Joblist's non-corporate and fun nature. We have run radio campaigns with The Hits (Brisbane, Lisbon, Gisborne, and the Domestic-Duty Free) and ZM (Bree and Clients'' Santas helpers). We have also just released some TV ads, so have some exciting times ahead.
What's been the biggest challenge you've faced in building your business so far?
Like every start-up and business, we have had a few challenges along the way.
I've spoken to other entrepreneurs, and there is a common theme that emerges. We all naively believe things will be delivered on time and within the intended budget. Well, it took twice as long. And cost twice as much. Which meant we had run out of money by the time we got to the start line. So I guess the challenge can at times be continuing to let go and have faith that everything will always work out as it is meant to.
What is the biggest entrepreneur lesson you would like to share with other Kiwis thinking of starting their own business?
Follow your intuition. Always. Always 🙂
---

---
Like this? Get entrepreneur articles by email.