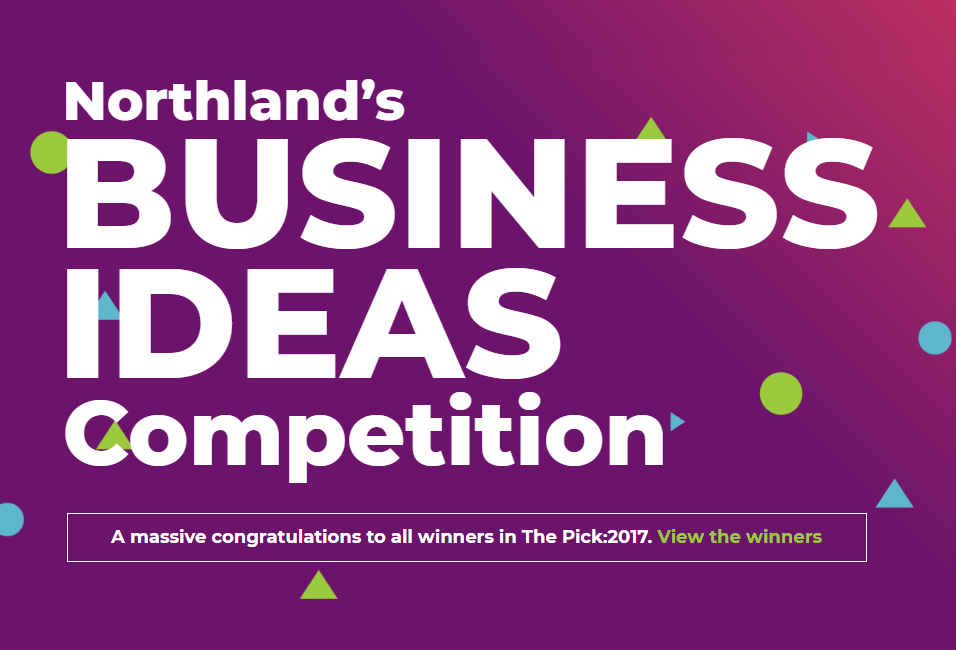 A business idea competition in Northland that culminated in the announcement of 10 winners from an initial pool of 147 entries and 22 finalists, is predicted to boost Northland's rapidly growing reputation for entrepreneurial thinking and innovation.
The Pick:2017 was launched in June by Northland Inc's business and event hub, The Orchard, with a call for Northlanders with a business idea or startup that they wanted to get off the ground or make more viable.
All 22 finalists received four months' of intensive business incubation and acceleration support with Northland Inc's early stage advisor Derryn Mawson, and were nurtured through the early growth phase. The winners were announced at a ceremony at The Orchard on 1 December following an intensive presentation and judging process.
"The calibre and number of entrants for The Pick showed that Northland's potential for innovation is enormous," said Orchard Activator, Kayla Tattley. "This competition has opened many doors for people with great ideas to be properly mentored and supported so that they can successfully grow their ideas and become part of Northland's business and economic future."
Kayla said the competition was made possible with sponsors ranging from local SMEs through to large service-based organisations with a national profile. "Sponsorship at this level underpins the desire of established business to nurture New Zealand's entrepreneurial future."
The five Supreme Winners are:
Stay Native – The Armstrong whānau… Pam, Chala, Huia, Chanelle and Eliza (Whangaruru)
Stay Native is a platform that allows tourists to browse and book indigenous experiences and engage with indigenous people in Northland. One of the founding principles of Stay Native is whanaungatanga, or connectivity. Stay Native's platform will facilitate the booking of experiences which are authentic and meaningful, to build connections and relationships, and to share with tourists the beauty and the magic of Te Tai Tokerau.
Hewlett Point Coarse Wool Concepts – Sarah Hewlett and Chris Coffey (Whangārei)
Sarah Hewlett and Chris Coffey have developed innovative felted coarse wool products and interesting and unique items, predominantly from strong Romney wool which is 33-37 microns and traditionally used as carpet wool. The team wants to help change the global perception of coarse wool into one of a high value, decorative and functional architectural material.
Akudos – Richard Brookes and Wairere Iti (Waipu)
Akudos is a cloud based awards management system, designed to streamline the awards process from initial setup, collection of nominations and supporting material, managing judges and the entire judging process through to the collation of the final results. Akudos received some early powerhouse market validation, being picked up at its launch by three paying minimum viable product clients across New Zealand, including the Vodafone NZ Music Awards.
Clever Things – Toby and Libby Evans (Mangawhai)
Toby and Libby Evans moved to Mangawhai 18 months ago. This was their first time living on tank water and they quickly became frustrated with not knowing how much water they had in their tank and how long it would last. After searching for a smart, affordable product on the market but coming up short, Toby and Libby developed a smart tank device and integrated software which is changing the way people live on tank water.
Live to Print Paints – Matthew Lewis (Whangārei)
Matthew Lewis' work in creative involves using a lot of acrylic consumables for printing and painting and through this exposure he quickly learned of the lack of sustainability and negative impact that these liquid fossil plastics are having on the natural environment. Matt has developed a bio-based creative ink and paint as a replacement for acrylic – the product is safe for people, environmentally friendly and sustainable.
Other awards presented at the ceremony:
Top Innovation Award
Aqua Mould Systems NZ Ltd – Shaun Gregory & Partners
The huge variation in the shape of oysters proved to be the downfall for a large New Zealand company that spent $3 million trying to build a machine to open oysters. Kaeo resident Shaun Gregory believed a solution would be to grow a uniformed oyster instead rather than trying to build a complex machine around the inconsistent shape. This idea led to his development of a system of growing oysters in a recess, altering the way Northland oysters are grown and presented.
Judges' Choice Award
Haumanu Urban Farm – Jaime Harrison
Haumanu Urban Farm is a whānau run vertical urban farm located in Kerikeri that specialises in producing local, high quality and fresh microgreens for restaurants and home cooks. Jaime Harrison struggled to find affordable microgreens that also looked and tasted great. The avid gardener decided to grow her own microgreens, and soon realised that other people were also searching for local and healthy salad options that had mega flavour.
Commitment Awards
A Graceful Undertaking – Jo Samuel, Jo Moselen and Jules Palmer
Friends Jo Moselen, Jo Samuels and Jules Palmer understand that when a death occurs, loved ones are dealing with intense emotions, while needing to quickly begin to make the best decisions for their situation, often without really understanding all the options, costs and what is actually needed. A Graceful Undertaking, after death care and funeral services, offers a fresh, new approach to after death care and funeral arranging offering you the freedom to do it your way.
Native State – Sonja Potts
Sonja came up with her business idea in the middle of the night – publishing a planner-meets-journal that provides a more holistic sense of day-to-day organisation. It would be a space for scheduling where women will get to know themselves through their own cycles and rhythms.
Youth Award
Sprout – Eamon, Kelsie, Keziah and Garth from Westmount Northland Kerikeri School
Sprout is a Young Enterprise Scheme business, bringing the world to your window sill through their gourmet gardens. The product consists of a stylish, reusable crate branded with Sprout's logo, three durable terracotta pots, a selection of three herbs customised to a cuisine and a custom-made magazine with recipes and care instructions.
For more information on the winners and finalists, visit www.thepick.co.nz/winners