Not all entrepreneurs are created from the same blueprint although you get the impression they have enterprise in their DNA. But entrepreneurs can emerge at any stage of life and from any realm.
At the Young Enterprise Trust annual "It's Business Time" conference, the business success stories are as varied as the individuals – each one different but the same qualities stand out – curious, tenacious, passionate and resilient.
Sharing their entrepreneurial stories this year are:
Sam Stubbs – Founder and CEO of Simplicity
Former CEO of Tower Investments, Sam has set out to create a fairer, more honest KiwiSaver plan that strives to maximise the returns on KiwiSaver by charging the lowest possible fees. "As I got older I became more and more cynical about the financial services industry, I saw it looking after its profits first and foremost and not customers." Sam wants to help kiwis have a bigger KiwiSaver fund by the time that they reach retirement.
Lisa King – Co-founder of Eat My Lunch
In 2015 Lisa King founded Eat My Lunch with her partner and chef, Michael Meredith. Lisa's dream is lofty: to alleviate poverty in NZ, starting with kids' lunches. Eat My Lunch's 'Buy one, Give one' model combined with a food subscription service is unique, sustainable and scalable. In just over 14 months Eat My Lunch has delivered 250,000 free lunches to 35 low decile schools in Auckland and Hamilton, and recently expanded to Wellington.
Ben Reynolds – Co-founder SPALK
With SPALK you too can be your own sports broadcaster – Spalk injects and synchronises alternate audio commentary to live sports broadcasts. With Spalk, broadcasters are able to offer multiple commentary choices for viewers to select from. SPALK now license their API to broadcasters, along with having their own platform for amateur and college sport. Michael and co-founder Michael Prendergast came up with the idea when they started commentating sports games, for fun, using a free internet radio tool in our flat on the weekends.
Ian founded Animation Research Limited in Dunedin in 1989. Ian knew that if he was to start a computer graphics company in New Zealand, it had to have a world-class offering. ARL's vision of turning digital data into pictures that people could understand was that point of difference. ARL it is now a leader in its field, having designed numerous award-winning graphics including the first ever real time yachting graphics for the Americas Cup.
Other speakers on the day include Sir Richard Taylor (Weta Companies), Gabe Davidson (Wellington Chocolate Factory), Sian Simpson (Kiwi Landing Pad) with case studies from Fonterra, Pukeko Pictures and more.
As a charitable organisation that receives no government funding, It's Business Time is a great way to support the work done by Young Enterprise Trust to teach entrepreneurial skills and thinking to thousands of primary and secondary school students throughout New Zealand.
Bound to inspire your team and your clients for the coming new year, tickets can be purchased at www.businesstimenz.co.nz.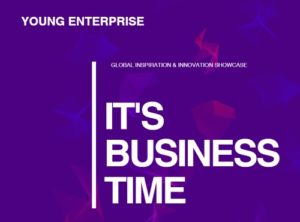 What: Young Enterprise Trust "It's Business Time" 2017
When: Friday 8 December
Where: TSB Bank Arena, Wellington
Tickets: $250 or book a table and receive 6 tickets for the price of 5
www.businesstimenz.co.nz