University of Canterbury – Centre for Entrepreneurship (UCE)
---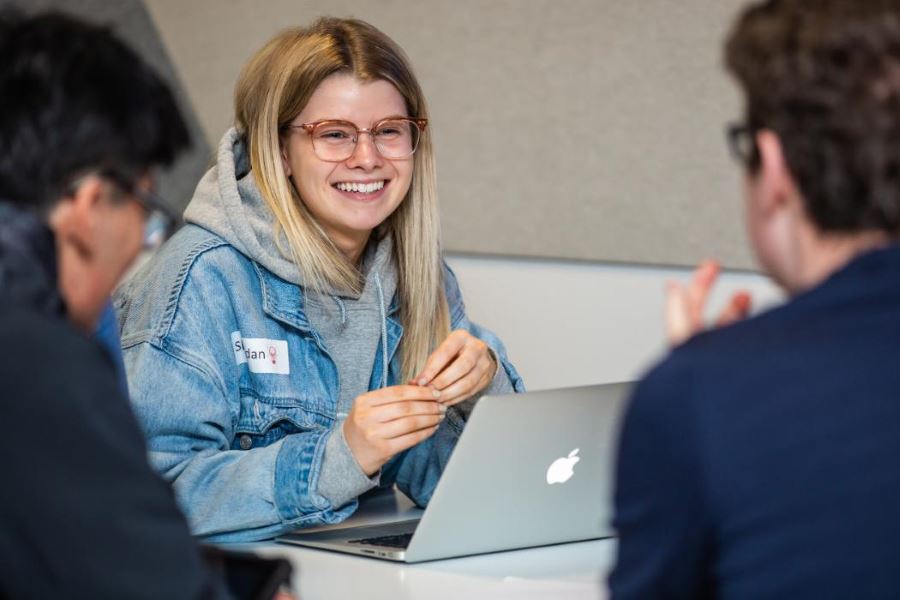 Who: University of Canterbury – Centre for Entrepreneurship (UCE)
What: Entrepreneurship Programmes
HQ: Christchurch
INTRODUCTION
UC's Centre for Entrepreneurship (UCE) provides both students and founders with opportunities to build capabilities in entrepreneurship and innovation. UCE's community of students, researchers, founders, mentors, and industry experts and advisors fosters innovation and creativity in a supportive environment. We offer a wide range of resources and commercialisation options, from the UCE student 'Hatchery' for incubation of business ideas through to our ThincLab high growth programmes for post-revenue companies.
UCE has taken a leadership role in the startup ecosystem in Christchurch with establishing the Founder Incubator, ThincLab Canterbury. ThincLab strives to be a powerful connector both within the University of Canterbury community and between research, education and business in the city of Christchurch and the surrounding region. ThincLab, in particular, provides a focus point for cultivating new technology-based ventures and developing business capability across the four Supernode themes.
With direct access to university researchers and postgraduate talent, active links to global capital and markets through our partner network and a fully equipped office and meeting space, ThincLab supports commercialisation of the next generation of exciting high growth global tech companies based here in Christchurch.
WHO DO YOU WORK WITH AND WHAT KEY CHALLENGES DO YOU HELP THEM SOLVE?
Our goal is to become a driving force in the entrepreneurial ecosystem, both regionally and nationally. We work closely with industry to develop capabilities for the future of work. We want to equip both our students and enterprises to have a real, positive impact on society. Our programmes enable experiential learning, self-directed activity with a bias to action. We help entrepreneurs and innovators fill gaps in their knowledge and experience through mentoring, coaching and skill development.
As a central pillar for innovation and entrepreneurship, we leverage UC's strengths including national and international entrepreneurial networks, world class research facilities, and highly regarded innovation programmes.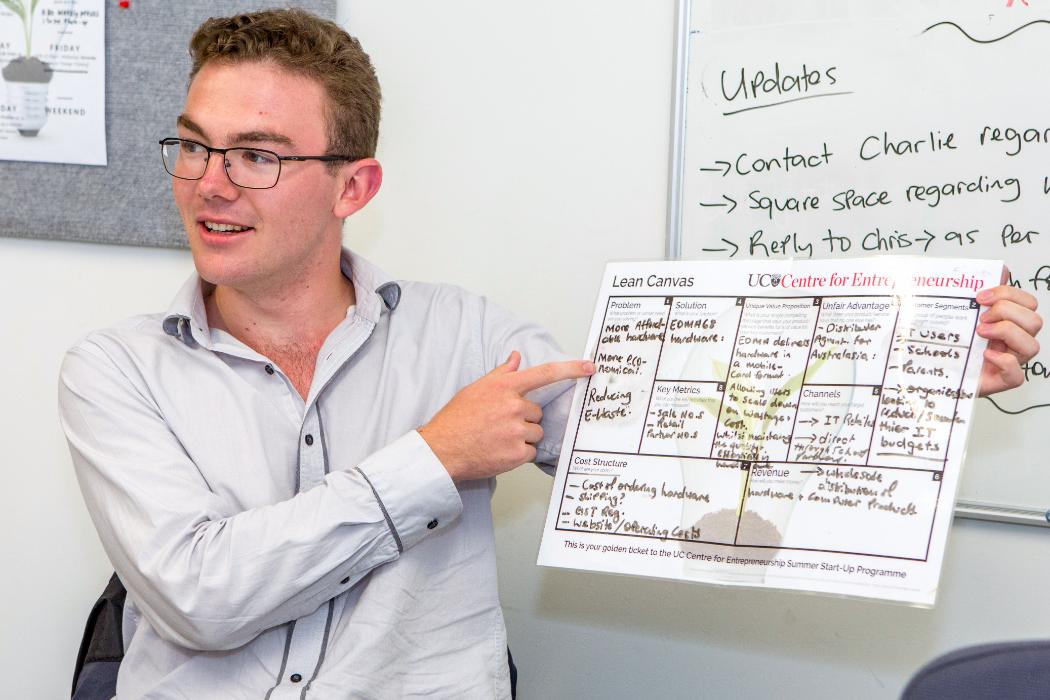 UCE SERVICES
UCE offers a range of entrepreneurial programmes, from the Hatchery for emerging student ventures through to ThincLab's programmes for high growth companies. These services include:
● Hatchery: The Hatchery is UCE's Incubator Programme for students. Mentoring, coaching and advice provided throughout the academic year to UC students developing their own ventures. UCE supports both for-profit and social ventures.
● ThincLab Pace Programme: A programme for high growth companies. Monthly modules focus on a range of themes including Investment Readiness.
● ThincLab Growth Programme: Tailored one-to-one advisory for scalable, post-revenue companies with global ambitions.
● Summer Startup Programme: An intensive 10 week programme run in the summer semester providing a structured opportunity for UC students to work full time on pursuing their own venture. All tertiary students in Christchurch are welcome to apply.
● Innovation Challenges and Competitions: UCE runs innovation challenges and competitions in partnership with industry or community groups. Teams compete to develop a concept solution to problems facing a business, industry or sector.
● Workshops and speaker sessions: Throughout the year UCE organises a range of speakers and workshops.
HIGHLIGHTS
Over the course of 2021, UCE will:
● Engage with more than 2000 UC students across our diverse range of events, challenges, programmes, and workshops.
● Support the commercialisation journey of 25 high growth companies, adding economic value to the region.
● Develop entrepreneurial capabilities, facilitate industry and network connections, and support founder resilience for our wider UCE community.
WHAT EXCITES YOUR TEAM ABOUT THE WORK YOU DO?
At UCE we are passionate about providing opportunities for students to gain real-world skills and knowledge in preparation for a rapidly changing world. We love seeing positive impact through execution, and we are excited about the rise of social enterprise, B Corp, and values driven enterprises.
WHAT MESSAGE WOULD YOU LIKE TO SHARE WITH THE NZ ENTREPRENEUR COMMUNITY?
For New Zealand to continue to be competitive on the economic world stage, we need to build capability in entrepreneurship and innovation amongst all sectors of our population. Successful outcomes will result in both economic and social impact, meaning a better quality of life for all of us.
---
GET IN TOUCH

Web: http://www.canterbury.ac.nz/uce
Facebook: http://www.facebook.com/UCCentreforEntrepreneurship
LinkedIn: https://www.linkedin.com/school/uc-centre-for-entrepreneurship/
Instagram: https://www.instagram.com/uce_nz