Trinder Engages Postgraduates in Product Development and Commercialisation
---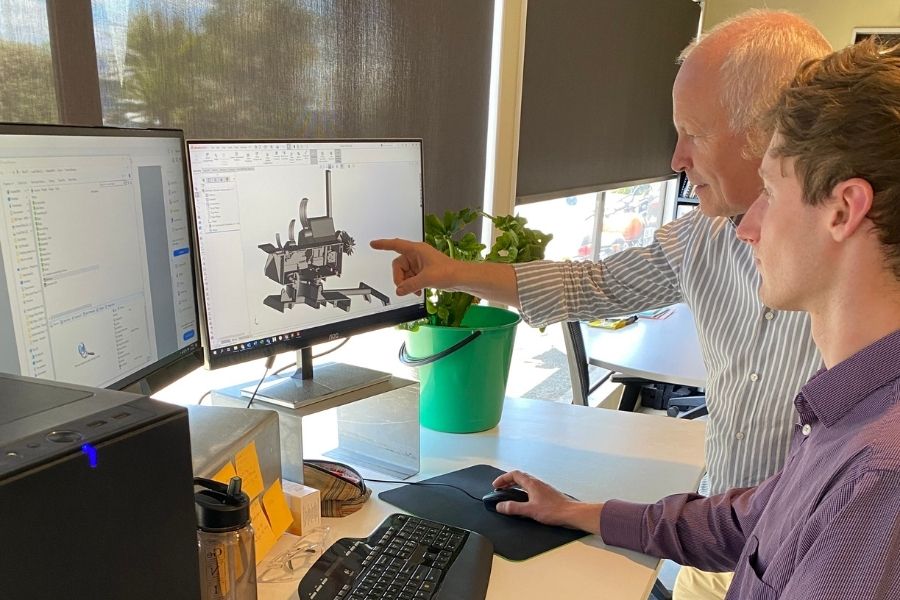 One of the country's leading-edge engineering firms is working with university students to enable graduate engineers to complete Masters' degrees while undertaking projects in a real-world environment.
Nelson-based Trinder Engineering was formerly an engineering business set up in 1958 by local blacksmith Allan (Jock) Trinder. It has since grown to a company of more than 100, and continues to develop machinery for the forestry, viticulture and heavy transport industries.
It is currently transitioning away from being a general engineering provider to a product 'pipelining' organisation, working with clients and companies to assist in product development and commercialisation processes.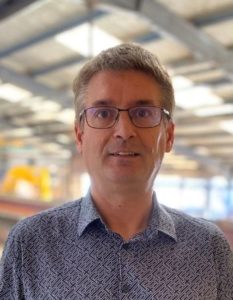 Post-graduate engineering students from Canterbury University are completing their Masters' degrees while undertaking 'real-world' projects with the company. The work of these graduate students is partially funded by Callaghan Innovation.
"We have also been very fortunate to attract a former Canterbury University senior lecturer, international research associate and a senior fellow, who is currently leading our Design and Research Department," Trinder principal owner and managing director Kerry Hill said.
Also working at Trinder are student interns and a chartered engineering consultant.
Despite having been active in product development for some years, the 67-year-old company is expanding its research and innovation (R&I) capability whilst creating new links and partnerships with companies eager to produce and capitalise on potential intellectual property (IP). It is also branching out into design and consultancy.
"We are keen to develop our engineering consultancy; that's where we want to end up. We see that as a real opportunity for us," Hill said.
Trinder Engineering has responded to a gap in the market, which they see as a major opportunity. To achieve its goals, a longstanding relationship with the University of Canterbury has been strengthened and new strategic 'partnerships' forged to help them align with the government's Blue Economy strategic initiative.
The Canterbury students are integrated into the design and development teams at Trinder, working as regular employees to develop a professional set in a commercial environment.
"They know they are going to get a job at the end of it," Hill said. "They are doing their Masters' and come to us every day."
The students manage their designated Research and Innovation (R&I) projects, guided by seasoned senior engineers and mentored by academics.
"The ethos is definitely a work hard play hard one, but the personal rewards are significant."
The blend of knowledge, skills, experience and creativity bring a freshness to the R&I process whilst it benefits from the 'urgency' and stimulation of a commercially focussed organisation.
The company is also working collaboratively with Callaghan Innovation, Cawthron Institute (the country's largest independent science organisation) and Plant and Food Research to help create innovative Blue Economy farming solutions.
Hill said he has learned a lot during his 30 years at Trinder Engineering, and he has used that experience to drive the business forward with good people around him. But can anyone be an entrepreneur?
"I'm not so sure, it can be very hard work," he said. "I think a lot of it is around how you deal with setbacks – there's always going to be setbacks and failures, so you have to figure out how to move past them and concentrate on your goals."
"Dealing with these setbacks requires a good support network," Hill says, "And not necessarily an accountant or bank manager. I have found it helps working with people with other experiences who are persistent and willing to learn and try different approaches, without being stubborn.
"Stubbornness is 'I'm going to do it my way' but persistence is 'let's try this again in a different way'.
"Sometimes you just have to bite the bullet and say, 'That didn't work; we are going to do something different,' and like many Kiwis I am guilty of not changing my approach fast enough."
Hill says that to get a graduate student to the chartered engineering level, which means they are able to sign off on large projects, could take ten to twelve years. He is looking to take on more graduates in coming years and keep them as they gain experience.
"Students need to be retained, that's the hard thing, and that's what we are working on."
Story by Dave Crampton. In partnership with Nelson Regional Development Agency.
---
Innovation Nation is a series celebrating stories of innovation and entrepreneurship from around New Zealand.
Innovation Nation proudly supported by: