Tips to optimise your online presence: Part 2
---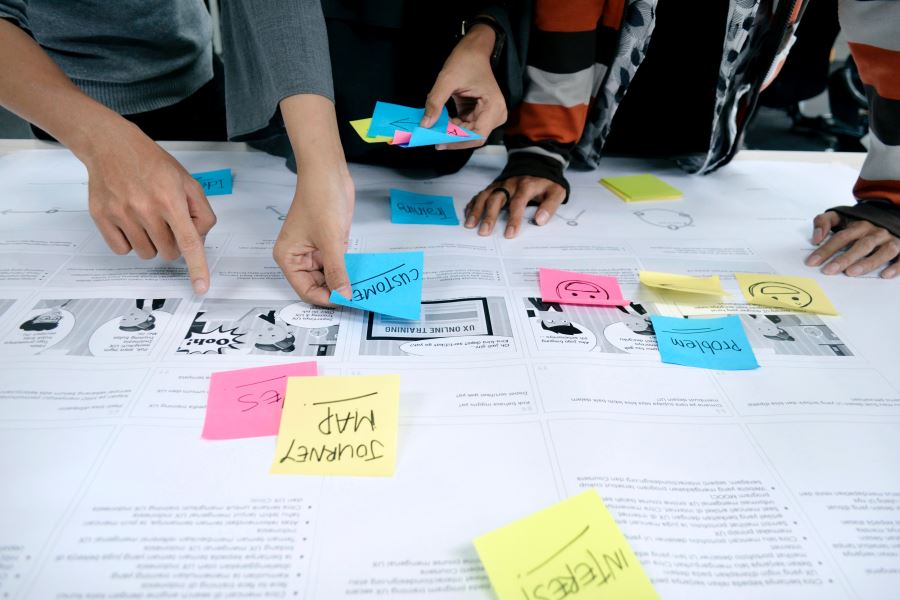 Part Two: Mapping the customer journey
As the country's largest fixed line broadband company, Chorus is well placed to help identify what good broadband looks like. But we want to go beyond that, to help Kiwi SMEs with their own digital transformations so they can make the most of the world class broadband we now have in New Zealand.
With over 90 percent of consumers now using the internet to find a local business—33 percent looking every day—it's clear that even if you are a bricks-and-mortar store, your customers will probably go online at some point on their journey to you.
In the previous article looking at how to optimise online, we talked through the importance of defining your target customers and how to bring this together by creating personas. Now you've given your customers a name, it's time to put yourself in their shoes to answer the questions: how easily can they find you online? Do you meet their needs once they do?
Don't expect your customers to work hard to find you – they won't.
Think about it. If you're searching online for a local business service and you have two options, are you going to phone the company that doesn't have their phone number listed? Nope.
This may sound overly simplistic, but online success is not just about selling products, it's also about building an experience that matches customer expectations and meets their basic needs enough to get them through your door (digitally speaking) and not someone else's.
Mapping the customer journey
Imagine the goals your customers may have—to find out your shipping costs, for example—and then work through the steps they would most likely take in order to fulfil them. Remember to keep the specific needs of your target customers in mind, and try to identify any pain-points that are likely to crop up along the way—these will tell you where you need to focus your efforts.
Let's take a simple common scenario as an example and see how it might play out:
Greg is searching for a local business that stocks the Turbo 200 Laser Hedge-Clippers. He wants to know the price, whether they're in stock, the store's exact location, and when they'll be open.
In this example you can see where Greg's pain-points occur—that is, where he has to work harder to achieve his goal. The more unnecessary steps he has to work through, the greater the risk of him taking an easier path with a competitor.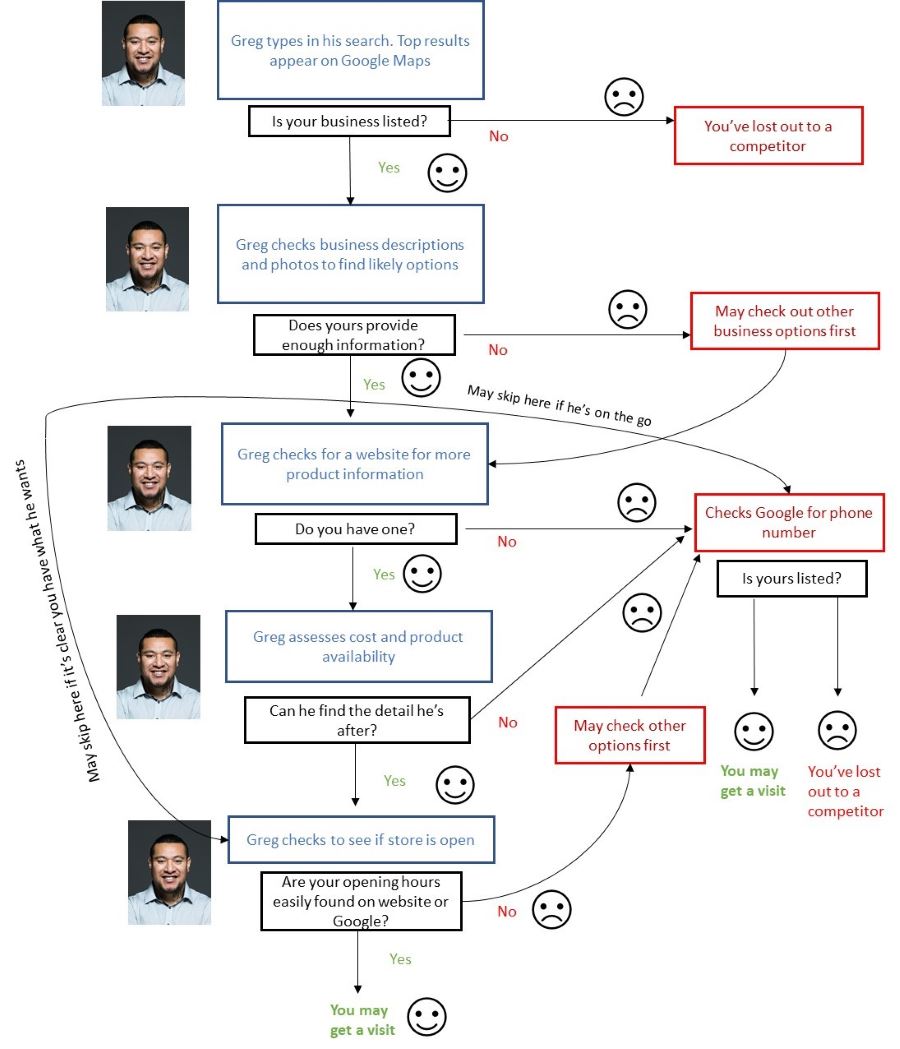 Common goals
Though there is no one-size-fits-all customer journey, there are some common goals that the majority of customers share, along with steps that most businesses can put into place to help them achieve them.
Customer Goal: Find a local business
Think about the example above, how would your customers fare if it was your business they were looking for? Would it be smooth sailing, or sad faces all the way? Searching online for local businesses 'near me' is fast becoming a consumer norm, so it's essential you nail this part of your customer's journey.
Google My Business
Claim your Google My Business page! It will ensure you are listed in Google Maps with every relevant search, and improve your Google ranking at the same time. Add as much information to your profile as possible—contact details, business description, opening hours, photos, products and services you sell—and give your customers all the information they might need at their finger-tips.
If you've already got your Google Business profile sussed, good for you! But make sure your information stays up to date and accurate—if you say you're going to be open, make sure you are!
Your website
After finding your listing, customers expect to be able to click through to a website, yet, statistics indicate that over a third of small businesses still don't have a one. If you think you are too small to need one, consider the message this sends to your customers—maybe that you're too small to handle their needs?
Websites add credibility and make you look professional—and they don't have to be expensive or complicated. Nowadays, one-page websites can be quick and easy to set up with popular platforms like Wix, Weebly, or Squarespace.
Customer Goal: Research product information
It's not all about searching locally. Many consumers use the internet to research a product before they buy—in fact, more than half of New Zealanders (51%) say they do this according to LOGIC1. This means that when your customers find themselves on your website, they need to be able to locate the information they're looking for quickly and easily.
A checklist for your website:
Make sure it's mobile
With over half of consumers now browsing from their mobiles, optimizing your site for mobile is not a luxury, it's essential!
Make sure it's up-to-date
Don't you just love it when you hit upon a special, only to find it expired two days ago? No? Nor do your customers! Make sure you review your website regularly to ensure the content is still valid.
Answer customer questions before they ask
Think back to the needs of your target audience and make sure you meet them—for example, are they looking for colour options? Size guides? Shipping information? Product availability?
Get rid of the fluff
Don't write 100 words when 10 will do, and don't make your customers read about what you had for breakfast before they can get to the stuff they want—they won't. Keep your text short and to the point, and include regular headings so customers can easily scan and find what they're looking for.
Make sure they can easily contact you
Nothing says 'we don't care about you' more than not providing an easy means to get in touch. Put the info where your customers will expect it—either the footer of every page, or on a separate 'contact us' page with a link in the top menu bar.
Provide a clear idea of cost
Cost is often the big question that customers are looking to answer. If you provide a service that works on a quote or individual basis, make sure to explain how you calculate your costs, or consider including a quote calculator, like Convert Calculator.
Add engaging content
Build your customers' connection to your company and your product by adding content that is interesting and engaging. Include high-quality images wherever possible and even video if you can.
*Based on the assessment data collected by Digital Journey.
Customer Goal: Finding a product review
Customers often complete their online experience by reading reviews. Not only do 97 percent of consumers read them, but they trust them as much as recommendations from friends and family.
Take control of this process by actively collecting customer feedback and posting it on your website or social media—or even encourage customers to leave reviews on your Google Business page.
Obviously, you can't always control the quality of your customers' reviews but don't despair, most consumers who read them, will also read your reply. Handled with diplomacy, this offers you an excellent opportunity to showcase your exemplary customer service skills!
Finally…
The products and services you sell, and how and where you sell them, will affect the journey your customers make to find you. By identifying the steps that matter the most, you can focus your efforts on honing the customer experience and ensure you don't lose out to competition.
Coming up in the third blog in this series, we discuss the basics of targeting different customer groups with specific content and online advertising.
---
INSIGHTS FROM THE TEAM AT CHORUS BUSINESS. READ PART ONE HERE.