Why Smart Machine is building robotic vineyard vehicles
---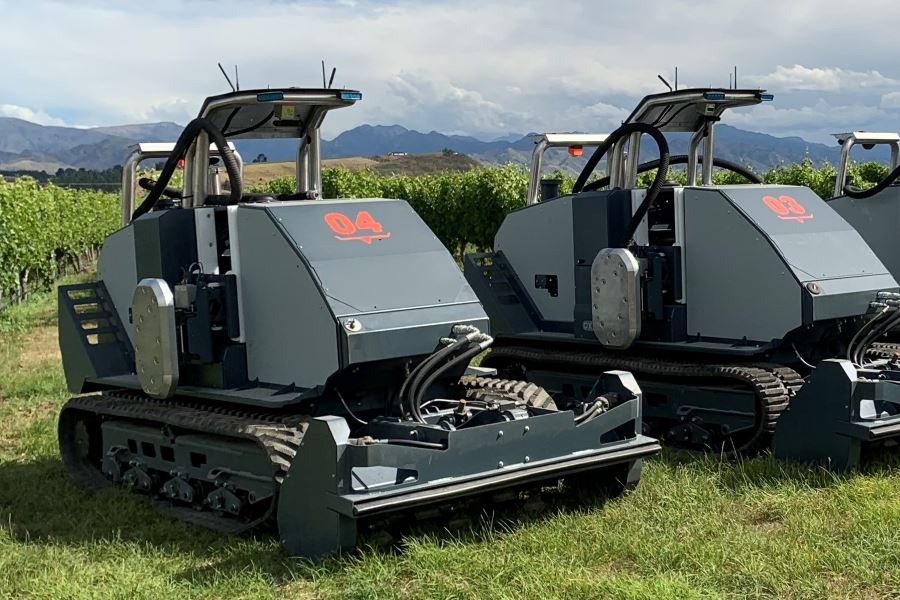 As the wine industry booms and humans are needed for winery management roles, a trio of inventors have created robotic vehicles to do labour-intensive tasks in vineyards – and the vehicles are made entirely in New Zealand. Mike Botur explains.   
Smart Machine currently has just one product, and just four copies of it, but there is strong demand from a key client pulling the company forward. Once the development phase is complete, Smart Machine's robotic vehicles, dubbed 'Oxins', will be capable of mulching, herbicide spraying, mowing, canopy trimming and spraying and leaf defoliating around the clock, in all seasons.
The vehicles are capable of multi-tasking, and multiple machines can be controlled via a single operator, which Smart Machine says considerably increases potential in row working time. The machines will also facilitate the collection of data to enable AI models to help the decision making process streamlining aspects like yield estimation and identifying vine diseases. 
Each Oxin weighs 4.5 tonnes, though the idea is the machines leave less impaction on the soil than a human worker because they spread their weight via caterpillar tracks. Oxins have a 100hp diesel Cummins engine and their implements are powered using a combination of hydraulic and electric actuators.  
Over half of the current 12-strong team behind the Oxin have shifted to Marlborough, centre of NZ's wine industry. Speaking from Blenheim, Smart Machine CEO Andrew Kersley told NZ Entrepreneur five new machines are being built for industrial partner Pernod Ricard, the French liquor corporation which owns a number of NZ wineries and brands and is sensitive to demand in the NZ wine industry. 
NZ has over 2000 vineyards producing over 8 million litres of wine each year, wine exports are worth nearly $2 billion, and NZ wine production has grown as much as 24% each year over the past 20 years, according to 100% Pure New Zealand, contributing $1.5 billion a year to the national economy and supporting 16,500 full-time jobs. Marlborough is the location for much of that growth. 
Kersley says Callaghan Innovation has helped fund Smart Machine's R&D, though it was Pernod Ricard offering a challenge – and a timeline – to Kersley and co-founders which really spurred the Oxin along.  
"The key man in Smart Machine is co-founder Walter Langlois, industrial electrician and serial entrepreneur," Kersley says.
"He had an industrial electrical and control company in Auckland for 25 years. Walter sold up and moved to Blenheim with the intention of semi-retiring. He bought himself a vineyard and realised very quickly there were operational challenges he could solve differently. Over the years he's developed a number of implements used internationally in vineyards, with a focus on reducing labour inputs.
"His company was Machinery Services and that's where Walter developed his implements and tools and in that process gained respect and trust from the industry. One client he met was Pernod Ricard's operations team. They asked him, 'We have these problems, surely tech is getting better – can you have a look?'"
Kersley entered the picture in November 2018 with Nick Gledhill, who had previously partnered with Kersley at Axia on mechanical challenges including medical implants, helicopters, consumer electronics, industrial and agricultural equipment. "Our relationship with Walter spans over a decade having worked together on a number of machinery projects spanning agriculture, structural steel, and packaging robotics. These were custom-built machines you couldn't buy off the shelf. Walter realised this opportunity at Smart Machine was too big for himself." 
Gledhill and Kersley had a strong working relationship, having been lifelong family friends and undertaking similar engineering and technology qualifications and working on 3D printing and scanning around 2010 when the technology was fairly new.
All of this expertise meant when Pernod Ricard asked for a robotic solution for repetitive vineyard work, the Smart Machine trio knew what to do: "We put an engine into a tracked undercarriage which Walter's team built and proved it could drive up and down vineyard rows autonomously and safely stop for objects." 
Kersley doesn't mind admitting there were some setbacks, but the Oxin prototype was delivered on schedule, with its first iteration taking just six months, and the second development (mowing and herbicide spraying) taking an additional six months. Both projects were "huge R&D journeys in their own right," Kersley says. 
"They're built from scratch, incorporating comprehensive mechanical design, hydraulics systems, electrical systems, custom-made electronics, and really comprehensive on-machine software as well as the back end software and interface to support the machines."
As for why Pernod Ricard didn't simply import a ready-made option, Kersley says, "As far as I'm aware they did explore import options [to import a pre-existing option] and the reality is there is nothing quite like the Oxin in the world available at this stage that can do the combination of tasks required and has the power to do it for a long periods of time. Also, the hardware is only as good as the support. So offshore might lack support and the humans with the knowledge base to improve it. We're local, we're looking to scale to a level where we can support Marlborough and Hawke's Bay Vineyards and orchards, before focusing on our potential in offshore markets."
Future generations of the Oxin should move towards being diesel-electric or fully electric, Kersley says, though in their current form they are being productive and useful. 
The benefits of these machines is three fold, Kersley adds. "They offer productivity improvements, will open the door for sustainability improvements and allow data insights that will offer growers the opportunities to make better, more-informed decisions with more information about their growing environments." 
Story created in partnership with Marlborough District Council.
---
Innovation Nation is a series celebrating stories of innovation and entrepreneurship from around New Zealand.
Innovation Nation proudly supported by: