Who: Mahitahi Colab 
What: Learning & Mentoring, Coworking
HQ: Nelson
INTRODUCTION
The Mahitahi Colab's purpose is to build a more connected business and innovation community, by creating stronger links between clever business, investors, researchers, business development providers, Government and the education sector. We do this by offering flexible co working space, hosting business and community events and supporting start up businesses.
WHO DO YOU WORK WITH AND WHAT KEY CHALLENGES DO YOU HELP THEM SOLVE?
1) We provide coworking options for self employed clients and local businesses. Due to the economic impact of Covid-19, many businesses are rethinking the way they work, with co working offering a cost-efficient alternative, perfect for networking. We are home to a number of business support organisations, including the Nelson Regional Development Agency and the Nelson Tasman Chamber of Commerce, with whom we closely collaborate.
2) We also work with entrepreneurs and startups in our Co.Starters programme to help them develop their business ideas.
3) The Mahitahi Colab is a perfect option for those in Nelson and the surrounding areas due to the contacts and connections you can create within the region.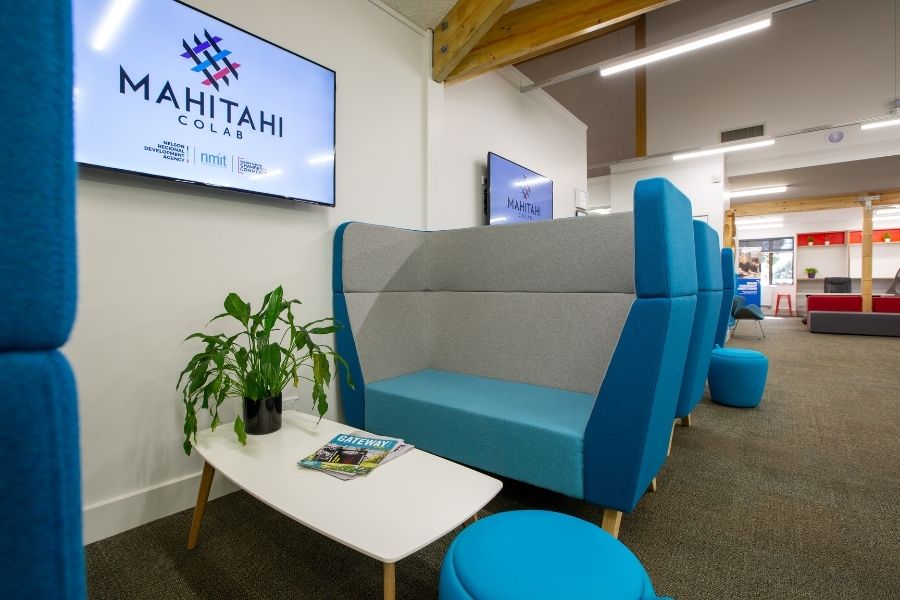 MAHITAHI COLAB'S SERVICES
Overview:
Startup courses e.g. group programmes, workshops, online courses
Startup or entrepreneur related events e.g. speaker nights, networking
Mentoring, coaching or advisory services (one-to-one)
Coworking / shared work space
Description:
Coworking / shared work space – Coworking at the Mahitahi Colab is a flexible and cost-effective way for small teams to maintain social contact and meet clients, as well as providing opportunities for greater collaboration with other organisations. We have a range of co-working options with flexible terms in order to suit your needs, find out more here.
Event space – We also act as an event space for businesses and community organisations. From networking events to business workshops and lectures, we can host up to 100 guests, arranging catering and staffing as needed. In addition to this, are the Boardroom and smaller meeting rooms which can be hired on an ad hoc basis and arranged to suit your business needs. You can find out more about our spaces here.
Startup courses – Lastly we offer Co.Starters; a ten week programme developed in the USA using the Lean Startup method. The programme helps prospective and established entrepreneurs examine all aspects of their idea or existing business in a systematic, practical and critical way to set them up for success. Find out more about Co.Starters and register your interest here.
EVENTS
We host a wide range of events at the Colab which provide opportunities for entrepreneurs to network, to develop professionally with targeted workshops and hear from some exciting and insightful speakers.
The Chamber of Commerce hosts their Starting Blocks Workshops at the Colab, offering invaluable guidance and advice on a wide range of topics from online marketing, to how to network. We are also working with local not for profits, such as Social Impact Nelson Tasman and the Nelson Tasman Climate Forum on upcoming events.
The Colab offers a great space to host an event of your own, inviting guests or members of your organisation to come together.
You can check out our available spaces here, and view upcoming events here.
HIGHLIGHTS
Earlier this year we ran a Food and Beverage specific cohort of Co.Starters. To celebrate their completion of the course and connect them with other Nelson Tasman Food and Beverage producers we held Meet the Makers, an event at Pic's Peanut Butter World, with some opportunities to sample some tasty products. This is one of the three Co.Starters cohorts run this year, involving 31 local businesses.
We've seen a growth in events, with 2200 event attendees over the past year. Hosting local community groups to business networking events, we've had a broad range of attendees, spreading the word about the fantastic space on offer.
Looking forward, we are looking to grow our events calendar further and solidify our place as a business hub for the Nelson Tasman region.
WHAT EXCITES YOUR TEAM ABOUT THE WORK YOU DO?
The Mahitahi Colab is a partnership between the Nelson Regional Development Agency, Nelson Tasman Chamber of Commerce, and Nelson Marlborough Institute of Technology, established to drive collaboration in our region. Our position at the heart of the business and innovation ecosystem in Nelson Tasman makes the Mahitahi Colab such a special place to be. It enables so many of those 'incidental' conversations and connections that allow businesses to thrive. Vibrant and dynamic, there's always something exciting in the pipeline at the Colab.
WHAT MESSAGE WOULD YOU LIKE TO SHARE WITH THE NZ ENTREPRENEUR COMMUNITY?
It's such an exciting time for New Zealand entrepreneurs with great initiatives like Startup NZ supporting Kiwis to kick off their business ideas. We want to build on this in the Nelson region and see the area thriving with independent and innovative new businesses.
---
GET IN TOUCH

Web: http://www.mahitahicolab.nz/
Facebook: https://m.facebook.com/mahitahicolab/
Instagram: https://www.instagram.com/mahitahicolab/
LinkedIn: https://nz.linkedin.com/company/mahitahi-colab