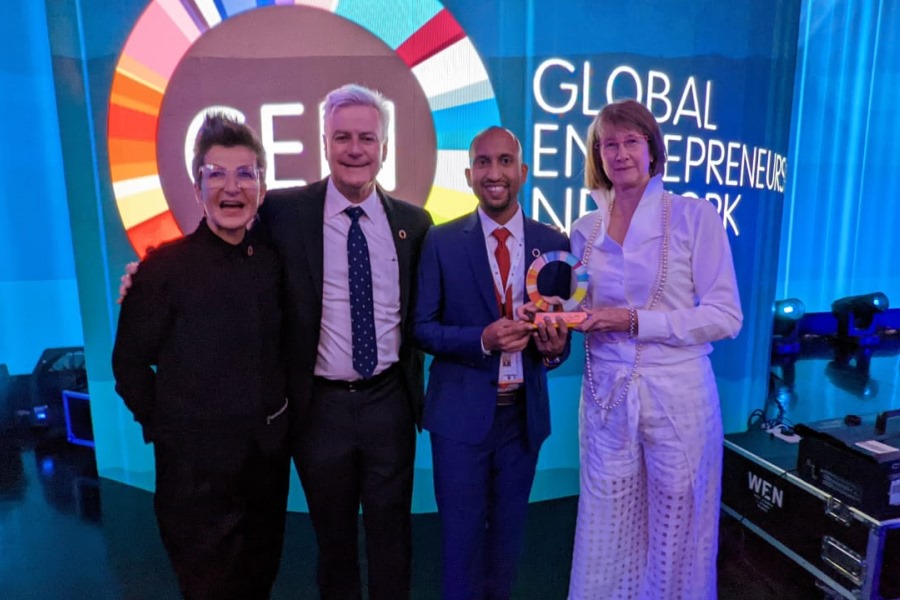 GEN NZ has been honoured with the GEN Country of the Year Compass Award from the Global Entrepreneurship Network, an organization working in 180+ countries to make it easier for anyone, anywhere to start and scale a company.
The award for GEN Country of the Year is given to the highest performing Global Entrepreneurship Network country affiliate.
"The winners of the Compass awards are heroes who have gone to extraordinary lengths in challenging conditions to remove barriers to entrepreneurship and create opportunity for their fellow citizens and communities," said Jonathan Ortmans, President of the Global Entrepreneurship Network. "GEN NZ's trustees and affiliated member organizations throughout New Zealand are leaders in their communities and role models for peers doing similar work around the world."
GEN NZ members comprise entrepreneurs, entrepreneur support organisations, investors, academia, community builders, government, and NGOs.
GEN NZ Trustees Pascale Hyboud-Peron, Marwan Jamal, and Suse Reynolds were on hand in Riyadh to collect the trophy.
Initiatives to promote entrepreneurship and further collaboration between members, including national entrepreneur ecosystem "unconferences" and the creation of an Entrepreneurship Manifesto with policy recommendations for Government to improve New Zealand's productivity and competitiveness through innovation and entrepreneurship, were cited as factors in the organisation receiving the award.
Award presenter Yatin Thaker stated, "GEN New Zealand has truly showcased its leadership through an inclusive approach, bringing together all major entrepreneurship ecosystem enablers, supporters and builders into a common network. GEN NZ's trustees are all accomplished professionals committed to the cause of entrepreneurship. Chair of the Board, Dave Moskovitz, has been a grassroots champion and an inspiration not only to founders but to many of us community builders as well.
"Today, this award showcases the fact that GEN NZ is a true symbol of excellent leadership supported by the right board, and I congratulate all the members of GEN New Zealand on accomplishing this major milestone."
Managing Director at GEN NZ Marwan Jamal said, "In a gathering of over ten thousand people in Riyadh, it was a pleasant surprise and great honor for New Zealand to be recognized as a global leader in furthering the aims and goals of entrepreneurs. It would not have been possible without the collaborative efforts of our community. The biggest success is when all of us come together as one whanau."
That sentiment was underscored by GEN NZ Trustee and Executive Chair at Angel Association New Zealand Suse Reynolds, who stated: "Just as it takes a village to raise a child, it takes a whole country to transform a startup from an idea to a stunning business. Startup founders are solving the world's big problems, and creating jobs and wealth as they do so. Every New Zealander has a role to play in growing and supporting startups: government, academia, corporate New Zealand, professional service providers and private investors."
In announcing the award, GEN NZ Chair Dave Moskovitz acknowledged the contribution and enthusiasm of the wider GEN NZ membership.
"I would like to thank all of our trustees, members, stakeholders and friends for making this well-deserved international recognition possible. You all rock, and together we're raising the profile of New Zealand on the international stage."