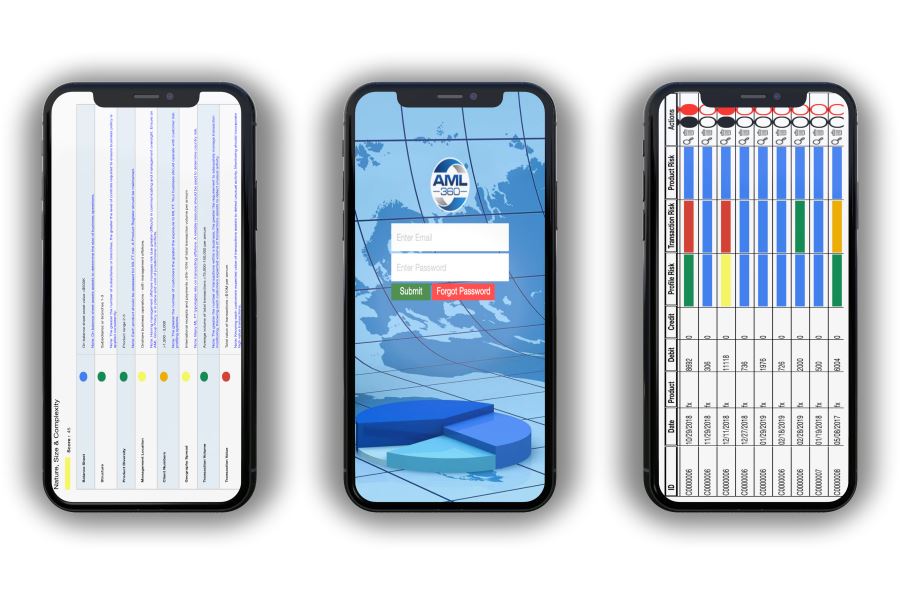 Founders: Kerry Grass and Dr. Nicholas Gilmour
HQ: Auckland
During 2019, AML360 completed its goal of developing an end-to-end digital solution for anti-money laundering compliance. Erin Westover talked to the founders to find out more.
What problems do you solve and what products or services do you sell?
[KG] We sell 'plug-and-go' regulatory technology (RegTech) to automate anti-money laundering compliance obligations. This allows businesses to spend less time on compliance and more time on core business activities.
Who and where are your target customers?
[KG] Our customers are those businesses who struggle to meet their AML compliance obligations due to lack of knowledge of the 'how to' aspect. Primarily this impacts on SMEs. However, there are some areas of AML compliance where large institutions also struggle. Our digital banking solution allows banks to throw away their spreadsheets and use technology specifically designed to automatically calculate banking AML risks.
How and when did you first come up with the idea for your business?
[KG] We came up with the idea after our experiences of working in AML roles with government and the private sector, both in New Zealand and overseas. We saw what was working and what wasn't. Not just for small businesses but banks as well.
Areas causing the greatest problem was the inability to carry out a business risk assessment, which is a mandatory legal obligation. Businesses must know where their risk exposures are before they can set up policies and controls to manage those risks. Small businesses were being forced to incur costs from external AML professionals and banks were taking months and using a lot of internal resourcing.
AML360's software can complete the process between 20 mins to 2 hours (depending on the complexity of the business). This was our first product which was released in 2013/14. Since that time, we have gone on to develop a RegTech solution for every aspect of AML compliance so that businesses can access a single service or wrap their entire AML/CFT compliance framework into a single online platform.
What are three things about your business that you are proud of?
[KG] We're the first company to have been successful in turning an end-to-end AML compliance framework into a digital solution. We're also proud of the fact that in 2019, AML360 was successful in 3 of 3 TechSprint events hosted by the Australian RegTech Association and AUSTRAC, the AML government supervisor for Australia. The TechSprint events were linked to CDD (Customer Due Diligence), business risk assessment, and transaction monitoring. 
And lastly, for the last 5-6 years, we've been recognised in AML compliance software reports as an innovative vendor in AML technology. We are listed alongside names such as Oracle, Thompson Reuters, and Fiserv. These are big players in the international market, so it feels like an achievement to see the AML360 brand amongst them.
How do you market your business and what advice do you have for others around marketing?
[NG] Getting marketing right has been and still is one of our most challenging areas. As a startup you are focusing on saving costs and marketing can be big costs. Because we are bootstrapped funded, we tried to take a DIY approach to marketing which consumes personal time and never results in a style that a professional marketing individual or company would provide.
Now that 2019 has seen the completion of our goal to have AML360 deliver an end-to-end AML compliance platform, we have entered into 2020 with funds set aside for marketing. As we speak, we have professionals engaged in updating the style of our literature and website presence.
My advice to others is whilst you are developing your business, use DIY tools that allow you to get a semi-professional look and once revenue allows, let go of the DIY reigns and engage professionals. 
What's been the biggest challenge you've faced in building your business so far?
[NG] Developing and beta testing the AML360 end-to-end solution has taken approximately six years. That is a long time which is a result of bootstrapping. Had we taken the capital funding option and relinquished some control of the business, we may have reached our goal a lot sooner.
Thankfully our first solution that we developed for the platform, the business risk analysis tool, is still unique on the market and banks are still using spreadsheets! Nor does it look like any other software has beaten AML360 to the post for an end-to-end solution, so we were fortunate that we haven't lost the market timing opportunity.
Now that we have completed the software development, we find ourselves asking the same question – which is 'should we be seeking funding in order to gain scalability faster'? We are still on the fence with that one and are seeking guidance from our Advisory Board.
What is the biggest entrepreneur lesson you would like to share with other Kiwis thinking of starting their own business?
[KG] Just keep at it. When competitors come into the arena, don't let it be distracting. We've seen many that have come into the industry, and we may initially be concerned about their successes, but they often don't stay around. The benefit that Nicholas and I have is that financial crime is a passion of ours. We didn't go into AML360 for the sole purpose of running a successful business and making a profit. We wanted to make a difference for small businesses, to make their lives easier, so they can combat financial crime and meet their regulatory requirements without having to invest heavily.
[NG] Don't give up and do your research. Make sure you adequately test the solutions you're delivering. During our beta testing our products were being used by businesses who were required to undergo independent auditing from Tier 1 – 3 auditing firms. We also had government Supervisors (the Reserve Bank, the Financial Markets Authority and the Department of Internal Affairs) carry out AML/CFT site visits on those businesses. The feedback we've received from our beta testing has been really helpful and improved the quality of our end solutions. 
Do your market research. Make sure the solution is necessary. But also, find something that makes you smile every time you think about it. Don't go into it if you're not interested in it. It's got to be what you want to do. I've been reading about money laundering since the early 1990s – it just speaks nicely to me. But if it's not for you, you're going to get disheartened quickly. You're going to drag your heels in everything you do. Developing startups and making them successful is a difficult process, so you need to be happy that you're doing something that is right for you.
[KG] If you don't have the passion, that candle is going to burn pretty quickly. It's going to go out before you get your solution on the market.♦
---
This is the second of a two part feature on AML360. Read more about their work here.
---