Ed-tech startup out to make STEAM more accessible in classrooms
---
A Warkworth inventor is reaching out to schools so teachers don't have to reach far – for tech resources, that is. Michael Botur explains.
On a mission to introduce more students to the STEAM (Science, Technology, Engineering, Art and Mathematics) hardware and software they'll need to bring ideas to life, Super Humanics has developed a "maker space" on wheels called the Tinker Cart.
Each Tinker Cart – made of wood, and about the size of a tallboy – contains dozens of tools and consumables kids need to understand basic manufacturing technology. These include a 3D scanner and printer, a computer, paper, cutting tool, solar panel, digital projector, wood, metal, paper, motors, soldering irons, glue guns and more – all of this on wheels, so teachers can bring hands-on tech into the class instead of having to move the entire class into another room.
The Tinker Cart and the app used to guide each STEAM project, called Super Tinker, launched six months ago. Super Humanics has now entered its testing phase and is going through validation of the Tinker Cart as a minimum viable product. Each cart is designed in Warkworth and custom-built in Whangarei, though sales and enquiries are occurring from Auckland to Fremantle to Ethiopia.
Adapted from pedagogical expert Kath Murdoch's Inquiry Cycle, each Tinker Cart project lets children immediately assess if what they've built has been successful so the child isn't dependent solely on a grade. The carts are adaptable, so a school can order a Tinker Cart 'add-on' full of gardening tools if covering a module on horticulture, for example, or order a Tinker Junior for little learners.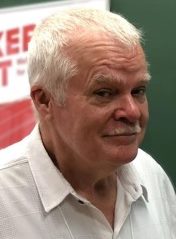 Super Humanics is led by Mike Izzard, an inventor whose background is in teaching at international schools.
Izzard returned to NZ from Tokyo International School in September 2020 after 26 years working abroad. Izzard settled in Warkworth and immediately turned inspiration into action, bringing with him evidence-based conceptions about schoolkids' STEAM needs from decades working in international schools – which were often short of hands-on tech for kids.
"I noticed lots of classes borrowing STEAM things they could take to their rooms," Izzard says. "So the first solution I designed was called Leonardo. Kids aged 7-14 began using it. We loaded it with 3D printers, digital projects and a computer."
Izzard had been keeping an eye on universal ed-tech trends in schools from the US to Asia to Europe, and was also inspired through a chance meeting with Edith Santacana, who began as a science technician at Tokyo International School and has grown to become Super Humanics' co-founder and product and software expert.
Santacana, too, had been observing a growing lack of access to hands-on manufacturing technology for kids in first world schools.
"Edith turned out to be interested in the same question as me: How do you get kids to make cool stuff? In my entire teaching career I've never turned anybody down if they have wanted to make something. Edith and her husband work for space company Loft Orbital in San Francisco. At home, they'd made an automatic cat feeder and a cat camera. So we grew Super Humanics out of a mutual interest in tech."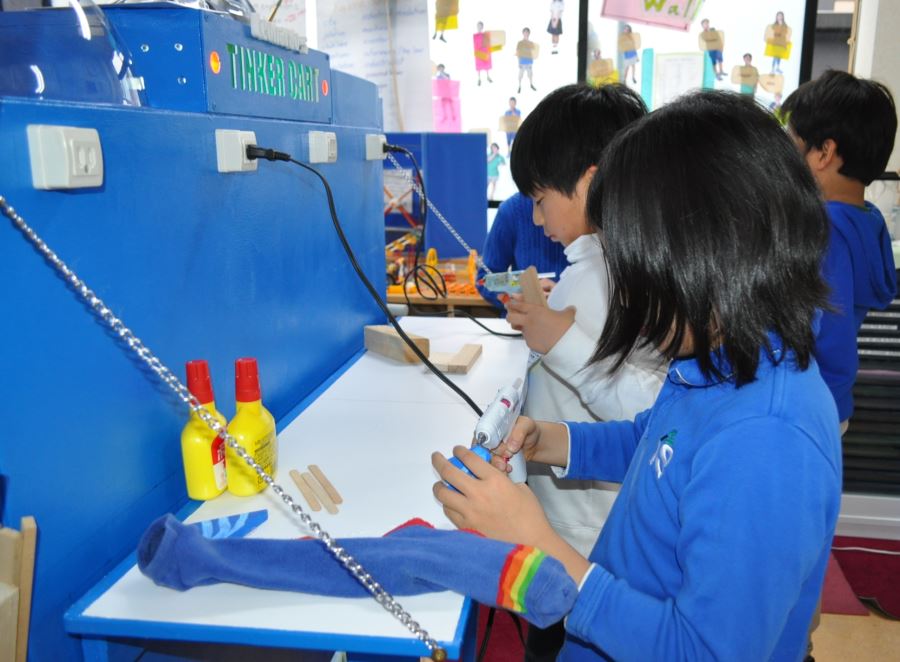 "We did a survey of the kids in Tokyo in one grade and found 80% had never hammered a hammer or screwed a screw," Izzard adds.
Compare this to Izzard's childhood, when he was so enthusiastic about tinkering that, "Dad made me a shed on the end of the chook house because I couldn't stop building."
Izzard has been working on educational curricula for International Baccalaureate and other schools dating back to the 80s, presented at TEDx Tokyo Teachers in 2015, and demonstrated an early prototype of the Tinker Cart at the Tokyo ed-tech UnConference called FutureEd in 2018, where the Tinker Cart was well-received.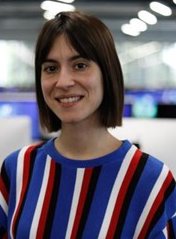 The next step was hooking up with the local Men's Shed in Warkworth (Men's Sheds are hubs located through NZ towns and worldwide where people with an interest in hardware congregate for building projects). Men's Shed enthusiasts helped build prototypes in late 2020 which were given to schools.
Demand became immediately evident. "It went really well – we got overloaded with requests for carts."
It wasn't long before Izzard's connections in the international schooling network led to sales conversations across the globe.
The rest of 2021 involves three major missions for Super Humanics. The first two are to refine the Tinker Cart and work out an optimal production process.
The other goal this year is ensuring the app running on the cart's computer, known as Super Tinker, is set up to re-order consumables in the same way that a smart fridge can order milk.
"Some school office staff have wanted to order their office supplies through the app," Izzard says. "So we need to find other developers to integrate pieces properly."
Izzard is hopeful schools will appreciate the money saving potential of Tinker Carts, which can be bought or leased to buy over 3-5 years.
"When it compares to setting up a Maker Space room and employing a staff member, it's a tenth of that price, I would think."
Super Humanics will continue its product validation journey in 2021 guided by some wise words from Leonardo da Vinci which Izzard loves to quote. 'Knowing is not enough; we must apply. Being willing is not enough; we must do."
---
Innovation Nation is a series celebrating stories of innovation and entrepreneurship from around New Zealand.
Innovation Nation proudly supported by: