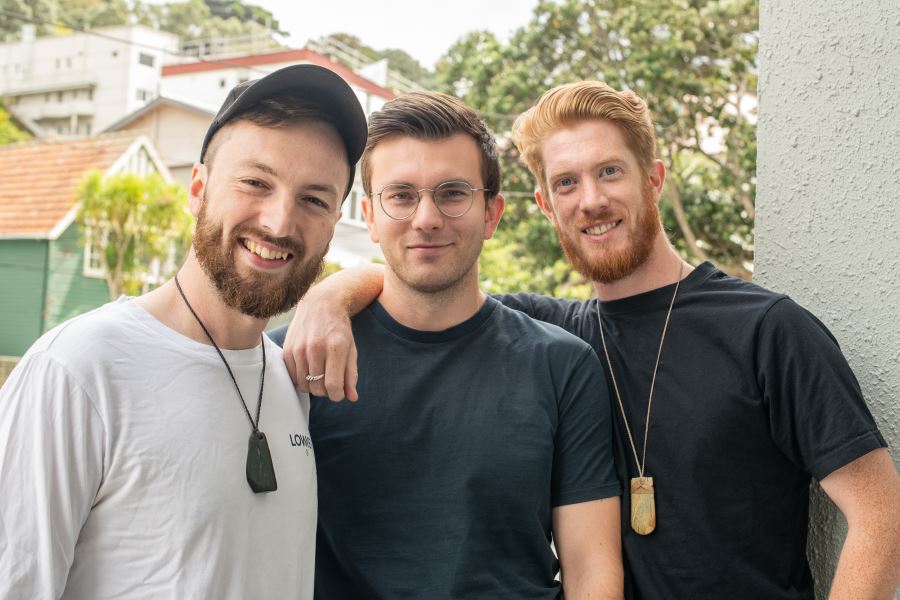 StudySpy are making it easier for Aotearoa's young adults to make one of the most important decisions of their lives—what they are going to study.
For years it was difficult for students to find out about scholarships and courses without searching through stacks of publications or visiting a whole bunch of websites. This sparked an idea in entrepreneurs Michael Watson and Jarrod Mosen who decided to change this forever.
In 2018, Michael and Jarrod—along with co-director Ciaran Jack—launched StudySpy, a free online course comparison tool and scholarship database for New Zealanders exploring their tertiary study options.
Since its launch it has grown at a rapid rate— the website currently receives over 70,000 searches a month, and StudySpy has even partnered with Education New Zealand and other specialist agencies to power the website search and programme information for the New Zealand Institute of Skills and Technology, the Polytechnic, ITO and Government Department mega-merger. But while it might seem like an overnight success, it took two years of work to make StudySpy a reality.
It all started in 2016, when Michael and Jarrod took part in Te Herenga Waka -Victoria University of Wellington's Entrepreneur Bootcamp. There they developed and tested their concept for StudySpy and decided to continue pursuing their idea.
"The bootcamp was a great starting point as we were coached and supported by actual entrepreneurs," says Michael. "Our mentor during the bootcamp was Michael Elwood-Smith from software social enterprise Loomio and he continued mentoring us after the bootcamp. At times when we met with Michael I was like 'Tell us the answers! I know you know the answers!' but he wasn't there to provide the answers, he was there to provide the questions and then we had to go and find the answers."
The mentoring and support proved invaluable as it wasn't a smooth road getting StudySpy off the ground.
"It was crazy getting access to the data we needed to launch StudySpy," says Michael. "It took 11 months of negotiation with six different government departments—and then one of the departments ended up being merged with another after we'd just signed the deal so we had to renegotiate it all."
But through perseverance (and a bit of charm) they got the data they needed, finished building their website, and finally went live.
"As soon as we launched it went crazy," says Michael. "There were emails streaming in, the phone wouldn't stop ringing, it actually reached a point where it was too much. The saying is that it takes two years to be an overnight success and it really felt like that. For two years we were grinding, we were pushing it, we were driving it to make it happen."
You might think that one company would be enough to manage, but for Michael, Jarrod, and Ciaran it was just the beginning. In August 2018 they launched Obvious, a Creative Design, Marketing & Digital Agency.
"Obvious was brought about because to fund StudySpy we were bootstrapping (doing gigs on the side) and then we started to think about how we could increase our value as contractors. So, Ciaran, Jarrod, and I decided to bring all of our work together to create an agency," says Michael. "We called it Obvious, initially focusing on branding and websites but now we've also started doing digital marketing and media buying. It was really a way to fund ourselves but now we've got two separate companies that are paying for themselves."
When Michael, Jarrod, and Ciaran first came up with the idea of launching Obvious, which was a finalist for 'Best Emerging Business' at the 2019 Wellington Region Business Excellence Awards, some people thought it was crazy. But while running two start-ups has been challenging, it's been beneficial for the trio.
"It's worked so nicely for us because with StudySpy we're working with all of these marketing managers at tertiary providers and there's a real opportunity there for a marketing agency. StudySpy refers a lot of work to Obvious and then Obvious refers a lot of work to StudySpy. Obvious doesn't just work with tertiary but we really specialise in it," says Michael.
Michael, Jarrod, and Ciaran have achieved a lot over the last few years and—in Michael's own words—have learnt "loads" of valuable lessons along the way.
"First, be sustainable, financially and mentally," says Michael. "As an entrepreneur you are often the business and you need to look after your team. You're not building a machine, it's a human organisation, so you need to be sustainable mentally and financially. Take things slow, go baby steps, aim for big things but actually plan out how you get there." 
"Second, know that everyone's winging it. Everyone's winging it in the sense that nobody actually feels like they're an expert in what they do. Eventually, you'll be winging it for so long that you do know what you're doing, but it's about having the confidence to give something a shot," says Michael. "It's really thinking about what the worst-case scenario is and what you're most likely to achieve. If you're comfortable with the worst-case scenario, it's hard not to have the confidence to just take a leap and realise the rest will just fall into place."
"Lastly, when you actually give entrepreneurship a shot, even if it doesn't work out, you're putting yourself in a much better position. I've been approached with job offers from Microsoft and Uber and all these other companies and the reason why they were reaching out to me was because I was doing a start-up and I was learning so much more than any of my peers taking a traditional route. So, entrepreneurship really is incredibly beneficial—even if you don't end up running your own business."
---