Meet Komodo, the startup tackling school wellbeing
---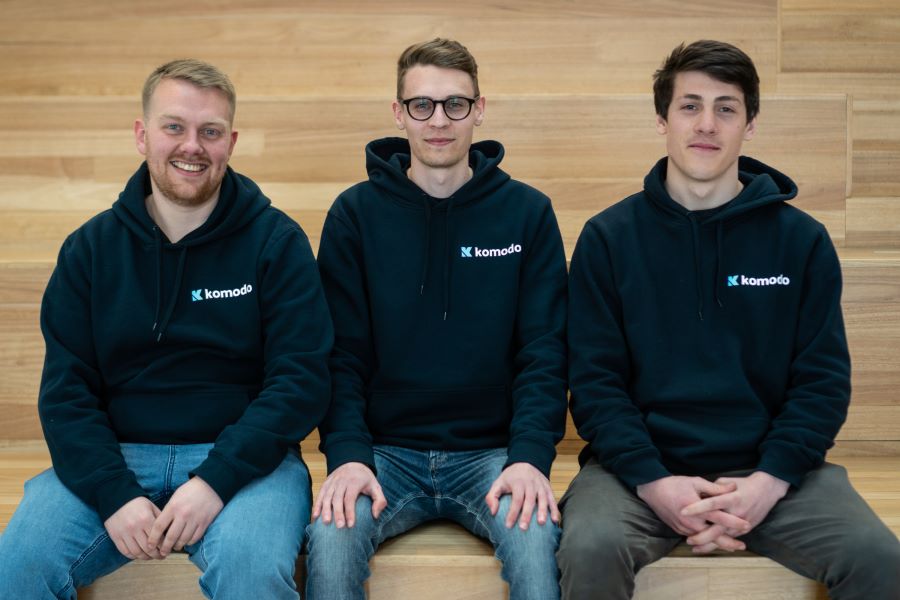 When you think about some of the groups most affected and industries most disrupted by COVID, students and education come quickly to mind. It's been an incredibly difficult time for young people to achieve a sense of community through multiple lockdowns and schools going remote. Komodo founders, Chris Bacon, Jack Wood, and Matt Goodson realised this and so did their education customers.
This realisation began a classic startup pivot which resulted in Komodo's product taking its focus away from athlete monitoring and towards wellbeing monitoring for school students.
Komodo builds tailored software solutions for schools to manage and improve wellbeing. Their software gives students a safe way to share how they're doing and helps schools to spot problems early so they can intervene.
Te Ōhaka startup Komodo is one of 20 companies that has just completed the prestigious Startmate accelerator run by Blackbird Ventures.
More than 500 start-ups from around Australia and New Zealand applied to the intensive 12-week Startmate programme that aims to propel the region's best founders toward their goal.
Komodo co-founder, Jack Wood, says going through Startmate has brought multiple benefits. "Startmate is very impressive – it's the biggest accelerator in Australasia. There is a sort of validation that comes from beating out other startups to win a place in Startmate. It's quite a big boost and really well timed for Komodo as we went through a major pivot in 2020," says Jack.
Marian Johnson, Chief Awesome Officer from Ministry of Awesome who runs the Te Ōhaka startup hub, says, "I am delighted to see that Komodo knocked it out of the park with Startmate. We watched these guys pivot during 2020 and it was a pretty incredible turnaround. Working with Startmate is a total validation of their transformation from athlete monitoring to student wellbeing. They've been working with mentors such as Australian unicorn, Culture Amp, which is a priceless opportunity to sharpen their value proposition and leapfrog any competition in the wellbeing space."
Komodo was founded in 2018 by three University of Canterbury students, Jack Wood, Chris Bacon and Matt Goodson. The three met when competing as part of the University Centre for Entrepreneurship Summer Startup competition. Wood was studying law and commerce, Bacon was working towards a PhD in sports science, looking at injury prevention, and Goodson was finishing a software engineering degree. The three came together to create an athlete monitoring platform that used data to track athlete wellbeing and performance. The platform collected metrics like training minutes and distances covered as well as data on sleep and wellbeing. This information was used to help coaches improve performance and mitigate injury.
"We were part time during 2018 but had some significant victories. We managed to win some prize money and a fair few awards for our software and research," Wood says.
Komodo was one of the first startups to join Te Ōhaka – the Centre for Growth and Innovation – in 2019. "The move to Te Ōhaka and the support from Ministry of Awesome was probably the real defining moment for us. We were able to go full-time and launch our product to market. Joining Te Ōhaka brought us into the startup ecosystem. Sometimes the best advice you get is from a startup that is 6-12 months ahead of you. It has been brilliant to talk to the likes of Emily Blythe from Pyper Vision and to tap into the Ministry of Awesome team for anything we need." says Wood.
Komodo grew quickly to around 30 customers around the world from Australia to Israel. One of those customers was the sports department of an independent school – St Paul's Collegiate School in Hamilton.
The wellbeing aspect of Komodo's software struck a chord with the St Paul's boarding staff and they requested the opportunity to pilot it.
"Wellbeing was a key part of Komodo but it was just a small component of the sports product, but we decided to give it a try with a two-month pilot," says Wood.
"Mid-way through that pilot a second school had been in touch, and that's when we thought we might be onto something. The schools were instantly getting value out of the wellbeing insights and we loved that it was having a positive impact on students' daily lives."
When Covid lockdowns hit in early 2020, the sporting world went quiet and Komodo took the time to research the education industry.
"We made the decision to do a full pivot," Wood says. "Our solution changed a fair bit at that stage, but the company was very similar in terms of core values and core research."
Komodo has been building traction in the education space and now has customers throughout Australia and New Zealand. The startup has secured association partnerships with the Independent Schools of NZ, Australian Boarding Schools Association and the Council of British International Schools, which together gives Komodo an audience with hundreds of schools around the world. This has meant that the team has also needed to grow and they are currently hiring to push for further progress.
After hearing about Komodo's shift to helping schools prior to lockdown, New Zealand rugby personality TJ Perenara jumped on board as an investor. "I just thought it could be so powerful. For me personally when I was young, speaking about my feelings wasn't something that was easy to do. This allows students to do it without feeling uncomfortable or scared, and it's easier for staff too because they can track everyone from one place."
At Startmate, Wood says they had access to people at some of Australasia's most successful startups – including Atlassian and Canva. "The network connections have been incredible – and the willingness of everyone in their mentor pool to get behind us is fantastic. There's also the $75,000 investment from Startmate which helps us continue to reinvest in Komodo and scaling."
The Startmate programme just finished on 15th April with a demo day that put the teams in front of hundreds of investors. "Investment is definitely something we're interested in considering again this year," Wood says.
But the bigger picture is about changing the way schools tackle student wellbeing and staff wellbeing.
"We're definitely seen as a game changer. We've seen some brilliant data where we've been able to flag critical wellbeing issues so those conversations can start and those issues can be resolved. It's really great to see we can have that impact. We aim to become the global authority on school wellbeing," Wood says.