Greymouth's Hopaholics Brewery – beer, yarns and community
---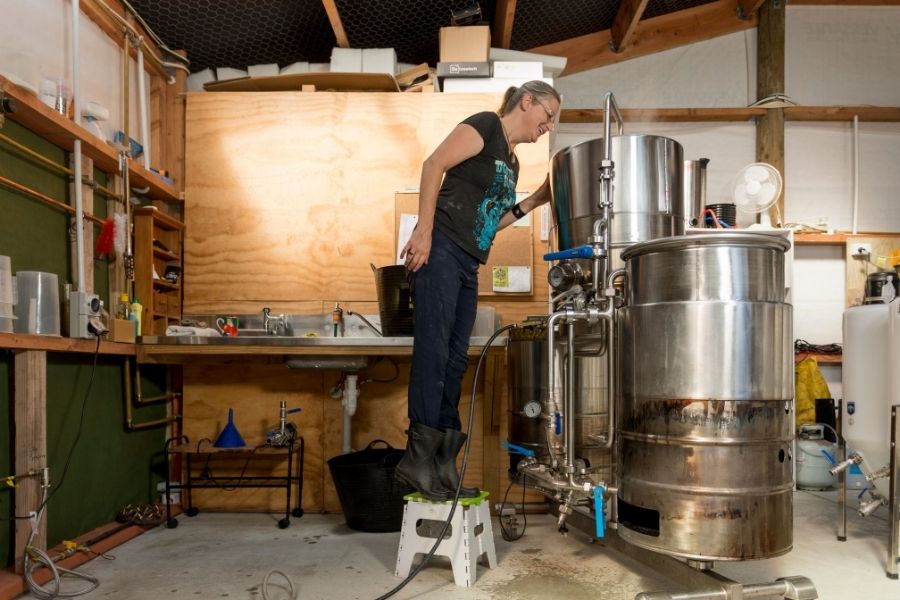 In the two years since Sarah and Jason Johnson started their entrepreneurial journey, they've been on a steep learning curve. With a pandemic, a pivot and a back injury in the mix, the couple have proven that remaining agile is key to business success.
Husband and wife team Sarah and Jason are crazy about craft beer. They're the proud owners of Hopaholics, a boutique brewery nestled in amongst the bush, just outside Greymouth. They sell their beer online and out of Hopaholics Taproom and Bar, which is located in Greymouth township.
"It's like an old-school bar. You can come by yourself and you know there'll always be someone you can have a yarn to. It's friendly and there's always a bit of fun banter," says Jason.
They've earned a loyal following for their selection of traditional beers, from IPAs to stouts, along with their innovative 'Weird and Wonderful' range. Chief brewer Sarah gets excited about creating new brews from all kinds of ingredients – boysenberries, vanilla, cacao nibs and garlic, to name a few. She says her discerning customers love sampling her creations.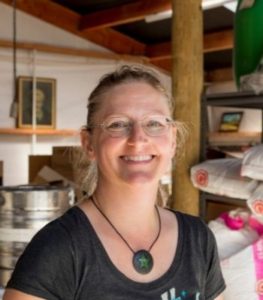 "They don't want to just swill any old beer. They want something really nice."
The seed for the business was sown when the pair was 'soaking up the vibes' at a beer festival in 2018. Sarah joked with Jason that it would be amazing to brew beer for a job. As a science, biology and chemistry teacher at the time, Sarah was looking for a new challenge. The couple had brewed beer together during their university days, so they already knew the basics.
A bad day at work was the final push Sarah needed to pursue her dream.
The couple enrolled in a grain brewing course through Massey University. They also completed a business startup and development programme called Co.starters through Development West Coast. Then, in October 2019, they made the bold decision to forfeit Sarah's salary and open Hopaholics Brewery.
Jason kept his teaching job to provide a financial buffer, working in the business outside school hours.
"It became really exciting really fast, in terms of a completely different skill set, completely different learning for us," says Jason.
The pair initially planned to be a distribution brewery, brewing onsite and selling to bars by the keg. But they soon realised they couldn't compete with New Zealand's two major brewing companies who had the duopoly in the tap beer market. So, in February 2020, they launched themselves into the hospitality industry, opening Hopaholics Taproom and Bar in town.
Two months later, the country was plunged into lockdown and they were forced to close. When Covid hit, they had a domain name but no website, so Sarah spent the first week of lockdown setting up their ecommerce website. They shared their story on the Chooice Facebook page and got a heart-warming response, serving customers as far afield as Waiheke Island and Mosgiel.
"We're the only brewery in Greymouth, but also we're very small so people that are into beer have always got their eyes and ears out for a little niche breweries like ours, so that's definitely an appeal," explains Sarah.
Their brand is becoming more widely known and they've had to scale up faster than anticipated, which has brought challenges.
The 100-litre brew system they started out with became inadequate once they opened the tap room, so Sarah started double brewing.
"All of a sudden, we couldn't keep up with demand," says Sarah, "I was doing stupidly long hours trying to keep up with everything, to the point where I actually hurt my back. We had to close the tap room for a couple of months. It was awful."
Jason too had been clocking up hours working in the taproom on top of his teaching job. They knew it was unsustainable, so they took on a bar manager to reduce their workloads. They also sourced a brewing system with 350-litre capacity from the Waikato. Sarah explains "a bit of a scrambling phase followed." It took a few months to commission the new system, while they also tried to keep up with everything else in the business.
Jason says understanding the legislation that comes with running a brewery and selling alcohol was a headache in the early days, but they have that sorted now.
Reflecting on their business journey so far, the couple describe it as "exciting, unpredictable and fulfilling."
For Jason, the satisfaction comes from creating something out of nothing. He also relishes the community that has been built around their beer, especially at the bar.
Having survived their fair share of hurdles, the couple believe stickability and resilience are two key attributes entrepreneurs need.
"We are still alive and not majorly in debt at this point. So, that's a win given the couple of years we've come through," says Jason.
As for the future, "we don't have plans for world domination," says Sarah, "I'm actually quite happy catering to the West Coast because I'm pretty keen on keeping our carbon miles down."
They recently invested in a bottling machine, as they're hoping to get some bottles out into West Coast stores.
Brewery open days are also in the pipeline so their customers can see behind the scenes. Other than that, they'll keep doing what they do best – brewing wickedly good beer for the wild hearted.
Story created in partnership with Development West Coast.
---
Innovation Nation is a series celebrating stories of innovation and entrepreneurship from around New Zealand.
Innovation Nation proudly supported by: