10 questions with Jake Millar
---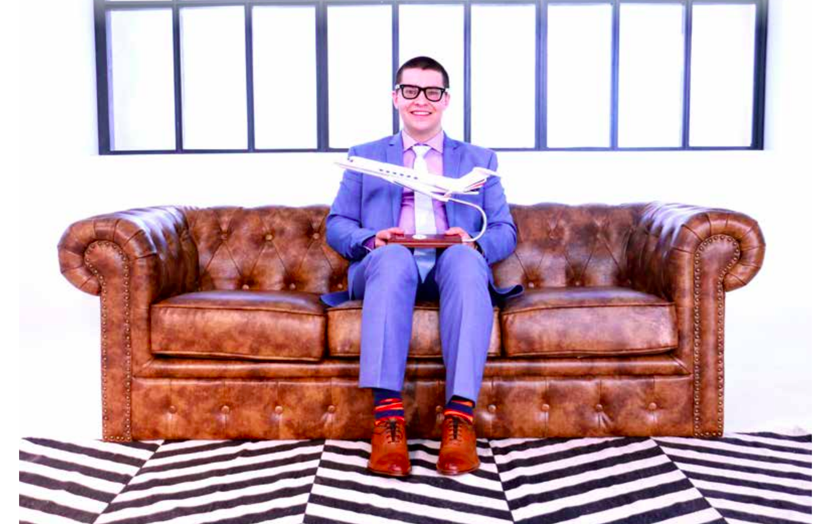 Tell us a bit about OOMPHER, the business you just recently sold to the government?
OOMPHER is a digital media company with a vision that 'less people die wondering what they could have achieved'. I set out to inspire students to do extraordinary things through Wise Words from leaders in their fields. The problem I was trying to solve was that students leaving school were flocking to University simply because it 'seems like the right thing to do'. We therefore interviewed 130 thought leaders such as Rhys Darby, Mahé Drysdale, Suzy Amis-Cameron and Nadia Lim to talk about how students could get into their field.
OOMPHER was sold to New Zealand Government Crown Entity Careers NZ in May 2014 – and they're continuing to distribute our content into Kiwi schools. I'm really proud of what we have achieved.
What or who has been your greatest source of inspiration?
'What' inspires me is to achieve my 30-year-plan – this is a gem of advice that Sir Michael Hill gave me. Work out where you want to be in 30 years, and work your way backwards. This drives me everyday.
'Who' involves a lot of amazing people, but first and foremost my father. Dad died in 2010 in a skydiving plane crash, and he was someone who did what he loved, everyday, always seeking higher things. His passion for skydiving and business reminds me to find joy in my life. Additionally, Sir Richard Branson, Mike Pero, Elon Musk, Eric Watson, Elizabeth Holmes, Jamie Beaton and Graeme Hart have been significant inspirations for me in business and life.
Out of all the things you could have chosen to be when you grew up, why did you choose entrepreneurship and was there a specific moment that lead to that decision?
For me, it is about freedom – being in charge of my own destiny. As entrepreneurs, we get this privilege more than most. I love creating, I love building value, I love building wealth, and in business, I get to do this everyday. It is magical.
I decided to explore the opportunity of becoming an entrepreneur after reading Sir Richard Branson's 'Losing My Virginity' (the book that changed my life). Sir Richard showed me what life could be like. As for the 'specific moment', I was incredibly fortunate to be offered a $40,000 law scholarship to the University of Otago, and I had a phone call with the Dean of Law, Mark Henaghan, to discuss the scholarship. I told him of my entrepreneurial itch, and he encouraged me to scratch it – I will be forever grateful for that. I remember feeling on top of the world when I made the decision.
How old were you when you started your first business and what did you sell?
I was 7 years old, and I sold fridge magnets! My business was called 'Jakeo-Magnets' and operated from Greymouth. My Mum is incredibly creative, and she gave me the idea. I would sell magnets outside of the supermarket in Greymouth and usually make about $45.00 per day – a killing! In those days, Mum paid for my raw materials (!), so it was 100% profit… talk about a good business model!
Your new venture Unfiltered, tell us a bit about that and who it's designed for?
Unfiltered, also in the media/journalism industry, is a paid-subscription business education platform dedicated to helping Kiwi businesses grow both here in New Zealand, and globally. In conjunction with PwC, AMP, NZTE, Craigs Investment Partners and the University of Auckland Business School, we interview the most successful Entrepreneurs, Investors and Executives in the World for the benefit of New Zealand business.
Our interviewees include people such as Sir Richard Branson, Julian Robertson, Eric Watson, Diane Foreman, Sir Ralph Norris, Rob Fyfe, Claudia Batten and Victoria Ransom. Additionally, we create business-specific video content with our commercial partners across four digital channels – Startup Series, Scale School, Global Know-How and Risk Ready TV. Check out www.unfiltered.co.nz and learn how you can achieve your business dreams.
Can you tell us how you know you're onto a good idea or perhaps share the key things that help to define a good business idea?
I follow the following market validation formula, taught to me by entrepreneur Sam Ovens. Firstly, find a painful problem, in a specific industry. Secondly, cold approach 50 to 100 potential clients to get feedback, asking whether they would pay for your product. If they say "yes," make these early adopters commit by signing a pre-launch contract. Once you have 10 to 20 pre-sales, build the product.
If you follow all of these steps, be careful to retain as much equity as possible, as by this stage you know for sure your idea is excellent. This is the best way to avoid unnecessary risk and protect the downside.
What has been your biggest challenge as an entrepreneur?
As an entrepreneur my expectations of myself, and what I want to achieve, are constantly evolving. Although this is exciting, it is also challenging, as you never reach a level of true satisfaction. In business I think it is important to look over your success, and be proud. It is okay if you are not totally satisfied, but definitely be proud of your success! This is fundamental, as you never know when your time on Earth is up!
Is there a specific book you'd like to recommend other budding entrepreneurs read?
Wow! I can think of so many. Zero to One by Peter Thiel is the best book I have read on Tech Startups. Elon Musk: Tesla, SpaceX, and the Quest for a Fantastic Future by Ashlee Vance for inspiration. Essentialism by Greg McKeown for focusing on the essential. Outliers by Malcolm Gladwell for understanding, and, a Kiwi example, In The Arena by Diane Foreman for the details on life as an entrepreneur! Read, read, read – that's my advice for any entrepreneur!
What is the greatest lesson you have learnt about life?
We're all mortal, don't fear it, embrace it. This has been so hard for me to accept, and it is scary. A friend of mine, Jake Bailey, the Christchurch Boys' High School Head Boy of 2015, was recently diagnosed with cancer. Jake's story has allowed me to accept that luck plays such a big part in our lives. There is so much that is totally out of our control. You or I may get cancer tomorrow, and we can't do anything about it. But what we can do is control the now. So don't waste your time stressing, don't waste your time working on something you hate, don't waste your time with people you don't like.
Make radical change in your own life so that you're happy with your current situation, that's the best you can do. The rest is decided by a crazy game called life. Also be nice to people, everyone is fighting their own personal battle. ■