10 questions with entrepreneur Sam Hazledine
---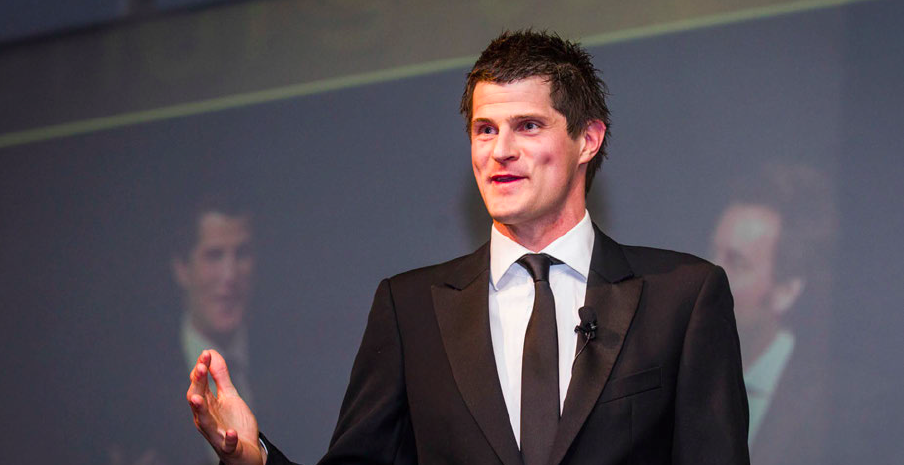 Sam Hazledine is regarded as one of the brightest young business minds in the country. Award winning entrepreneur, best selling author, pro skier and dedicated husband and father. Sam shares valuable insights with us.
---
1) Why did you become an entrepreneur and what did you do beforehand?
In 2003 I graduated as a doctor. I took a year out to compete as a pro skier and then I started working as a doctor. I saw that 25% of graduates were leaving the profession within three years of graduating and I hypothesised that it was because medicine hadn't evolved to cater to the younger generation of doctors, so I set up MedRecruit to help doctors create a lifestyle in medicine.
I don't think most successful entrepreneurs set out to be 'entrepreneurs' per se, I think they set out to solve a problem that needs solving. Entrepreneurship is the vehicle they use, not the end game.
2) What is it that you do now and why do you do it?
I believe that anything's possible, that any individual or organisation can be exceptional, and that exceptional people change the world.
We help doctors to live exceptional lives, because doctors living exceptional lives practice better medicine and that helps everyone.
I believe that to live an exceptional life you need a career that you find purpose in, you need to master your finances, and you need to live an inspired life.
We do this through three companies, MedRecruit, MedCapital, and MedWorld.
3) You won the Deloitte Fast 50, fastest growing service business in 2009, you were Ernst & Young's Young Entrepreneur of the year in 2012, and you were a Sir Peter Blake Leader in 2014, has winning these awards and going through the process to get there helped shape where you are now? If so, how?
Winning awards is cool, but it's not what it's all about. They are just a reflection of what you're doing and achieving, which is what it is about. However, winning awards does certainly help put you on the map and this makes opening doors a lot easier.
4) How has becoming an entrepreneur changed your life and the lives of those around you for the better?
I can clearly remember the first time I flew internationally after I started MedRecruit and I wrote 'entrepreneur' on the customs form. To me being an entrepreneur is like being an alchemist: it's about creating something magic and adding value.
I think a business is a reflection of the owner, the leader, so owning a business has been one of the best exercises in my own personal development I could possibly experience. For my business to grow, I've had to grow; for my business to flourish I've had to expand both my mindset and skillset.
I never wake up dreading going in to work, I love what I do, so being an entrepreneur has allowed me to find what I love doing and to do it to the best of my ability.
It's also made possible a quality of life for my family and me that we are incredibly grateful for.
5) What is the number one challenge you've faced as an entrepreneur and how have you overcome this?
For many years MedRecruit grew and grew and it felt like we could do no wrong. Then, a few years ago, the wheels fell off seemingly overnight. In retrospect it was coming for a while. We were losing six figures a month and I had to turn it around and do it quickly.
I think in our lives we have good days and periods, and bad days and periods, but we aren't going to know which is which at the time.
At the time I thought this was the worst period of my business life.
But it caused me to look deep, to develop a sound strategy and execute on that strategy relentlessly for a long period of time. With my back to the wall I didn't hesitate, replacing all of my senior management and half the team, I realised that structure was the price I needed to pay for success and I paid the price.
I learnt an incredibly valuable lesson about building strategy to solve real problems, then executing relentlessly on that strategy to achieve results. We came out of that period a better company than we ever were before, and I came out a better leader, a worthy leader, and we have grown at 100% per year since then.
It turned out that it was one of the best periods of my business life because it forced me to find what I was capable of, to face the challenge head on and rise up to it.
6) The majority of entrepreneurs we encounter really struggle with creating a healthy work, life balance. You're the founder and MD of MedRecruit, a committed husband and father, author of Head First and Unfair Fight and a national extreme skiing champion, what are your key tips for achieving balance and happiness in your life?
The first thing is to forget about balance. Aiming for balance is like aiming for mediocrity. If you value balance over excellence then you probably shouldn't be an entrepreneur.
96% of businesses ultimately fail, or at least fail to fire, so to think that you are starting a business to have a better lifestyle is a sure fire way of losing.
Instead of balance I aim for exceptional in all the areas that are important to me. I certainly don't manage to always achieve this ideal, but that doesn't stop me aiming for it. That way instead of balance I get a life full of what's important to me, and my family, and balance is something I don't worry about.
As an entrepreneur it's very easy to live in the future, because we're always aiming for something better than where we are right now. The problem with that, however, is that happiness is found in the present, meaningful relationships are found in the present. I heard a saying that 'heaven is when you don't want to be anywhere else' but as an entrepreneur it can be seductive to always want to be somewhere else because you are always striving to be better and achieve more.
I am training myself to be in the present, to appreciate where I am right now, and I'm doing this through a guided mediation in the morning and through a belief of, 'This is heaven, right here.'
Because achievement without fulfilment isn't success at all.
7) What are the three biggest things that you believe will prevent an entrepreneur from becoming successful?
Firstly, starting a business for themselves rather than to solve a problem for the customers. The market doesn't care if you want a BMW.
Secondly, not educating yourself in both mindset and action. The psychology and skills of the owner are the biggest chokeholds on any business, so if you don't commit to your own education you'll hold the business back.
And finally, aiming for balance, not excellence.
8) You help people become more successful. For those that do succeed, what key attributes do they share in common?
Firstly they are hungry to the point of fanaticism. They do this by getting clear about what they want and why they want it.
Secondly, they are prepared to sacrifice who they are and what they have for who they need to become and what they want. When we say 'yes' to investing our time in anything we are saying 'no' to investing our time in something else. Successful people say 'yes' to the important stuff and 'no' to the unimportant; this is where passion is found.
And finally, when it gets hard they do it hard. Successful people persist. Successful people understand that while failure is inevitable, they will fall over, defeat is optional, because defeat is choosing to stay down and not get back up.
They understand that while you don't get to control the height of the mountain, you do get to control whether you put one foot in front of the other; they persist.
They are also hungry to keep learning and growing, and seeking out the experience of others because personal experience is an expensive teacher! I'm speaking at the Nurture Change Business Retreat in Fiji in November; it's exactly the sort of forum that business owners and leaders attend to accelerate their learning, to learn from others, and to get inspired and connect with like-minded people.
9) What or who is your main source of inspiration and why?
After I sustained a life threatening head injury in 2002 I had to find reasons to stay the path to recover fully. Initially just the desire to think and operate at a high level was enough, but that wouldn't have been enough forever. Six months after the head injury I met Claire, who I later married, and she continues to be the source of inspiration for me to be the best me I can be.
10) Giving back is important to you. Tell us a bit about The Hazledine Foundation.
When you achieve success you have the opportunity to do good for others. Through the Hazledine Foundation we give back to young people to help them have happy nows and compelling futures.
We have funded rescue missions in South Sudan to rescue children from being child soldiers, and we are working on a program to help school kids create the habit of setting and achieving goals so they can make their lives into something that inspires themselves and others.
New Zealand entrepreneur, international speaker, and number one best-selling author of Unfair Fight, Sam Hazledine lives in Queenstown, New Zealand, with his wife and two daughters. www.samhazledine.com