10 digital mistakes you're probably making
---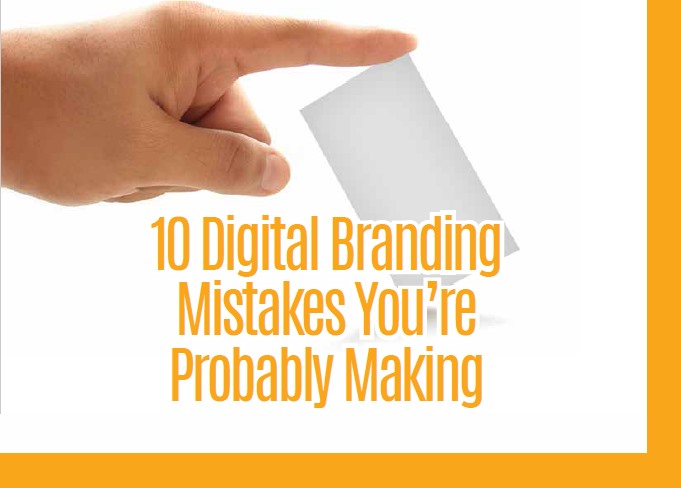 The digital world is a new frontier to many and has rapidly changed the ways we do business. Strategies that have made us successful offline might not always work in the online world.
If you're new to digital branding, here are 10 mistakes that you're probably making:
1 – Ignoring Your Voice
Your unique voice is crucial to setting yourself apart from the competition and defining your brand. If you've mastered conversational, informal client relationships, then continue that rapport online. Tap into your inner voice and find a way to make it work for your target audience.
2 – Not Utilising the Proper Tools
There are countless online tools – both free and paid options – that assist in building and maintaining your brand online.
3 – Forgetting to Define a Target Audience
The content you share and the platforms you use are only successful if you're reaching your target audience. You might think that casting a large net will bring in the most fish, and it will, but that won't help if you're fishing for lobster. Rather than posting everywhere with content for everyone, define your target market and brand with them in mind. If you know which platforms your audience is most active on and the type of content they engage with, you'll be able to quickly focus your efforts.
4 – Spreading Yourself too Thin
Adopting the philosophy of quality over quantity has a big impact on how a brand appears on social media. Creating standout content takes time so focus it where you will see the most significant return on investment. Which social networks are those in your target audience most using? Focus on those.
5 – Overlooking Continuity
The key to seeing success on social media is being active daily! Users like to follow accounts that post regularly and engage every day. We're living in an age in which everything happens instantly, and no one will hang around too long waiting for your next post.
6 – Stressing Over the Competition
While checking out the competition is important, don't get caught up in measuring your success by comparing it to theirs. Rather, see what the other brands are doing successfully and determine how those strategies might fit in with your plan.
7 – Going Solo on Social Media
It's called social media for a reason, after all! While it may be tempting to create content, hit post, and walk away, you need to realise that merely posting is not enough. The most successful brands on social media create communities. Start conversations, respond to comments, join in on the dialogue, and support the content from others.
8 – Keeping the Right Company
Creating online allies is a must for online success. In building relationships, you can reach a whole new audience by tapping into theirs. Just ensure that those whose content you choose to Retweet and share aligns with your brand. If your target audience is families, it would be a mistake to promote content that drives your viewers to a blog with questionable language. You are the company you keep, even online.
9 – Not Viewing Social Media as an Investment
While online media is a bit more casual than print, it's still important to invest in branding your social media platforms. A blog may be somewhat personal, but that doesn't mean it shouldn't be professional. Invest in design to ensure that your websites and pages are consistently branded and that everything from the cover photos to the fonts is cohesive and appropriate. Selfies may be okay for a personal account but invest in headshots for your professional social sites.
10 – Not Doing the Research
For many of us, the digital disruption is still new. While you may be confidently Tweeting and regularly blogging, it's important to keep in mind that the online landscape is constantly changing. Be sure to research the current trends and stay on top of what's relevant now.
---
Sarah Pearce provides specialist training in Social Media Marketing and Brand Reputation.