Work from home? How to maximise your daily productivity
---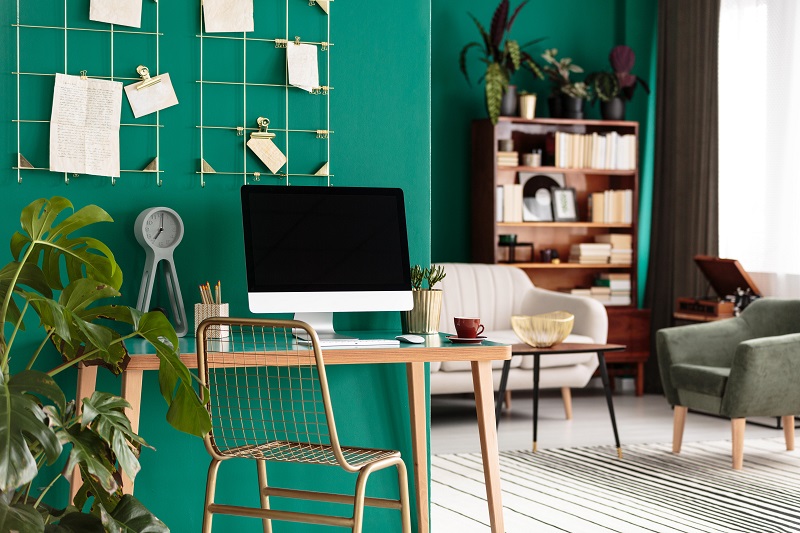 Working from home can be great – no commuting, better flexibility, working in your PJs (sometimes) and potential cost savings. But it's not all easy. Motivation, routine and keeping a healthy separation between family and work life are all big challenges that home-based workers can face.
However there are plenty of ways to work around this, in order to help you achieve a good balance between being productive, while also knowing when it is time to 'switch off'.
The importance of a dedicated work space
For most people, having a permanent place in their house that is dedicated to working is critical to help them focus, and stay on task. And the great thing is – this is a chance to create the workspace that you've always wanted, with no office 'rules' to get in the way.
Having a really organised space from the get-go is essential, as being able to 'hide everything away' will help you to really turn off when you need to. But also understand what it is you must have to complete your work – is a desk with four legs critical? Or do you just need a table that folds out from the wall so you can pop your laptop on it when you need to send off a couple of emails. Consider your actual requirements, because they may be more simple and basic than you first thought.
How to choose the right space for you and your home
First and foremost it's about where you can find space. And secondly, it's about understanding how to work around other people in the home. Do you need to be somewhere that you can keep an eye on the kids while they play in the lounge? Or are there any regular distractions that you need to be separated from?
The bedroom might seem like a good idea if there are no spare rooms in the house, but you definitely need to consider if this would be a practical solution, and not blur the lines between work and life. Could you reshuffle a large linen cupboard in the hallway? Is there room under the stairs to have a nook? Or perhaps a large shelving unit could help divide up some space in the living room.
It's even worth thinking about whether you have to have a physically separated work zone – as just defining it with a rug, or furnishings, may be enough.
Get creative, and think 'multi-use'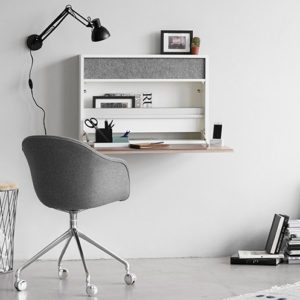 Be proud of the fact you work from home, and make it a design feature that doesn't distract from your interior, but rather adds to it in a creative way. By making it an enjoyable space that you actually want to work at, you'll be far more likely to be productive when required – rather than being distracted by chores and other things that may interfere with your concentration levels.
Where space is a luxury, have a think about how you might be able to create multi-functional items of furniture. A tall shelving unit can act as storage, as well as a divider if you need a bit more privacy in an open-plan living room.
Flip top tables are an easy way to offer flexibility to your working space, where you pop it up where and when you need it, and can store it away when you don't. However if you're keen to really establish a dedicated home office, but don't want to lose a room that is usually reserved for guests, you could get a tilt-away desk that folds down into a bed at night. Sure, they are a bit pricey – but certainly easier than adding on a new room to the house!
The small details matter
Decorate to your heart's content as well – particularly if it helps to motivate you, and inspires you to achieve more. An iPad that can fix to the wall is perfect for jotting notes, or a cute little peg board to clip post-its. Never underestimate the power of greenery too – plants are perfect for adding a little something extra to a space.
People generally don't invest enough in a good ergonomic chair that provides the right support. And even though you're working from home, occupational safety is still important – if not more so – so try not to scrimp when it comes to good equipment.
Depending on how many hours you are going to be in your space – consider adding some colour to help define it, and the bonus of this extra detail is that the right hue can have a very positive effect on our psychology. World-renowned colour psychologist Angela Wright developed the Colour Affects System, which determined that universally, blue stimulates the mind, yellow inspires creativity and green creates a calming balance. Saturation plays a part too, bright colours energise and muted colours soothe.
Feel like you need to start again with the 'workspace' you've created? Do it! Spend a weekend pulling everything out of your zone, and carefully putting it all back together using some of the ideas above. It will be sure to reinvigorate and refresh your motivation.
Lastly, and most importantly – make it your space. No matter how small or large. By understanding what encourages you to stay productive at home, and implementing it into your working space, you will be more likely to focus when you need to, and happily walk away when you've ticked off the to-do list in record time.
---
Laura Lochhead is the founder of PocketSpace Interiors