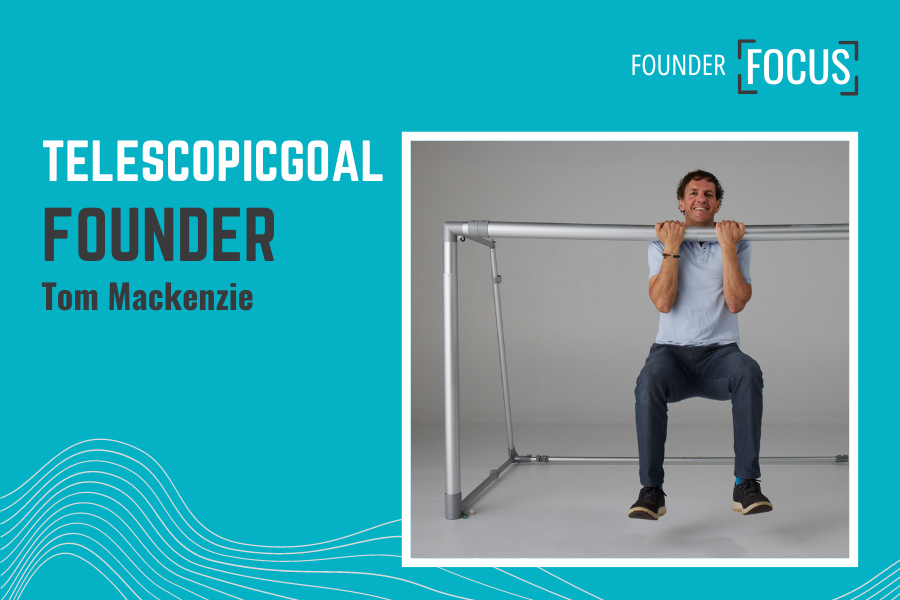 In Founder Focus we introduce entrepreneurs and innovators working on our next generation of new business startups, social enterprises and small businesses.
---
At a glance
Founder: Tom Mackenzie
Founded: October 2019
HQ: Auckland
---
Can you tell us a bit about your business?
NZ based entrepreneur Tom Mackenzie has combined his love for football (soccer) with his engineering expertise to bring Telescopicgoal, the World's first fully adjustable football goal.
The one Telescopicgoal can be adjusted to 35 different sizes and designed to be changed easily and efficiently. It folds down into a convenient wheelie bag. Designed to the highest quality it is made of very strong aluminium which is 20 times stronger than plastic and the netting is 4mm hexagonal UV resistant, all leading to a long life product backed by a 2 year warranty.
Telescopicgoal comes in three interchangeable and upgradeable models T1, T2 and T3. While the cheaper T1 utilises aluminium posts and ground spikes, the crossbar is fabric. Adding a telescopic aluminium crossbar takes your product to a T2 although these models are both designed solely for soft ground surfaces. The T3 replaces ground spikes with a stanchion resulting in a full aluminium frame appropriate for any surface.
What's the backstory for your business idea?
Following a stint in the UK and while watching his own son's footballing development, Tom was surprised by the varied information when it came to goal size recommendations based on age. It seemed an impossible task for parents and coaches to find a goal capable of fulfilling the requirements that fluctuated across different governing bodies including the FA, UEFA, and even NZ football.
Tom began development on a product that was adjustable, without coming at a cost to the portability or stability of the frame. It has taken 4 years of research and development despite his vast experience, which includes taking a startup he founded and growing it into a multi-million dollar business, listing on the NZX.
Fast forward and Telescopicgoal is selling in NZ and the first overseas order to Germany has just been placed.
What programmes, learning or mentoring have been of assistance so far?
A little funding from Callaghan's for research
Some help from David Boyd on some export advice
---
WORKING ON SOMETHING NEW, INTERESTING OR IMPORTANT? JOIN OUR COMMUNITY OF FOUNDERS AND TELL US ABOUT YOUR VENTURE HERE.