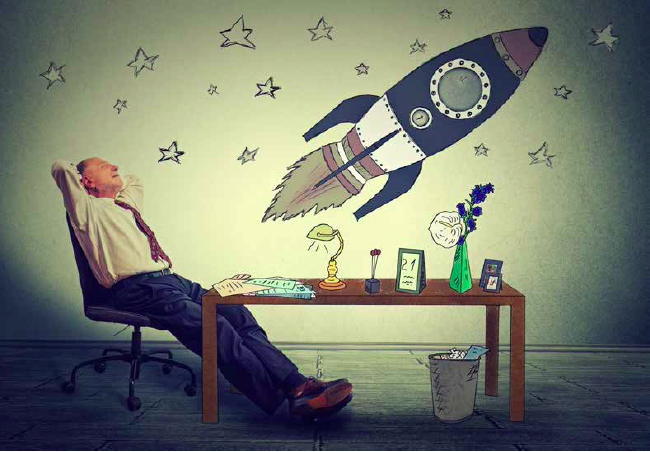 As entrepreneurs, one thing that we have in common is we've all chosen the path of starting our own businesses as a way of fulfilling a dream, a passion or solving a problem. Whether it was a vision or a compelling purpose, it inspired us to take action and make it happen.
Sometimes getting started is the easy part. The initial excitement creates the energy and momentum to carry us forward, to put in the hours and do whatever it takes to get going. And with each step we take, we learn new things, and we discover what we didn't know or find obstacles that we didn't expect. It's all part of the journey.
Whether you are a solopreneur or a small business, it is easy to get caught up in the busyness of being busy. There is always so much to do and often, we don't have the luxury of having extra expertise or resources to help out like you'd find in a big company.
It doesn't take long before our business takes over our life. It reminded me of a conversation I was having with Sally last week who has a successful public relations business. Her business was one of constant growth, unexpected PR emergencies with long hours, and she was supporting a team of eight people on the payroll. Her business had become her life. It was high pressure and high stress. Burn-out territory and, fortunately, she had the wisdom to see it and make some changes.
I'm sure we've all been there – pushed ourselves to the limit even when we know better and know it's not sustainable – we still do it.
Somewhere along the way, though, we usually end up paying the price for it whether we fall sick, or something else happens. Often, it serves an important purpose to help us stop and ideally recognise that it is time to make some changes.
But knowing something isn't always enough – it's acting on that knowledge that counts because we always have a choice.
So who is the #1 most important person in your business?
It's YOU of course. You, as the founder are an integral part of the success of your business. To succeed in making your dream a reality, it's a step by step, day by day process and one of the keys is a commitment to self-care – making your needs a priority. I don't mean that in a self-centred way, but rather as an enabler to achieve your goals, dreams, roles and responsibilities.
A few years back I met Bruce, who runs a small print shop. When I used to pop in to get things printed, he'd always be on the phone which rang continuously. The first time I met Bruce, I could tell he had a great relationship with his clients just by the way he was talking on the phone.
Bruce is one of those people where nothing is a problem, and he'd always find a way to meet the deadline even if his clients had left it to the last minute. I'm not sure of the hours that Bruce actually worked, but I do remember that he knew how to take care of himself.
He had a passion for fishing, and now and then he would let his customers know that he would be away, and he'd escape the city life for a long weekend away to have fun and recharge. At Christmas time, he'd be away for at least three weeks, camping somewhere with his family. If there is one thing I learnt from Bruce, then it would be that he had built a business that supported the life he wanted to lead.
Self-care is not a luxury; it's a practice – a practice where you put your needs at the top of the list and engage in a daily ritual that works for you.
There are little things you can do and also bigger ones depending on your preferences, schedule and commitments.
I like to think of the little things as things that you sneak into your day like five minutes of focused breathing that enables you to feel calm, centred and grounded. Think of it like little pockets of time that give you a breather and bring you back to a place of balance.
Then there are the bigger things like how you start your day and how you schedule your time, so it includes down time or play time. By the way, play time is not just for kids – it's fundamental to creativity giving us space to think differently, to innovate, explore ideas, relax and have fun. It allows us to access our intuitive right brain.
Fun is good and like a barometer, it energises and refreshes the body-mind-spirit. It's one of the most useful tools I use to know if I'm on track (or not).
HERE ARE MY 5 TOP TIPS:
Start your day with a few minutes that is just for you. It might be with some exercise, meditation or five minutes of focused breathing that gets you in the zone of feeling centred, balanced and at ease as you welcome the day ahead.
Take mini-breaks throughout the day. If you are in an office, get up and walk around. Go outside for a few minutes. It will re-charge your energy.
Schedule something FUN in your day. Fun is like a barometer and the more fun you are having, the more energy you have.
Be mindful of the Sea of Distractions and Demands. Ask yourself if this is moving you in the direction of your dreams and if not, say 'no'.
Create space to reflect, think, dream and explore ideas. Book some time-out to STOP and get perspective on what's truly important.
And if all else fails, then my #6 is – get back to basics and ask yourself why you are doing what you are doing? What purpose does it serve?
Taking care of You is a Must Do to achieve the life of your dreams. ■
---
Jo Hutchinson is a Personal Development and Leadership Coach at Great Spirit.