A Quiet Revolution – Luxury Cycle Tours in NZ's South Island
---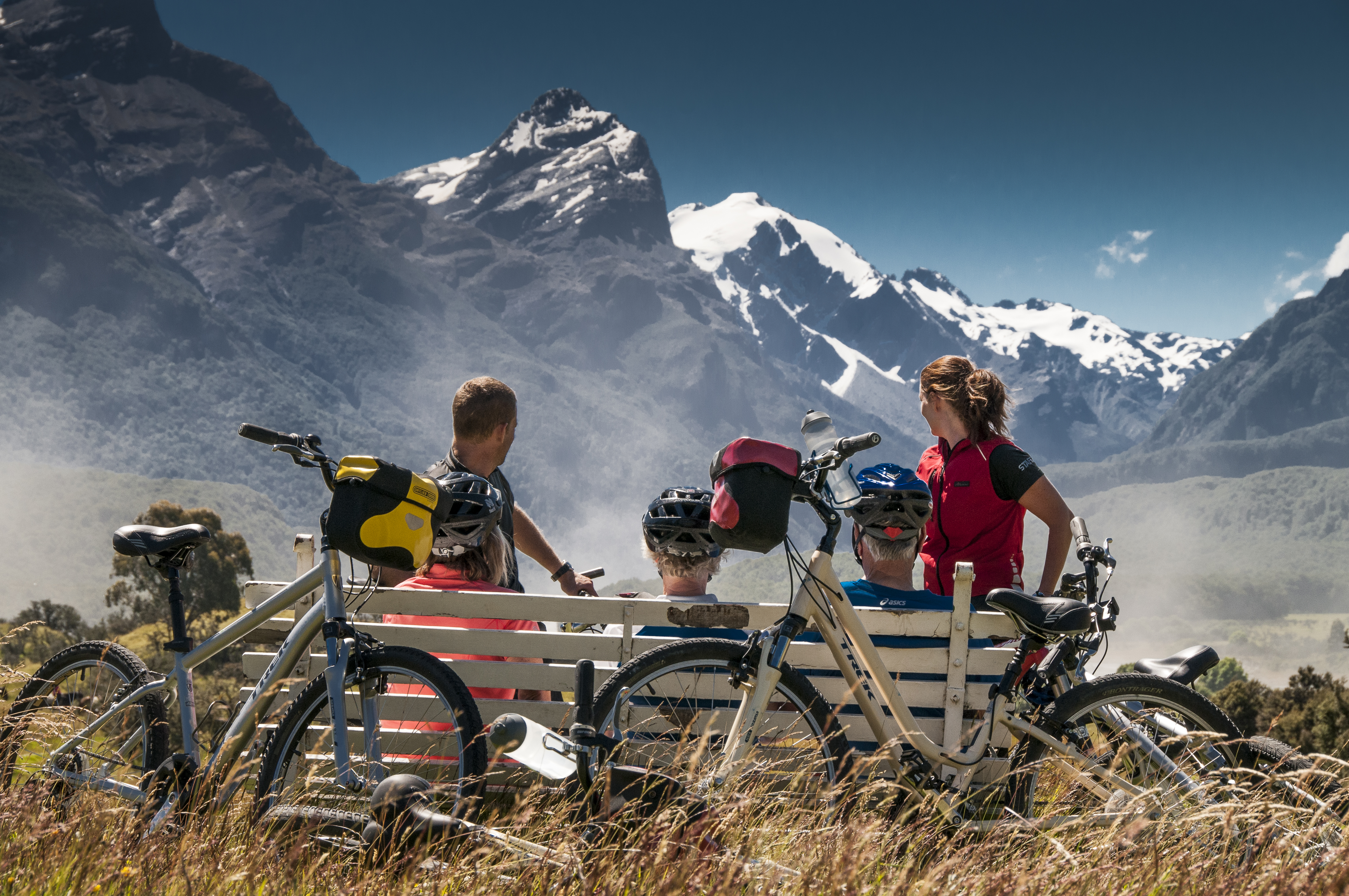 In 2011 Aucklanders Matt and Kate Belcher revolted against the frantic pace of life in the city and escaped to the peace and tranquility of Glenorchy, at the head of Queenstown's Lake Wakatipu. Entrepreneurship enabled them to do this and their cycle tours business Revolution Tours has now survived its first five southern winters, attracting tourists from all over the world. We asked Kate to tell us a bit about their inspiring story and what it's like to be in business as a couple.
NZE: Kate, can you please tell our readers a bit about Revolution Tours?
Revolution Tours run a fully guided and supported luxury biking and walking tour, starting in Queenstown and finishing in Paradise. The tour comprises three days of cycling and one day of walking on the Routeburn Track with guests staying in historic lodge accommodation. We aim to give clients a personalised, rural experience where everything is taken care of- all clients have to do is turn up, ride their bike and have fun. If people feel they need a break from riding at any stage we have a support vehicle close by.
We are based in Glenorchy, 50km north-west of Queenstown at the head of Lake Wakatipu. Our customers tend to be over 50's, active, interesting people who enjoy cycling and tramping but want the creature comforts at the end of the day- hot tub, warm shower, a delicious hearty meal, a wine in front of a roaring fire.
NZE: What entrepreneurial experience did you have prior to starting Revolution Tours and how did the business come into being?
Matt was a born entrepreneur, buying and selling Laser sailing dinghies as a twelve-year-old! In Auckland, he started an industrial abseiling business and ran that for three years before selling it to go travelling. Matt has a Diploma in Outdoor Recreation Leadership and coupled with our joint love of mountain biking and living in Queenstown, running a cycle tour company was a natural progression. We love Glenorchy/Paradise and introducing people to the area.
NZE: What have been your three biggest challenges in getting the business to where it is now?
Finance for start-up: We started our business in 2011 in the wake of the Global Financial Crisis. Needless to say, the banks were less than enthusiastic about loaning us money to start a business. It was hugely frustrating having a great idea but getting knocked back.
Marketing: Our marketing budget is pretty small so we've had to get creative and inventive with our marketing and advertising.
Creating a work/life balance: Stepping back and taking time out has been a challenge especially as Revolution Tours is our baby. We've moved our business out of our house which has helped as I'm no longer surrounded by 30 odd bikes and gear.
NZE: What have been the achievements you're most proud of so far?
Continually exceeding customer's expectations is a huge achievement for us. Most of our clientele are well-travelled people and when they feedback that our trip was the best they've ever experienced makes us quite proud. Matt was extremely proud of Kate for winning her Rural Women in business award last year.
NZE: You were a finalist and winner in the 2015 Enterprising Rural Women Awards. Can you tell us a bit about that?
Rural Women New Zealand (RWNZ) was established over 90 years ago as a charitable, membership-based organisation which supports people living in rural communities. Support comes in the form of advocacy, friendship, education & events.
I won the 'Stay, Play Rural' category (Hospitality and Tourism) of the Enterprising Rural Women Awards 2015 – the RWNZ Glenorchy branch encouraged me to enter and I was so chuffed to win. Having that support and encouragement from RWNZ meant so much and it was great to meet other rural business women. It was also an opportunity to take a step back and reflect on achievements over the last five years.

NZE: You live in Glenorchy, one of the most beautiful parts of New Zealand and many people would wish they could do the same. Was moving from Auckland a difficult transition and do you have any advice for others looking to set up business in the Queenstown Lakes District?
The transition was more difficult that I anticipated – we really missed our family and friends but loved the lifestyle in Queenstown Lakes so were determined to make it work. Glenorchy is a very welcoming town and we got to know people pretty quickly. Fortunately, we have a steady stream of visitors from Auckland! Building professional relationships is very important here and it's obviously a lot more casual (swap the power suit for a Swandri!) It's more chats over a gumboot tea and a biscuit than power lunches.

NZE: Many experts believe starting a business as a couple is a recipe for disaster, as it can place a lot of pressure on relationships. What are the biggest challenges of running the business as a couple and how do you deal with them?
We were advised by quite a few people not to go into business together – that it would spell the end of our relationship. I approached a couple who ran a successful business together & asked them for pointers. (Thanks, Scott and Natasha Rice of Quantum Events!) They gave us invaluable tips that we still work by today.
Set a definite finish time so there's a clear line between business and personal life

Fight fair (don't bring personal issues into a business debate)

No business talk in the bedroom

The biggest challenge of working together is that our brains work very differently. Matt has a very creative brain and loves to work in a hammock with the music blaring whereas I need a desk and complete silence.
Letting go and letting someone do things a different way is challenging. Fortunately, that 'someone' is my partner, someone I trust implicitly, is completely invested and gives 110%.
NZE: What's the goal for Revolution Tours over the next few years and what key challenges are you working on right now?
We aim to continue to grow the cycle tour business for the summer months. We're currently working on a winter tour due to high demand from returning customers. Fingers crossed, this will be launching in the next twelve months. One of the biggest challenges for the cycle tour business is convincing clients to come on a tour outside of March – we have some perfect cycling weather in November, December, Jan, February and April.
NZE: Given everything you've learnt so far, what would your top three pieces of advice be for others thinking of quitting their jobs and starting their own business?
Clients feed off your enthusiasm so start a business that you love, something you would do even if you weren't being paid for it. It does tend to consume your life so make sure the passion for your product is there.
Do your research – is there a market for your product? Make sure people want to buy what you're selling.

When people tell you it is stressful, tiring and all encompassing, believe them!

Surround yourself with people business people you wish to be like – a great way to connect, build relationships and stay inspired.
---
Find out more about Revolution Tours at www.revolutiontours.co.nz and www.facebook.com/revolutiontours
Like this? Get entrepreneur articles by email.