Inaugural Awards for NZ Business Network
---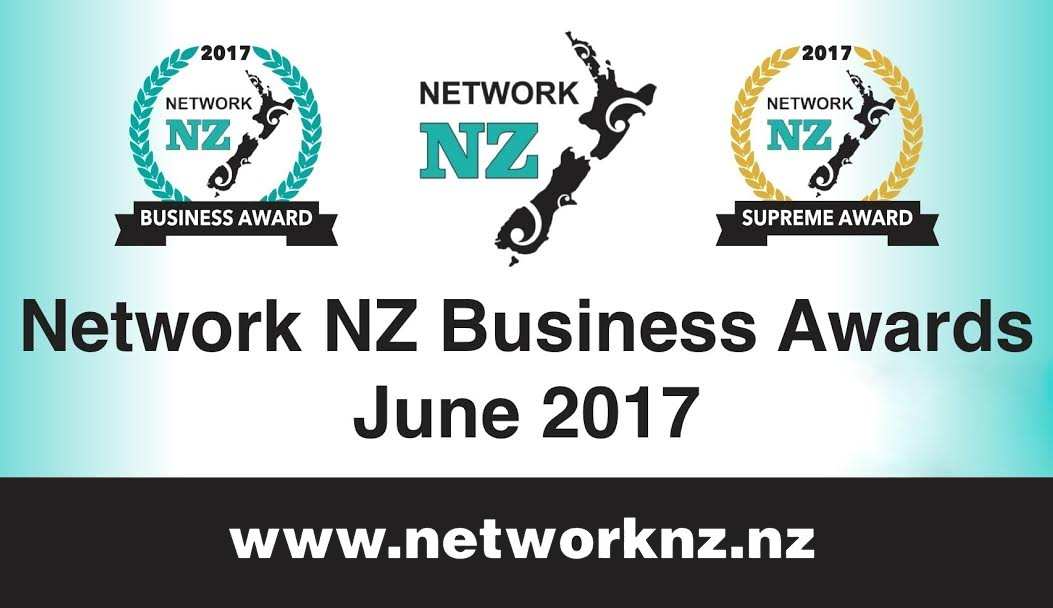 Network NZ have announced their first annual New Zealand Business Awards, with nominations open from 30th June 2017.
Network NZ is on the hunt for talented business owners that have invested in developing new products and services and ventures, as well as improving the performance of their people and teams.
Business owners who have operated their businesses for at least 12 months, can enter up to two of the nine award categories. Finalists in each category are eligible to win the overall 2017 Network NZ Business of the Year Award and/or the People's Choice Award.
"The idea for the Business Awards came from our members," says Network NZ Creator and Director, Michelle Goulevitch. "It's time to celebrate and recognise their hard work and achievements as small business owners, some of who are doing incredible things."
Network NZ was founded as a free group in 2012 to connect New Zealand Small Business Owners using an online forum, gaining enough traction to launch as a Limited Liability Company in August 2015.  
"Online communities were only just getting going back then," says Goulevitch. "It became a way to network with business people without leaving home, share what I was going through with my jewellery business and learn from others."  
Network NZ now has over 2200 members in the free community, 420 Foundation Members and Experts (paid subscribers), over 10,500 fans on Facebook and nearly 10,000 followers on Instagram.
Tracy Morgan, director of educational resources online store Squoodles, has been a Foundation Member since Network NZ's inception.
"I've found it absolutely brilliant. Networking is so important for business and it's professionally run. Even if you're offline for a day you can jump back in, connect with the network and quickly see what you've missed."
Businesses can enter the Network NZ Awards by completing an online entry form on www.networknz.nz from 30th June to 28th July 2017. Each award entry will be judged by a panel of three judges, selected randomly from a pool of up to 17 experts, sourced from within Network NZ.  
Network NZ judge, sponsor and long-time Foundation Member Jon-Paul (JP) Hale said, "I see myself as an early adopter, and online networks seem to be the way New Zealand is moving."
"I've come onboard as a sponsor and judge because the Network NZ community has helped me in so many ways – it's my turn to give back."  
Hale's Insurance company Willowgrove Consulting is sponsoring the Outstanding Blogger category.
Morgan said that she will be entering this year's awards. "It gives me a chance to have an in-depth look at our business. Even as an entrant if I get one more person to look at my business, than it's worth it," she said.  
Goulevitch said that inclusivity is important to Network NZ. "We know there are other business awards out there, but we're unique because we're free to enter. And being online, the awards are accessible from all over New Zealand and open to all industries."
About the 2017 Network NZ Business Awards
Businesses can enter the Network NZ Awards by self-nomination completing an online entry form on www.networknz.nz from 30th June to 28th July 2017.
There are nine award categories which include:
Excellence in Business Product and Service Industries

Excellence in Consumer Product and Service Industries

Excellence in Hospitality and Tourism Industries

Excellence in NFP or Charity

Outstanding Start Up Business

Outstanding Sole Operator

Outstanding Customer Service

Outstanding Blogger

International Achievement Award
Judging takes place from the 29th July to 25th August 2017. People's Choice voting from 3 September to 25th September 2017. Entry is free and up to two categories may be entered. Judges are comprised of a mixture of successful New Zealand business owners. Winners will be announced on 6th October 2017. The Network NZ Business Awards are only open to New Zealand citizens and permanent residents.
The nine finalists in each of the award categories will be eligible to win the overall 2017 Network NZ Business of the Year award and/or the People's Choice award.
Contact information
Michelle Goulevitch 0800 55 11 20
---
Like this? Get entrepreneur articles by email.