Arcanum: The tech team convincing Kiwis artificial intelligence is essential
---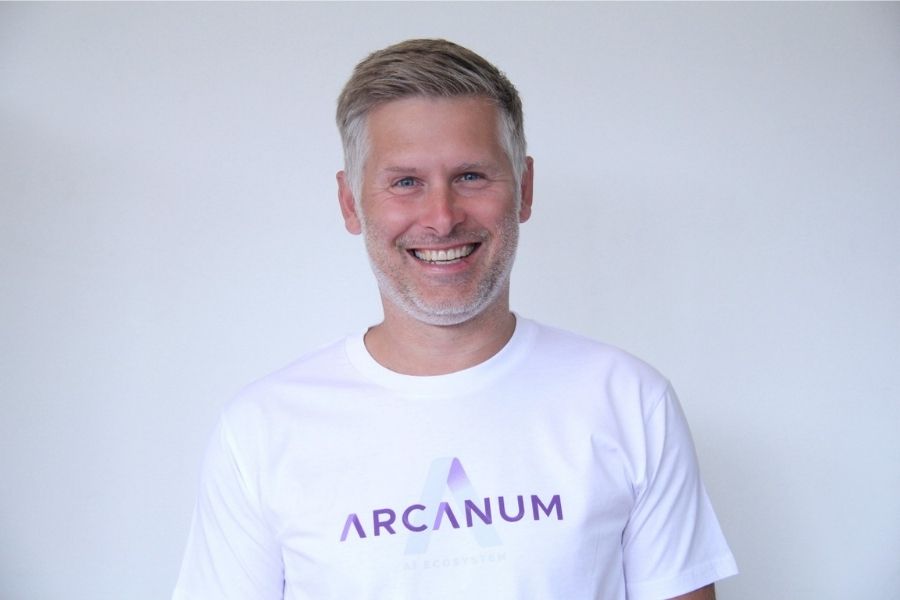 To put together the Wellington software company's latest artificial intelligence business solution, Arcanum drew upon experienced staff whose expertise brings Silicon Valley to Welly. Michael Botur chatted to CEO Asa Cox.
Around the time of the 2019 Rugby World Cup in Japan, the team working with Wellington business software developer Asa Cox were called upon to do something extremely "21st Century".
NZ Rugby needed its All Blacks to perform as effectively as possible against their opposition. The All Blacks' performance coaches could do a limited amount of analysis by watching games on TV screens but Cox helped NZ Rugby realise it would require artificial intelligence machine learning (AI/ML) to give a perfect analysis.
Analysing the opposition's movements with AI/ML required Cox's team to digitally chart players' movement so performance analysts could identify the weaknesses and strengths of the opposition. The project was so successful that Arcanum and partner Dot Loves Data created a venture called Play in the Grey to focus on AI in Sport.
Today, Cox is CEO of Arcanum, where he continues to deliver AI/ML solutions for businesses wanting to get meaningful insights from overwhelming amounts of data – with the latest solution being the SaaS product Accelerate, which launched on September 8.
The Kiwi market for AI/ML business solutions is waking up right now, Cox believes, though at times Cox says he has felt like the only person in New Zealand preaching how important AI/ML can be.
Amongst other things, Accelerate can tell a business how to optimise resources, ensure the right people are on a project, and extract information from PDFs. Cox is confident businesses will be able to, "plug your data into Accelerate and create micro-applications yourselves."
---
---
It hasn't been easy creating Accelerate. Getting market validation meant years of Cox promoting the benefits of AI/ML and occasionally feeling Kiwi businesses didn't – or wouldn't – embrace it.
"After I came to NZ in 2014 having spent 15 years in a family pharmaceuticals company, I pivoted my career to tech," Cox told NZ Entrepreneur. "I'm not a coder or computer scientist but from a business perspective, I could see the huge potential of machine learning and AI."
Broadening his business management interests, Cox says he learned how valuable partnerships are.
"That's my entrepreneurial pattern," Cox explains. "My default is to form partnerships, collaborate with others, figure out how to do things faster and bigger without just myself. In NZ, I've found partnerships to be surprisingly uncommon – that's a number 8 wire mentality caused by our isolated geography."
From 2015-17, Cox found himself "trying to educate the market about what people can do with AI/ML, coffee meeting by coffee meeting."
He found people with the same mindset, however, and since 2015, it has meant Cox has held several roles. Currently Cox leads Arcanum, though Arcanum was born out of Farrago AI, the aforementioned Play in the Grey, plus Intela AI – businesses which all cross-pollinated one another. The result: a core team who bridge Silicon Welly with Silicon Valley.
A major part of that core team is Scott Houston, Arcanum's CTO. Cox says Houston is a household name in NZ tech entrepreneurship circles, best known for selling GreenButton to Microsoft, as well as setting up the NZ Supercomputer centre, which was a spin off from the vast data processing power created for Wellington's Lord of the Rings movies.
Acquiring Houston is a fascinating story in itself.
"Scott joined as an investor in Intela AI in 2019," Cox recalls. "He was an aspiring fictional author and wanted to learn more about AI to write his sci-fi trilogy. He thought the best way was to invest in and join a company working on AI. He was also CTO at Seequent in Christchurch. They've sold for $1.5bn. So with Arcanum, we're hoping he has the Midas touch!"
Arcanum is also guided by COO Diana Minnée, who is known for leadership roles at TradeMe and Silverstripe and for being a leader in the tech ecosystem in Wellington.
Two others at Arcanum bringing impressive tech CVs are Head of Customer Operations Nogah Shmeltzer, whose background includes an executive role at Oracle, plus board advisor John Olsen – a former head of global HR for Amazon where Olsenwas in charge of recruiting up to 100,000 people a year, Cox believes.
"That's one of the real beauties of operating in NZ in recent times," Cox says. "We have a lot of people coming to NZ because of politics or Covid, and the NZ software industry has an incredible opportunity to benefit from their experience."
Story created in partnership with WNT Ventures.
---
Innovation Nation is a series celebrating stories of innovation and entrepreneurship from around New Zealand.
Innovation Nation proudly supported by: