Lithium-ion battery boom big opportunity for CarbonScape
---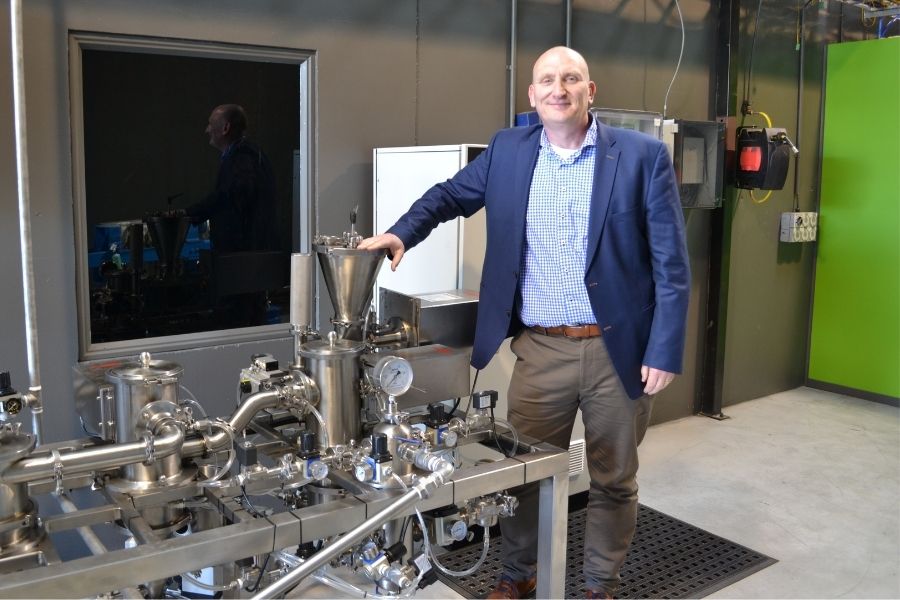 Chemical engineer Ivan Williams believes the worldwide 'megatrend' of electrification could mean big business for CarbonScape, the company he runs which is headquartered in Blenheim and which aims to supply a key ingredient in lithium-ion batteries: graphite. Michael Botur found out more.
A relatively new invention with impressive power, rechargeable lithium-ion batteries first came about in camcorders in 1991, laptops not long after, and as we entered the 2000s, companies began putting lithium-ion batteries into smartphones, tablets and cars. Lithium-ion batteries surprisingly contain just 2-3% lithium and far more graphite (25-30%). Today the graphite-based battery market is exploding worldwide, growing at 27% per annum and likely to reach a value of $US15 billion by 2030.
How it works – and where CarbonScape sees its market – is that every lithium-ion battery has an alternating cathode and an anode, between which the lithium ions move, creating a charge and discharge. The anode is typically more than 90% graphite, a highly crystalline form of carbon. Battery-grade graphite, unfortunately, has until now been sourced primarily from oil and pitch (tar) with a lot of resultant pollution.
Much in the same way diamonds are created from extreme pressure, graphite is created from extreme temperature. When mankind wants to make graphite, the pitch must be heated for weeks to around 3000 degrees Celsius. Alternatively, graphite can also be mined like coal. Either of these manufacturing methods has meant graphite until now has been a dirty business, and this has spurred CarbonScape, Williams and a hand-picked team of experts to invent a sustainable solution. That solution means using readily-available forestry by-products and residues to make graphite and leave a net carbon-negative footprint which CarbonScape says sequesters carbon dioxide from the atmosphere.
Williams came aboard as CarbonScape's CEO in 2019, having worked across the world as a chemical process engineer focused on CO2 emissions reduction. Williams told NZ Entrepreneur the company has a deep-seated knowledge base in carbon technology gained over the last ten years. With the rise in renewable energy and electrification, CarbonScape re-aligned its focus on the battery raw materials space several years ago and is now seeing significant interest from battery producers globally for what Williams calls "A truly world-first solution."
Behind Williams are half a dozen co-founders who share his excitement for seeing a profitable spot in the market and challenging the industry's CO2 emissions. Key co-founder Dr Chris Turney is a professor of climate change in the University of New South Wales. Other co-founders, shareholders and board directors include Timothy Langley, Hamish MacFarlane and former Christchurch mayor Vicki Buck.
Williams describes the staff in Blenheim as 'something of a United Nations.' "We have a Russian, two South Africans, a Brazilian, a Pakistani, an Australian, and a Dutch person among our ten staff – also a Kiwi or two!"
While Williams himself is Blenheim born-and-bred, he told NZ Entrepreneur, "I never thought I'd come back to New Zealand. But when I saw what CarbonScape were doing and in my home town, I was blown away. The opportunity to part of something so unique and meaningful was a no-brainer and I jumped at the chance to take on the business as CEO."
There are plenty of fellow chemical engineers and scientific experts in the team. "Our CTO Dr Heinrich Badenhorst comes from the University of Manchester. When we told him our process for creating graphite, he literally told us we were dreaming. He didn't believe us until we sent him samples and not long after he packed up his family and came to NZ! Heinrich is a world expert in graphite and is one of many very talented people we have at CarbonScape."
"I love being back in NZ, it's clean and green and that was something I grew up with," Williams adds. "But as Kiwis, it is my view that we've been resting on our laurels. I'd like to see New Zealand take a true leadership role in addressing climate change and CarbonScape can be a big part of this."
"We are first and foremost a technology company and what we have created is an opportunity to produce a sustainable and environmentally friendly graphite anywhere there is a forestry industry. This has enormous benefits for the growing graphite demand centres of Europe and the US which have no graphite reserves, but are rich in timber production."
Williams concedes Blenheim is not usually known as a deep-tech destination but says, "it is a fantastic place to attract talent to and you can see that from our team members."
"We hold the key to a tech which can make batteries greener, cheaper. Our mission in a sense is decarbonisation through renewable battery material. We're nearing the end of validation with a major player and that will be the end of a small Marlborough story and the beginning of a global success story for sustainable battery technology."
Story created in partnership with Marlborough District Council.
---
Innovation Nation is a series celebrating stories of innovation and entrepreneurship from around New Zealand.
Innovation Nation proudly supported by: