10 Questions with Guy Ryan, Young New Zealander of the Year
---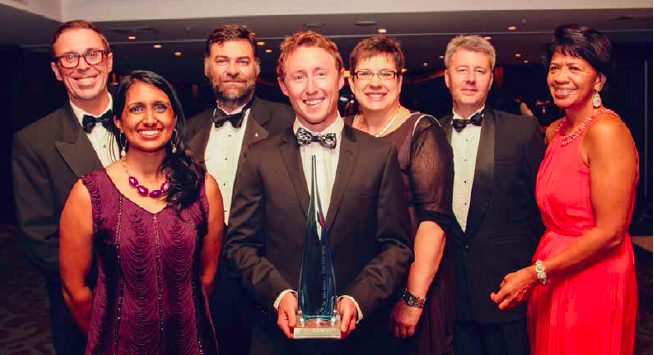 Guy with Inspiring Stories board trustees at the New Zealander of the Year Awards
---
Guy Ryan founded Inspiring Stories in 2011 with the vision to see every young New Zealander unleash their potential to change the world. Everything he's done since has been with a view to making that vision increasingly more real and more possible…
Tell us more about Inspiring Stories. How did you get started and why?
At university, I started learning about the converging crises that our generation faces – social, environmental, economic. We've been dealt a rough hand, and I wanted to do something to change that, and to help others change it.
I founded Inspiring Stories as a registered charity in 2011, and since then we've worked with 5,000 young New Zealanders.
What or who inspired your vision to see every young New Zealander unleash their potential to change the world?
There's a beautiful quote from the founder of Ashoka, Bill Drayton, that says something like, "The single most important
thing we can do right now is increase the proportion of people who know that they can create change." Change is inevitable; the only constant in our world.
New Zealand is an incredible country, and pushing boundaries is in our DNA. I believe we have a unique opportunity to grow an entire generation who have the capability, confidence and support to change our world for the better. Imagine!
Could you give us your take on what Social Entrepreneurship is all about and why it's so important for our future?
At the end of the day, all entrepreneurship is about the ability to put ideas into action. How we choose to spend our time and energy is important, especially in the context of the issues the planet faces.
We need to be growing ideas that make a tangible difference and create better outcomes for society and the environment. Our future depends on it.
You were recently invited to attend the Social Enterprise World Forum in Milan as a guest speaker; what was the number one takeaway for you from the experience?
One thing that struck me was the extent to which social enterprise has been developed and nurtured in many countries as an important way of both contributing to the economy and solving problems.
I'm worried New Zealand's behind the eight ball on that. In Taiwan, Russia, the UK, it's seen as a priority; social enterprise provides jobs and contributes to GDP as well as having a social impact.
I came home really galvanised to push for recognition and backing of social entrepreneurship in New Zealand.
Inspiring Stories provides some ways our youth can get involved and get the support they need to help them on their journey, can you share briefly how youth interested in participating can go about getting involved?
We've got different programmes for young people at different stages on their journey from inspiration to action. From September 4–6, we're running our annual national event, Festival for the Future, to empower and celebrate young Kiwis, who want to change the world. 500 people, mostly aged 18–30, are attending – it's sold out, and there's a waiting list for tickets. There's real demand for this stuff.
We also run the ten week social entrepreneurship accelerator programme 'Live the Dream' over summer. Young people get to develop their ideas for a better New Zealand, supported by some of the best minds and mentors the nation has to offer. Applications for this summer are open now.
Entries are also open for our annual film competition, 'Making a Difference', which calls for people to make a short film about a young Kiwi doing something awesome.
We're currently launching an endowment fund that will underpin all of that work, and make it more accessible to more young people in future.
You've accomplished so much in your time and no doubt you've had some challenges along the way. What's your advice to entrepreneurs on how to overcome tough obstacles?
Being able to talk honestly about the challenges you've faced is essential. I've been very honest about the fact that while this year has been an incredible high, a year ago we had our toughest quarter on record. Some things didn't line up for us, and we weren't sure if Inspiring Stories could continue.
Most people would've walked away, and it was only due to the generosity of our friends and supporters that we made it. The learning from that is that if you have a vision and a purpose bigger than yourself, as well as the drive to get things done, you're best placed to weather the inevitable challenges that come with entrepreneurship.
What is the most important piece of advice you'd give up and coming entrepreneurs?
Find a cause that's bigger than you. Dream big. Start somewhere. Anywhere. Be a sponge, and surround yourself with people who challenge and inspire you. Remember everyone who supported you, and extend that generosity to others.
You won the Young New Zealander of the Year Award this year and deservedly so, has this helped Inspiring Stories in any way?
Definitely – it's opened a number of doors for us to speak to various influential New Zealanders about how we're going to back young Kiwis as a nation and how they might be able to get involved. All of these captains of enterprise and industry understand that backing New Zealand's future will mean supporting our young people to create change.
This year you were awarded $500k in new funding from Ministry for Youth Development to scale up your programmes through to 2017 and you're poised to launch a million-dollar fundraising campaign for an endowment fund that will back young social entrepreneurs in New Zealand. Do you have any tips for young entrepreneurs trying to raise funds?
We saw a serious need for something like our new Future Fund because of the lack of opportunities for young New Zealanders with social impact ventures to get investment or backing from conventional channels. At the moment, crowdfunding is the main route open to young social entrepreneurs – and success in that can be variable.
So we thought: what would it take to back every young New Zealander to unleash their potential to change the world? The Future Fund is a professionally managed endowment, and one of the opportunities it'll provide is seed grants and funding to back young social entrepreneurs, to help them get ventures off the ground.
There's nothing like that here already; we're looking to the Foundation for Young Australians' $50 million endowment as an example.
We're raising a million dollars to kickstart the Future Fund during September, and we'll go from there!
What do you enjoy most about being an entrepreneur in New Zealand?
To live such in an incredible country with so many great people and places is a huge privilege. I also love the fact that we're now living in an age where we can connect and collaborate with people anywhere on the planet.
Guy Ryan is the 2015 Young New Zealander of the Year, and founder and CEO of the charity Inspiring Stories. More about Inspiring Stories' endowment fund can be found at thefuturefund.org.nz
---
If you found this inspiring, check out 10 questions with award-winning entrepreneur Sam Hazledine