Wintec Innes48 Business Startup Competition wraps up for 2017
---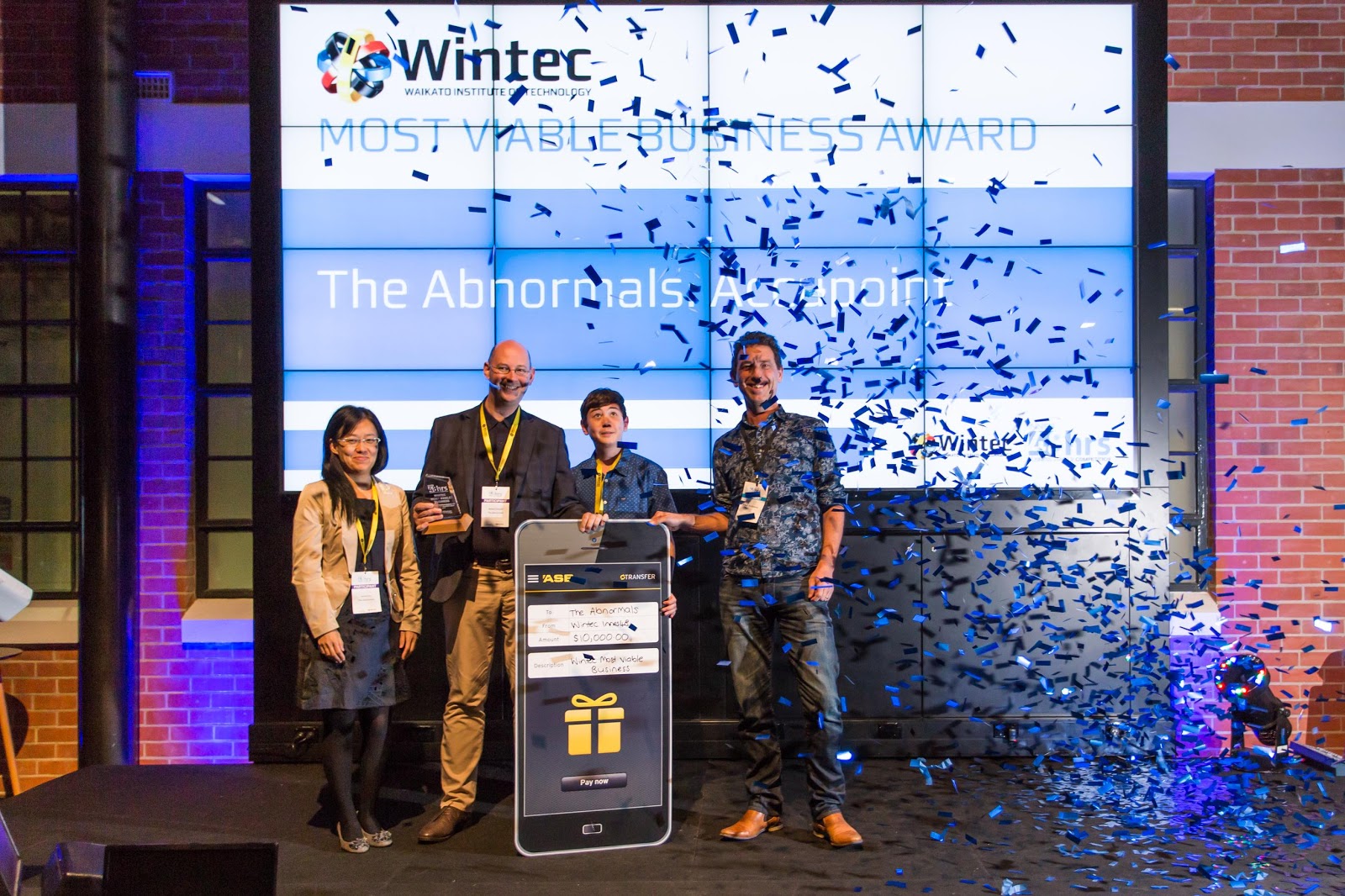 Most Viable Business winning team The Abnormals with AccuPoint
Emma Liu, Rob Scovell, Rowan Scovell-Lightfoot & Wintec CFO Paul Holloway
The 6th annual Innes48 Business Startup Competition was held in Hamilton in the last weekend of April. The largest of its kind in New Zealand, Innes48 saw 15 teams compete for the chance to pitch their ideas to a panel of high profile judges.
Judges included entrepreneurs and investors Linda Jenkinson, Chip Dawson, Melissa Clark-Reynolds, Neville Gibson and Russell Alexander.
The judges chose the the top six teams to pitch their newly formed ventures at the closing ceremony.
The 'Most Viable Business' winning team, The Abnormals, devised the 'AccuPoint' software for use in Acupuncture clinics. Using a high resolution camera and image object recognition, the AccuPoint software accurately determines the points where the acupuncturist inserts the needle. The software can also quickly review previous treatments when the patient returns. This data can be used from year three to provide treatment autosuggestions. The team consisted of trio Emma Liu, Rob Scovell and 14 year old Hillcrest High student Rowan Scovell-Lightfoot.
The 'Best Pitch' winning team, Apex, pitched a concept for an online retail store. Their team captain explained "We are not inventing a new technology, we are simply applying an existing technology in a new and inventive way."
Dynamic trio 'Progressa' showcased their idea 'Inner Circle', a personal relationship management platform that harnesses BOT technology to prompt tailored, "active" conversation starters with your pre-selected significant others that allows for on going engagement and relationship nurturing.
Team Buzzword pitched their AI system 'Eddy'. Eddy is an in-vehicle monitoring device that monitors driver behaviour. Poor driving is a costly problem for fleet and trucking companies. Existing vehicle monitoring systems are unable to comprehensively track driver behaviour. Eddy leverages advanced AI algorithms and imaging sensors to provide real-time analysis of driver behaviour in ways that current systems cannot. Accurately tracking driver behaviour protects vehicles, lowers insurance premiums and ensures company reputation.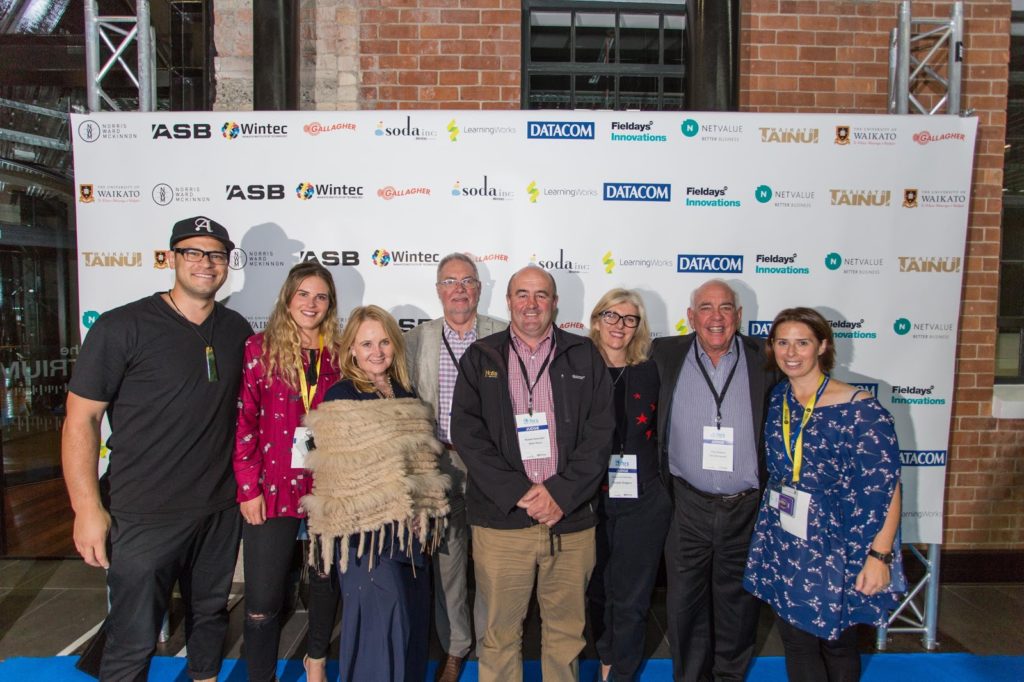 Team Misfits tackled the problem we are facing globally in which people's jobs are being replaced by AI and robots. They pitched a service called ReInventMe, a solution that would enable clients to transition from redundant jobs to jobs that will become more and more necessary.
The Famous Five proposed 'Limb', an accessory designed to protect women walking alone. The accessory would feature several applications to ensure the wearer's safety. Women's safety is a concern almost anywhere in the world, and the Famous Five capitalised on this need.
After the judges deliberated, Linda Jenkinson took to the stage to give all the teams some crucial feedback. Linda, a New Zealand expat who has spent more than 20 years in the US, gave some interesting insights on financing startups.
"The amount of money needed to develop a business is always drastically underestimated. Typically in Silicon Valley, we say you need to times your budget by two. Here in New Zealand, I'd say times it by ten."
She then spoke about what is needed for a successful business, saying, "I see a lot of people spending too much time thinking about the product and not about the business".
She followed on from this point with the crowd favourite quote "There's three things that make a good business: a good team, a good team, and a good team."
MC and lifestyle entrepreneur Robett Hollis brought a fiery enthusiasm and dedication that was invaluable to everyone involved and the teams enjoyed a weekend full of highs and lows, high quality mentors and short sharp thirty minute workshops covering the topic of ideation, market validation, business models, finance and pitching.
---
FOR MORE INFORMATION/INTERVIEWS PLEASE CONTACT:
Archer-Mary Miller
SodaInc
archer@sodainc.com
www.sodainc.com