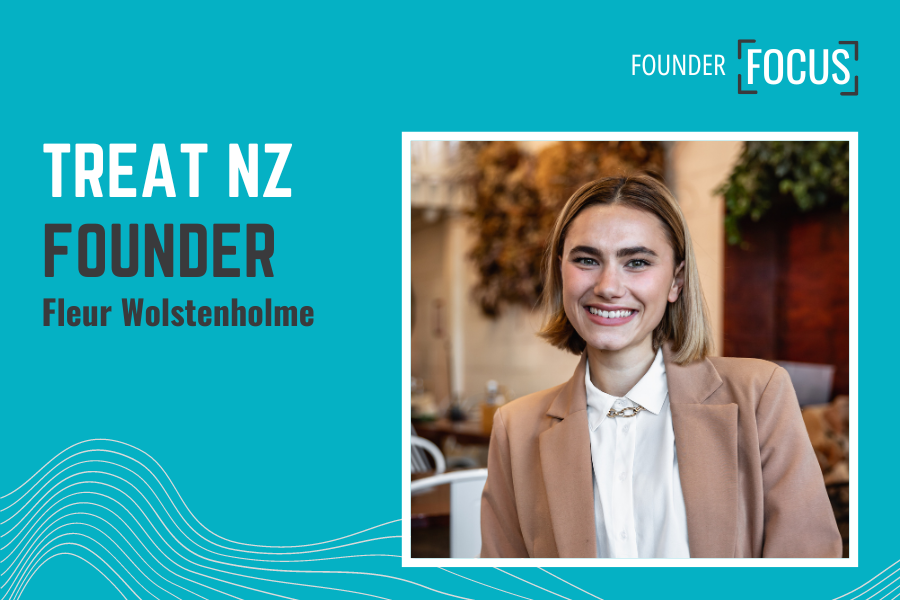 In Founder Focus we introduce entrepreneurs and innovators working on our next generation of new business startups, social enterprises and small businesses.
---
At a glance
Founder: Fleur Wolstenholme
Founded: 2021
HQ: Waikato
---
Can you tell us a bit about your business?
Treat NZ is 'NZs coolest foodie club' a platform that helps both restaurant and diner. We give local eateries free promotion of their inhouse deals, events and specials to help them reach new customers and grow their online presence, plus we offer exclusive deals and other foodie perks to our members to make dining out more accessible and encourage people to support local!
As mentioned, we take nothing from the restaurants so make our revenue from diners. We have two business models, the main focus being our subscription based membership. Users can become a Treat NZ member for $12 a month and enjoy unlimited bookings into our fabulous deals, where you'll save on average $58 per table of 4 with each booking. And with standard dining behaviour, that's over $2500 savings a year for most Kiwis! Alternatively, for those who don't dine out every week, or month, you can book in for a one off Treat for $8. We're beginning to introduce new member perks too to make it more valuable like access to exclusive events, foodie experiences, giveaways and other fun addons!
At the heart of Treat NZ is the local businesses we support. Over the last 2 years we've grown from starting with 3 eateries in Taupō to almost 100 eateries nationwide, we've iterated a lot over that time and sought feedback throughout to ensure that every choice suits the businesses, as Treat NZ should be a win-win for restaurants and diners alike.
What's the backstory for your business idea?
I grew up in hospo – my Dad works in business development for bars, and then I worked as a duty manager, so I love hospo! I then did a degree in IT, so I'm passionate about helping businesses succeed online, as reflected in my ecommerce career.
Treat NZ started whilst in my 3rd year, I wanted to 'treat' my boyfriend out on his birthday, but dinner for 2 isn't exactly in a student budget! I hoped somewhere might have a deal on, but found it difficult to find things going on. We ended up with takeout which annoyed me as I wanted to go out but nowhere encouraged me to dine with them. I realised that hospo was behind in their marketing, not making the most of digital tools and they still relied on user research and word of mouth.
After this, I spent a few months talking to business owners and diners. It was clear that there were problems on both sides, and so Treat NZ was born.
What programmes, learning or mentoring have been of assistance so far?
Here in Taupō, the economic development agency, Amplify, recently ran a business fundamentals course for startups and small businesses with Soda Inc. This was awesome to think about Treat NZ in a more business and strategic mindset, learning about a wide range of things from marketing and brand to the financial side of things. I found it really helpful starting out.
I also was lucky enough to be part of the First Cut cohort with Icehouse Ventures this year, where beyond the resources and learnings, I was able to network with so many other founders at various stages. From these courses, and programmes I've realised that the best thing you can do is to put the learning into action, and then learn from that!
I've found it super valuable talking to people, and through these communities, I've realised that most people are open to having a coffee or virtual chat, and the startup community is really supportive and eager to help!
I think as founders, we're all very excitable about a good idea and a viable solution to a problem. If you're a solo founder like me, I highly encourage you to message a few people a week on Linked In and just have a chat, I'd love to hear from people too! If nothing else, it's great to find some sounding boards in people who have a good understanding of startups.
---
WORKING ON SOMETHING NEW, INTERESTING OR IMPORTANT? JOIN OUR COMMUNITY OF FOUNDERS AND TELL US ABOUT YOUR VENTURE HERE.