Tokaora Diagnostics takes out Taranaki PowerUp Kickstart comp
---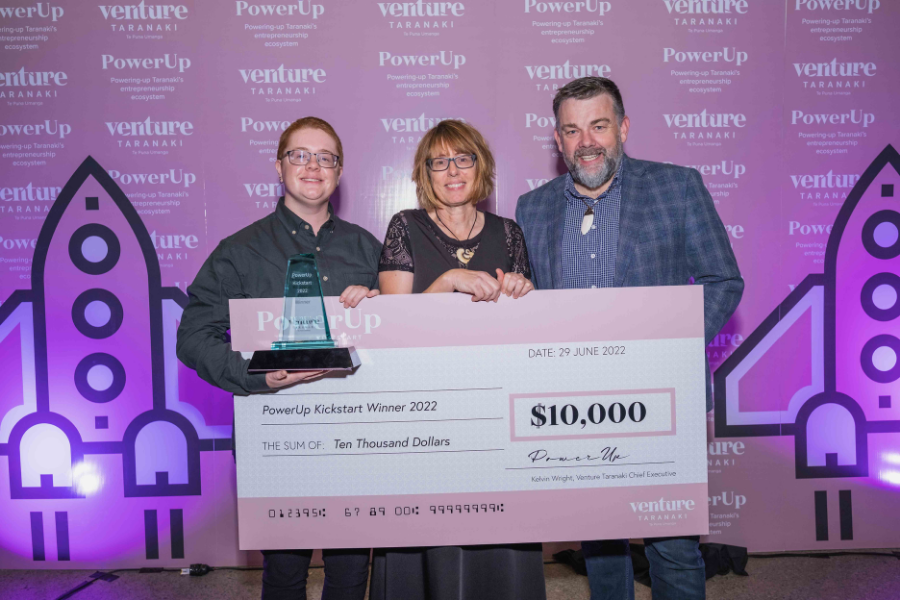 Frey and Pam Livingston and their startup Tokaora Diagnostics have taken out the top spot in the 2022 PowerUp Kickstart Finals Night, last Wednesday in New Plymouth, winning $10,000 to help take their idea to the next level.
The mother and son duo are developing a type of Covid rapid antigen test (RAT) that will work to identify facial eczema, as an alternative to blood testing dairy stock.
"During my Master's degree at Victoria University I discovered a new way to test for facial eczema and we're hoping this will be a key tool in reducing the animal death toll and production losses from this horrible disease," says 24-year-old Frey.
With a Callaghan Innovation 'Getting Started' Grant already granted to the pair, Pam and Frey are eager to get to work on their product that could save farmers hundreds of thousands of dollars and the New Zealand economy almost a quarter of a billion dollars every year.
"I'm most looking forward to getting into the laboratory and getting down to the science, and the $10K will be of enormous help there," continues Frey.
Pam and Frey were also involved in the first stage of PowerUp Kickstart with the Co.starters series earlier this year, along with other budding Taranaki entrepreneurs attending ten capability building workshops supported by Venture Taranaki and Soda Inc to develop their idea.
"We're absolutely thrilled about winning the competition. Being a finalist was fantastic and we can't speak highly enough about our assigned mentor, Bridgit Hawkins from CropX Technologies," says Pam.
The programme was narrowed down to five finalists who received tailored support to help them flesh out their idea and pitch on finals night. This mini accelerator, supported by Soda Inc., included $3,000 seed funding, one-on-one mentorship, and two months of co-working space access.
"As an aspiring new business, PowerUp Kickstart helped us to consider all business aspects in more depth. Winning is pretty good, encouraging to say the least, it gives us a bit of legitimacy and validation," says Pam.
Like the other finalists, Pam and Frey have invested a lot of time in Tokaora Diagnostics over the last two months and PowerUp Kickstart is just the beginning for the pair.
"We are now doing a one-year R&D project to produce a prototype. The test would work very much the same as a Covid rapid antigen test (RAT) with the cow or sheep's saliva or nose being swabbed. Because this style of test already exists our product can be easily produced and cheap to manufacture" continues Frey.
The finals night, held in front of a sold-out live audience and online viewers across the globe, saw five finalists pitch their ideas to an expert judging panel, who commended the strength of the ideas pitched on the evening.
"Finals night is an opportunity to celebrate the strength of our entrepreneurs and encourage others to pursue that 'crazy idea'. Innovation is critical to the region's long-term resilience. The pitches tonight make us extremely excited and proud of our passionate and entrepreneurial region as well as for what's to come," says Natacha Dunn, Venture Taranaki GM Enterprise.
Pam and Frey from Tokaora Diagnostics weren't the only winner on the night.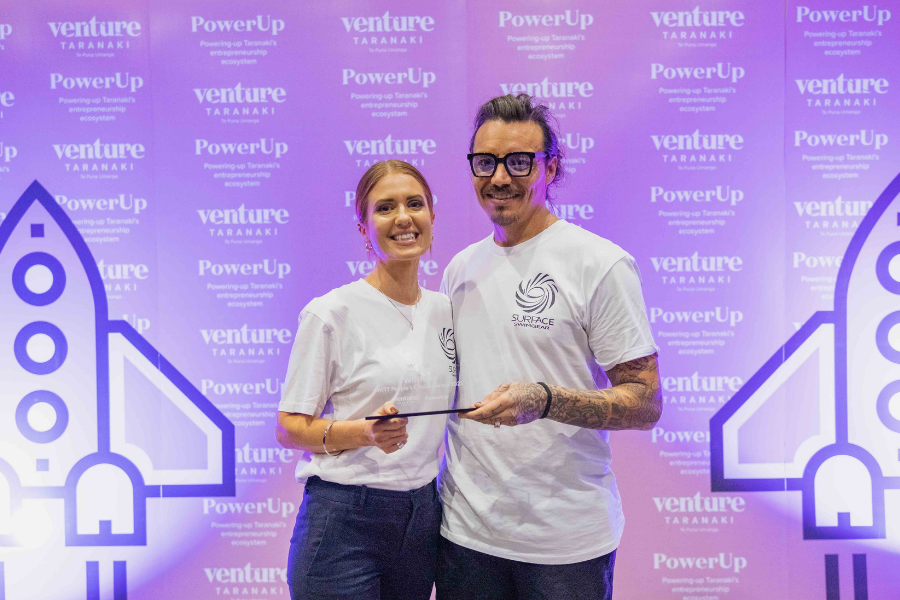 With a supportive crew in the crowd, Paul Gledhill and Sophia Joy from Surface Swimgear took out the WITT People's Choice Award. Winning $2,000 to use towards their floatation swimwear idea. Paul and Sophia impressed the audience with their water safety product which aims to reduce New Zealand's high drowning numbers and give swimmers confidence and peace of mind when out in the water.
The WITT People's Choice Award was decided by the live voting on the evening from those in the audience and watching from home.
"Tonight, we've seen innovative thinking and impressive ideas that hold significant potential for the region. Kickstart is one initiative in what is a much wider programme of PowerUp activity that plays an important role in building a strong culture and ecosystem of entrepreneurship in Taranaki," says Natacha.
"I would like to congratulate all finalists and the other participants that went through PowerUp Kickstart, it takes courage to put yourself and idea out there and countless hours of hard mahi. I now encourage them to build on the momentum they've already created through the PowerUp process, and if anybody else thinks they might be sitting on the next big idea to get in touch with us," says Natacha.
Highlights from Power Up Finals Night
---
The other four PowerUp Ideas Competition finalists are:
Paul Gledhill and Sophia Joy, Surface Swimgear – water safety product
Isaac and Cathi Drought, Planta – carbonated beverage alternative
Michael Parker, Hiko Surf – e-surfboard
Jayden Clark and Ashkan Azarkish, EzSoil – plant monitoring product