Profile: Fish and Swallow Productions
---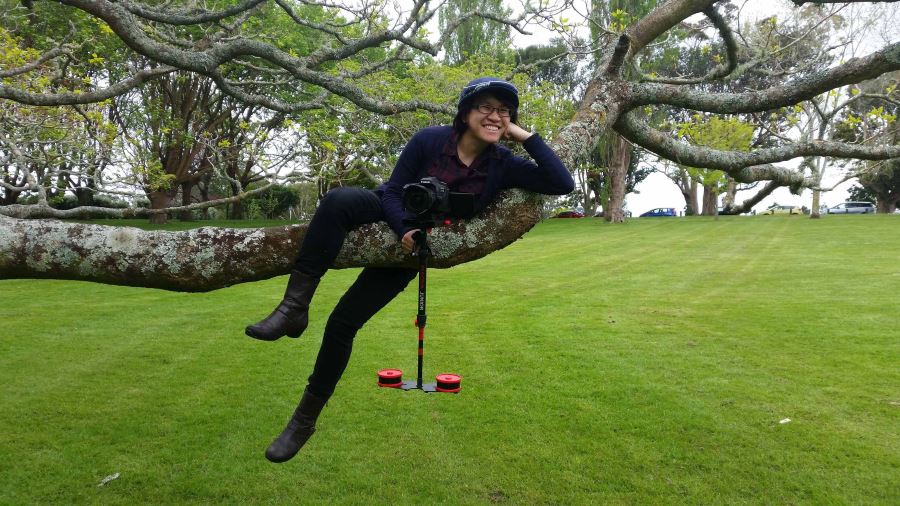 A desire to develop her filmmaking skills lead Michelle Kan to start independent film and online content production studio Fish and Swallow Productions—a studio dedicated to documenting cultural events and spotlighting artists, creatives, and other extraordinary individuals from around New Zealand.
It all started for Michelle when she graduated from Te Herenga Waka—Victoria University of Wellington in 2013 and began documenting local events around Wellington. It didn't take long for Michelle to realise there was an opportunity to turn her hobby into a business.
"There were plenty of happenings going on in Wellington, but there was little in the way of media to consistently document it, especially for the independently run festivals," says Michelle. "So, I turned my focus to event videography as one of the primary aspects of my production company. The events I cut my teeth on became highlights in my annual calendar and, as time has gone on, I've also now
become a part of some of their media teams behind-the-scenes."
Michelle not only films at various festivals and events held around the region, such as the Chinese New Year Festival, LUX Festival, and the New Zealand Festival of the Arts, but also produces content profiling other creative entrepreneurs around Wellington, such as Stan Chan of inkLink Studio and Kris Bartley of Sweet Release.
"Being able to document and share those endeavours is such a privilege," says Michelle. "Similar to my event retrospectives, the spotlighting of those individuals began as a way for me to hone my skills (in this instance, interviews), but once I decided that I wanted to focus on the idea of cultural exchange, those creative spotlights became a part of my primary content creation as well."
Getting started in the creative industry can be a challenge. For Michelle it's the connections she's made, and continues to make, that have helped her get established and continue to find work.
"Much of my work with cultural institutions came as a result of my event videography. I would share my videography to social media soon after the event to keep the memory of the event fresh in people's minds and lay the groundwork for my brand as a creative invested in cultural events," says Michelle.
"As for my work with small businesses, I was fortunate to have connections in the start-up community willing to recommend me when there were positions I would be suited for. The interconnected nature of the local start-up community means that I've been able to grow my networks bit by bit, which sometimes leads to jobs that I wouldn't have come across otherwise. As is the nature of creative industries, many times it was a case of being in the right place in the right time – people who knew me, rather than people I knew – so building my portfolio and emailing around has been key in helping find new clients."
Going forward, Michelle plans to expand her client base and diversify her projects. Recently, Michelle's videography was a key component in engaging the community in an ongoing project to develop a regional Māori economic development strategy.
"I'd love to work with more cultural organisations and creatives, but also theatre and dance companies, social enterprises, and small-time local businesses with unique ventures, like board game cafes and animal rescues. As well as that, I'd love to work with other filmmakers, especially Asian filmmakers, to tell more of our stories and help grow the Asian arts scene in Aotearoa! Wellington has an incredible arts scene and being able to see all the different parts of it that I can would be enlightening and incredibly gratifying."
---