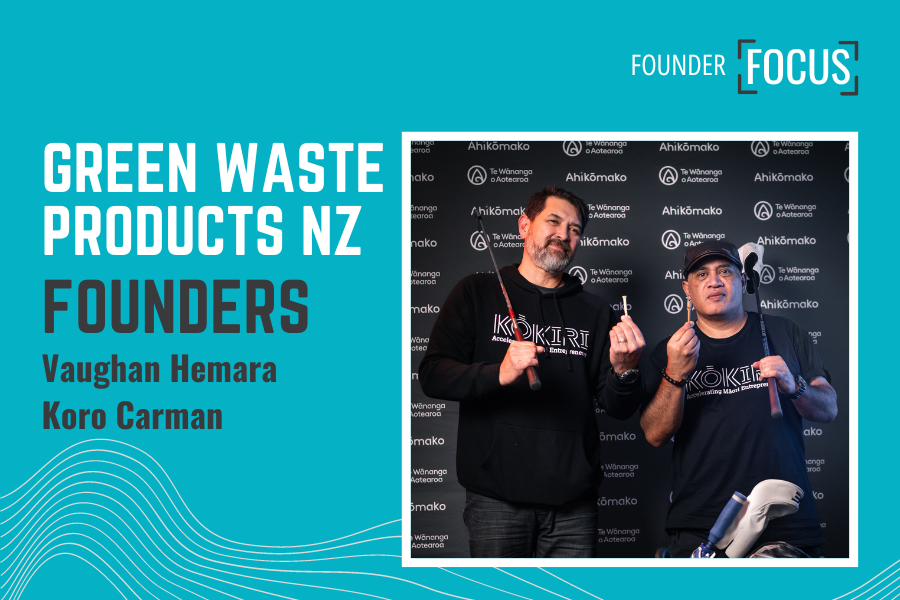 In Founder Focus we introduce entrepreneurs and change-makers working on innovative startups, social enterprises and SME's around Aotearoa New Zealand.
---
At a glance
Founders: Koro Carman & Vaughan Hemara
Founded: 2022
HQ: Northland
---
Can you tell us a bit about your business?
The Green Waste Products NZ mission is to turn gorse into compostable golf tees.
Every year the world manufactures 3.5 billion golf tees, primarily from plastic.
Gorse covers approximately 1.7 million acres or 5% of Aotearoa and every year we spend over 20 million dollars trying to control it.
We would like to remove as much plastic from the game of golf as we can and as much gorse from our ecosystem as we can.
Plastic and gorse are a human, environmental and economic nightmare so we want to utilise an underutilised natural resource to create new 'green' waste to value opportunities.
Critical to success will be changing the way golfers/people behave, think and act. Making choices that positively impact on the planet and humanity is going to be critical. By default, we think there is also an opportunity to position Aotearoa as a leader in the environmental responsibility and sustainability golf space.
We are currently individually and lovingly handcrafted our premium tees on a lathe from the stems and offshoots of the gorse plant. Due to the nature of this process our numbers are very limited. There has been an influx of interest from golfers and clubs from around the country. To service the interest, we will need to scale which means engaging a manufacturing process. This is something that we are exploring.
If it's made from plastic, we want to replace it with a NZ weed alternative.
What's the backstory for your business idea?
So, it all started back in October of 2021 while I (Koro) was walking up the 13th fairway at the Kaikohe Golf Club, rummaging through my pocket looking for a Kurol (one of those throat lollies). There's a heck of a lot of stuff in there and so I whip everything out and when I open my hand, I was totally surprised and gobsmacked to see a palm full of plastic and wooden golf tees and tools and there in the middle of it all my Kurol also wrapped in plastic. That was the moment that I started thinking about how, can we remove plastic from the game of golf and what do we replace it with?
What programmes, learning or mentoring, or resources have been of assistance so far?
We were part of the 2023 Kōkiri Māori Business Accelerator Programme. During this programme we were supported by a very experienced team of Advisors including Ian Musson (Young Enterprise Scheme), Des Topp (CE Golf Managers Association NZ and Founding Chair of the Golf NZ Council), Kerry Topp (The Kerry Topp Collective) and Simon Lovatt (Research & Enterprise The University of Waikato).
Books of interest:
I am currently listening to Belonging: The Ancient Code of Togetherness by Owen Eastwood.
Earth Citizen Recovering our Humanity by Ilchi Lee.
The 100 Year Golfer 7 Arts of a Lifetime with the Game by Ilchi Lee.
---
WORKING ON SOMETHING NEW, INTERESTING OR IMPORTANT? JOIN OUR COMMUNITY OF FOUNDERS AND TELL US ABOUT YOUR VENTURE HERE.