Global Stainless shapes the art world with high-end polished spheres
---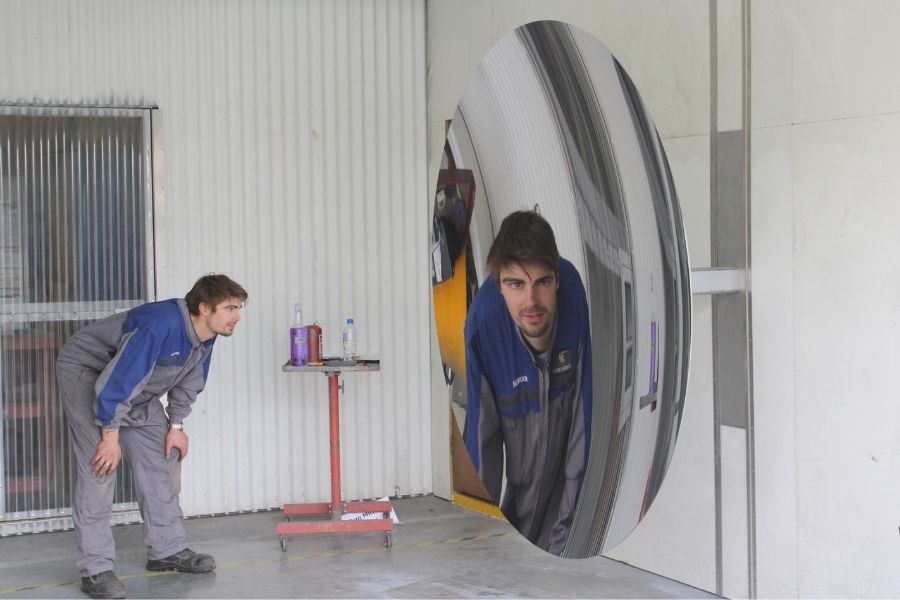 It all started because Lincoln Raikes loves a challenge, and now the stainless steel polished spheres turned out by his company Global Stainless Ltd are sought after by artists globally. He shared his story with Katherine Blaney.
Lincoln Raikes started his career as a fitter turner/machinist but found he liked the stainless steel fabrication more. He was building milk vats in the 90s and thought, "How boring just making round tanks." He was already making domes and wanted to challenge the industry norm of making spheres the hard way.
"The traditional way was very, very labour intensive and the welds would often shrink. I was working day and night developing the dream I had that there must be an easier way of making a sphere. I discovered a method of doing it very simply – in a fraction of the time and with a higher calibre of product," says Raikes.
This resulting quality of the polished sphere attracted the attention of London artist, Turner Prize recipient Anish Kapoor. He was planning a piece commissioned by the Royal Academy of Arts in Piccadilly, London which included 74 spheres and began working with Raikes to develop the project. The original went on to be displayed at the Guggenheim Museum in Spain and has since spun off three additional full and half-size versions of the piece.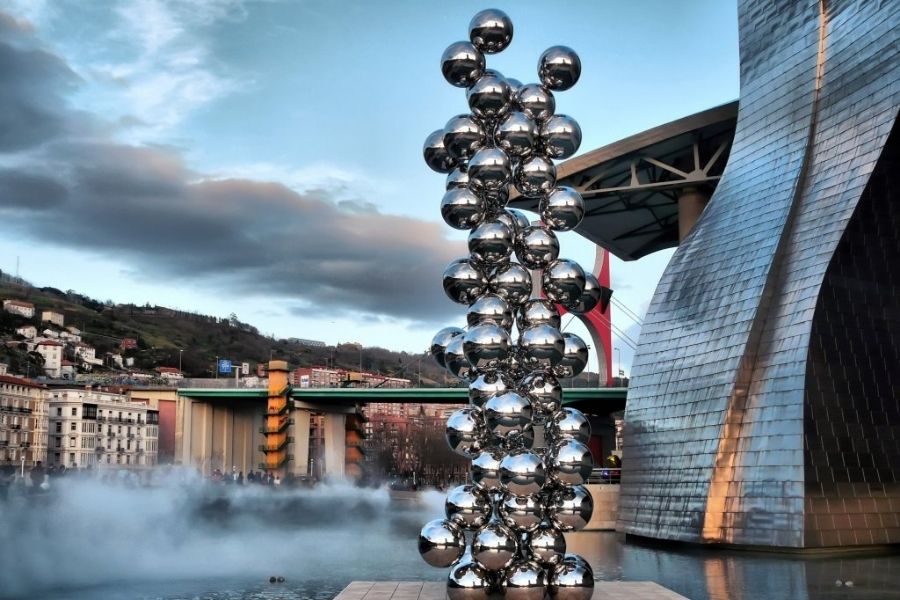 "What we've learned is the difference between outdoor sculptures and indoor artwork. Outdoor sculpture requires a lower level of polish while still being very high quality. Indoor artwork has to be absolutely perfect, so it puts a lot of pressure on polishers. We found that the biggest technical hurdle is polishing, it's more technical than nearly anything," states Raikes. "It can take at least three years to learn how to polish to this standard."
Producing spheres for Kapoor over the last several years, they have learned that the artist's quality demands are extremely high which keeps them pushing for improvements within the business.
"If you looked back ten years ago at what we've produced, people would be critical of it now, but it was amazing then. Now that we've reached the level we have, it's very hard for our team to adjust down to be viable for outdoor sculptures. We need to ensure the level of finish required when we quote," states Kerry Fowler, General Manager of Global Stainless.
With workshops in Normanby and Hawera in Taranaki, Raikes works with four of his seven sons in the business. His second-oldest son, Bergen Raikes, grew up welding and making things in the shed from the age of 9 and developed a love for engineering. When he turned eighteen in 2004, he encouraged his father to start a business and hire him.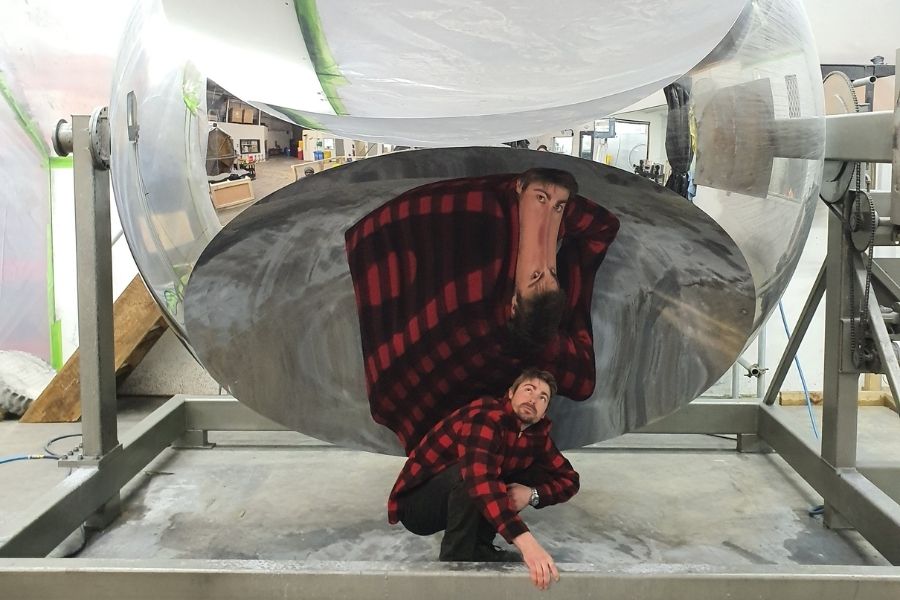 "The Raikes family form the backbone of the business. They're technically brilliant, they've all got different skills, and I think they really complement each other," notes Fowler. "It's very much a family operation here. Because of our reputation for innovation and quality, we often have other firms come to us for assistance with solving problems and developing bespoke engineering solutions around double-curved forming. Our team are extremely talented engineers."
Along with the polished spheres, they have an industrial side to the business as well, manufacturing domes and cones for tanks, and long-radius bends. They service many sectors including the dairy, pharmaceutical and the space industries. The last twelve to eighteen months have seen growth in this side of the business driven by COVID-related freight issues, and the inability for their customers to travel to exhibitions which means Global Stainless have had to seek out customers within New Zealand.
Contrast this with the fact that COVID affected the international art market badly – Raikes notes that it's typically worth about $60b annually and in 2020 it crashed by about 80%.
Fowler states that it can be challenging chasing trends within the art industry. Paired with lead times that can be up to twelve months, the artist must be sure that the market aligns with their completed creations.
Global Stainless has received support from Callaghan Innovation and Venture Taranaki as they have developed their product and market.
One of the biggest lessons Raikes has learned through his business is that, "Getting too engrossed in research and development and doing too many experiments and forgetting to listen to the financial controller can disrupt the balance you need to strike between taking risks and making money."
Story created in partnership with Venture Taranaki.
---
Innovation Nation is a series celebrating stories of innovation and entrepreneurship from around New Zealand.
Innovation Nation proudly supported by: