Yonder creating a new level of customer experience for tourism operators
---
If you've taken a Hobbiton tour, rolled down a hill in a Zorb or relaxed at the Polynesian Spa, it's likely you have interacted with Yonder's customer experience tools. Created in 2018 after trying to set up a tourism-focused platform borne of a Startup Weekend, Letitia Stevenson and James Donald saw an opportunity to bring leading edge technology to tourism operators that helped them to boost their online conversions and save staff time. Katherine Blaney spoke to the founders.
"Yonder came about from seeing a problem that needed to be solved and by using technology to do it," says Founder and Director Letitia Stevenson. Positioned as an all-in-one customer acquisition tool for tourism and service-based companies, they have built a platform that automates the gathering of customer feedback and reviews, provides an AI chatbot that can answer FAQs immediately, and includes a live chat feature with targeted messaging pop-ups to drive sales. The tool is added to a company's website and the features can be managed without needing to hire a developer.
"The fact that customers can get answers to their questions without having to email or call or text is game changing. It's one of the most valuable tools for us," states the marketing manager from the Polynesian Spa in Rotorua, one of their customers.
Yonder's method of product development comes from frequently listening to customers and having a clear focus that a feature needs to lead towards either more direct bookings or time savings.
They collect customer feedback regularly and prioritise based on demand and outcomes that could result. They also review patterns in the chatbot data to learn what users are looking for when on their customers' websites. Their newest feature came about this way. It's designed to give personalised recommendations to prospects on a website via an online quiz that provides tailor-made suggestions based on their answers. They saw a lot of chat users asking for recommendations so analysed that and created a solution that completes their suite of tools.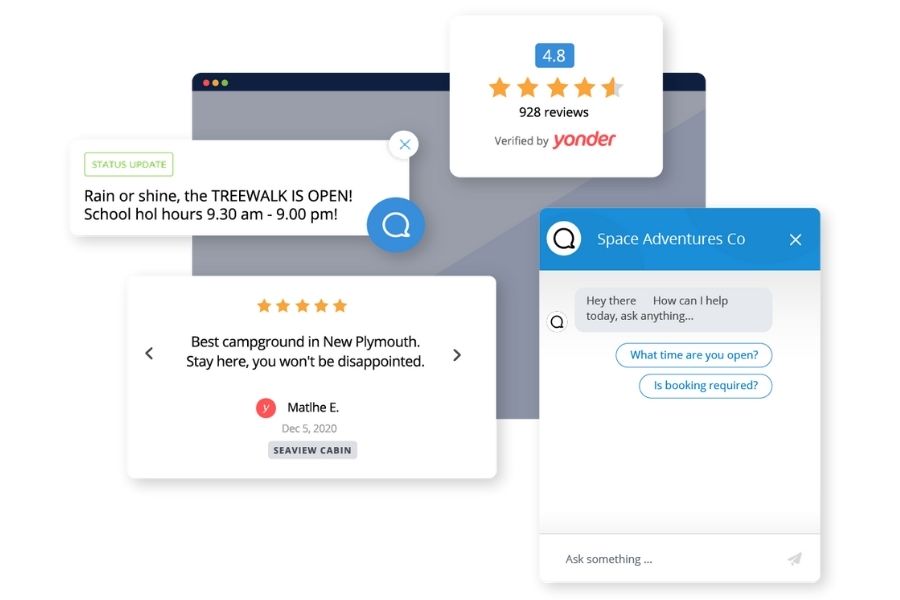 This wasn't always how it worked though. "We learned the hard way — we've built a feature before that we thought would be really awesome but in actual fact we hadn't validated it enough and it's never been used," Stevenson notes with a laugh. "Validate as much as you can. Anything that we build, we take to either current customers or prospective customers and get their input before the final build. I'll call to double check, and make sure that it's actually functioning as they need it to and that it's easy to use for them."
More than three years into the business, Stevenson believes that having great mentors and a cofounder to create the business with, has made all the difference. She had only just met Donald at Startup Weekend in Taranaki in 2017 but credits their complementary skills for the continued evolution of the company. The duo went on to win the region's Idea Summit competition in 2018 which included a $10,000 cash prize and kickstarted Yonder.
After that, they attended the Sprint Global startup accelerator programme run by Massey University's e-Centre in Auckland. "It was an awesome experience to get to know other founders and mentors outside of Taranaki," Stevenson notes.
In 2019 they started down the track of obtaining venture capital funding but chose to pull out of the round and continue to bootstrap the business. "The reason we did that is because we felt that we were getting asked to do things that may not have been in line with our mission, and what was best for our customers," said Stevenson.
"We stuck to our guns and decided to bootstrap — and it's very stressful. We were lucky enough to get a Callaghan Innovation startup grant and an R&D grant so that has helped us push the boundaries of our AI chatbot."
With a team of eight people who are distributed remotely around New Zealand, team messaging hub Slack is a must in their operations. They have been concentrating more on product features that customers can "plug and play" as opposed to being reliant on the team to set up.
They are servicing customers in Australia, New Zealand, UK and the USA at the moment. Due to COVID limiting tourism locally, they are focused on growing their customer base in the UK and USA.
Stevenson notes that developing integrations with tourism booking systems, such as FareHarbor and Checkfront has proven to serve their customers better. They now have over ten integrations, including one with Zapier which allows their customers to connect to CRMs and other booking systems like Timely. They continue to develop these as customers make requests.
Though they have been bootstrapping the whole way, she states that if an investor was the right fit, they would be open to exploring that possibility. For now they will build on their 80 customers—some of which are globally-known providers such as AJ Hackett and Skydive Australia, who have fourteen drop zones around Australia.
If she had to start again, Stevenson says she would have built the product with marketing in mind first and would work to understand the cost of customer acquisition better right from the beginning. She also would not have wanted to take this pathway on her own, noting that having one or even two cofounders makes the journey much better.
Story created in partnership with Venture Taranaki.
---
Innovation Nation is a series celebrating stories of innovation and entrepreneurship from around New Zealand.
Innovation Nation proudly supported by: