Which Power Up Kickstart Finalist will take the $10,000?
---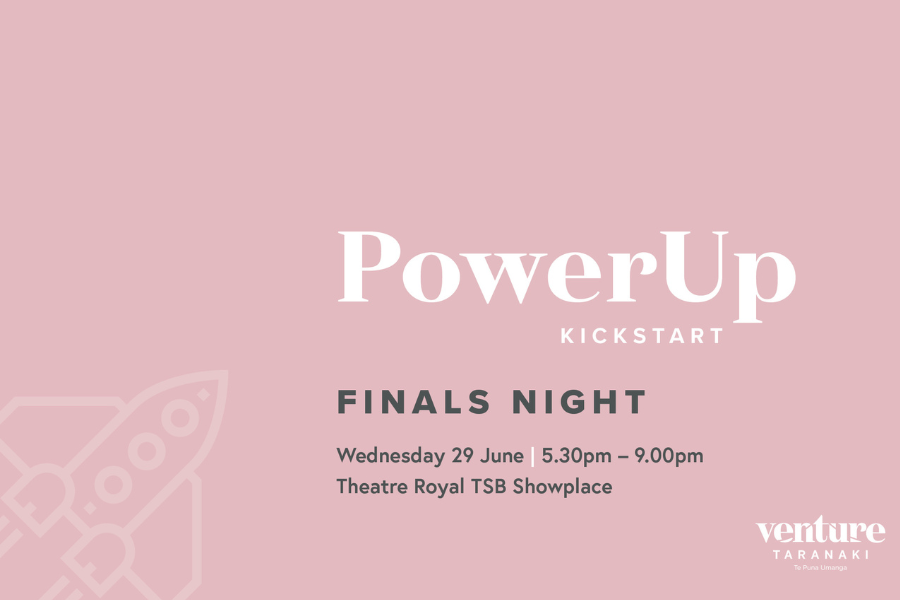 Less than a month away from PowerUp Kickstart Finals Night, Venture Taranaki, the Economic Development Agency for Taranaki, is shining a spotlight on the top five finalists.
We asked each finalist four questions, to provide us with a little more insight into the entrepreneurial growth and development they've experienced during the competition process.
A popular evening on the Taranaki business events calendar, the PowerUp Kickstart Finals Night will be held in New Plymouth on 29 June, where the five finalists will pitch their ideas to a panel of judges with one finalist taking home the grand prize of $10,000 to invest in their startup idea.
The top five finalists (in no particular order) are:
Pam and Frey Livingston, Tokaora Diagnostics – facial eczema product
Paul Gledhill and Sophia Joy, Surface Swimgear – water safety product
Isaac and Cathi Drought, Planta – carbonated beverage alternative
Michael Parker, Hiko Surf – e-surfboard
Jayden Clark and Ashkan Azarkish, EzSoil – plant monitoring product
Thanks to Venture Taranaki and its collaboration with Soda Inc, the finalists have received tailored support to help them progress their idea through one-on-one mentorship over the past month.
---
1) WHAT HAS BEEN YOUR MOST SIGNIFICANT LEARNING THROUGHOUT POWERUP KICKSTART?
Pam and Frey Livingstone, Toakora Diagnostics: Just because you have a great idea doesn't mean someone is going to buy the product.
Paul Gledhill and Sophia Joy, Surface Swimgear: For us it has been a hugely exciting ride and fast paced boost into business and entrepreneurship, we have learned just how much positive progress can be made in a short amount of time with a knowledgeable mentor at hand, Richard Shearer and the Powerup Kickstart team of professionals to call on to offer sound advice and guidance along the way. We have also learned just how far we can push ourselves as creatives, a couple, and now business partners. As well as, how well we work together under pressure, problem solving and supporting each other, and we are both excited to see what the future will bring.
Isaac and Cathi Drought, Planta: So far, the most significant learning has been the realisation that despite the energy and passion you put into your new enterprise, some of the best advice you get is the hardest to swallow! Honest feedback and critical guidance can dampen the ego, but you have to realise that without dissenting voices you would exist in an echo chamber of your own making. The people we work with want us to succeed and have been through the same highs and lows as we have.
Michael Parker, Hiko Surf: Just how much effort and time it takes to get a startup rolling.
Jayden Clark and Ashkan Azarkish, EzSoil: The most significant learning for us has been the importance of problem validation and really understanding what a customer's needs are and who they are.
2) WHAT HAS BEEN THE BIGGEST DIRECTION CHANGE?
Pam and Frey Livingston, Tokaora Diagnostics: We are doing a one year R&D project to produce a prototype which is running to schedule. We have started to focus on what happens after that – when we have a product.
Paul Gledhill and Sophia Joy, Surface Swimgear: Our product direction hasn't so much changed, as it has been refined and our true niche established since the start of the competition. During our time with our mentor, our product has developed professionally in a way that has increased our enthusiasm and belief in our cause and confirmed in our hearts that we are really onto something that could be game changing for New Zealanders and water safety/water sport globally.
Isaac and Cathi Drought, Planta: We have had to re-calibrate our efforts in several key areas. Whilst launching a new brand you can get preoccupied with the here and now as opposed to dividing your efforts into short, middle, and long term goals. We now see all three areas as things that demand equal attention at all times. What you're doing now informs planning for middle and long term plans and goals. What you hope to achieve in the long term should inform what you're doing now!
Michael Parker, Hiko Surf: Mainly in the product design. Getting feedback is extremely important and has made us think about things we were oblivious to.
Jayden Clark and Ashkan Azarkish, EzSoil: For us the biggest direction change has been taking a step back, breaking down our business model and understanding our customer's problems to make sure we are fully market ready.
3) WHAT IS SOMETHING YOU THOUGHT WAS TRUE/CORRECT BUT TURNED OUT TO BE COMPLETELY DIFFERENT TO YOUR ORIGINAL THOUGHT?
Pam and Frey Livingston, Tokaora Diagnostics: Nothing comes to mind but certainly have considered some issues in more depth.
Paul Gledhill and Sophia Joy, Surface Swimgear: When we first started out creating our product from the initial dream, we thought we were just making something to be personally enjoyed by us and perhaps a few water loving friends. We never thought we could expand the reach so broadly that in a few short months we are on track to have a product being market tested nationally and soon globally. It's all very exciting.
Isaac and Cathi Drought, Planta: As an aspiring new Food and Beverage brand, we always thought entry into supermarkets was the ultimate end goal. Long term it absolutely is. But you can be a successful and viable enterprise without having to rely on this. There are multiple ways to distribute your product outside of the big supermarket chains. It's a trickier process but shouldn't be an impediment to entrepreneurs with big food and beverage goals.
Michael Parker, Hiko Surf: How much it costs to get a startup going. I thought it was a simple matter of making a prototype in the garage and then start selling them.
Jayden Clark and Ashkan Azarkish, EzSoil: An area we hugely underestimated was the time and difficulty of not just developing a prototype product, but a market-ready bug-free product that works all the time.
4) WOULD YOU RECOMMEND POWERUP KICKSTART TO SOMEONE ELSE, AND WHY?
Pam and Frey Livingston, Tokaora Diagnostics: Most definitely. Like everything in this world – you don't know what you don't know.
Paul Gledhill and Sophia Joy, Surface Swimgear: We will definitely be recommending Powerup Kickstart to anyone who has an invention or business idea and isn't quite sure of the steps needed to really launch that dream into reality. We have found the team so helpful in getting our idea off the ground and the guidance we have received navigating the early niggly stages of a new entrepreneurial business has been so valuable. Thank you so much!
Isaac and Cathi Drought, Planta: Without a doubt! The Powerup Kickstart program has untold benefits. Access to specialised mentors, the supports networks, the publicity. We couldn't speak highly enough of the people and process. It's so reassuring to know that there is a massive nationwide network of bright and talented people who only want to see you succeed. Thanks Venture Taranaki for the support and positive input thus far.
Michael Parker, Hiko Surf: Yes, it has been a great experience. and I would definitely recommend it to others. Having a mentor who has been through it before was great and has given me insights I would have probably had to of learnt the hard way.
Jayden Clark and Ashkan Azarkish, EzSoil: PowerUp kickstart is an awesome opportunity, not only for the networking and exposure your business gets but also for the experience as a whole.
For more information about PowerUp, visit www.venture.org.nz, or to enquire about Venture Taranaki services email powerup@venture.org.nz.