Cyfe All-In-One Online Business Dashboards
---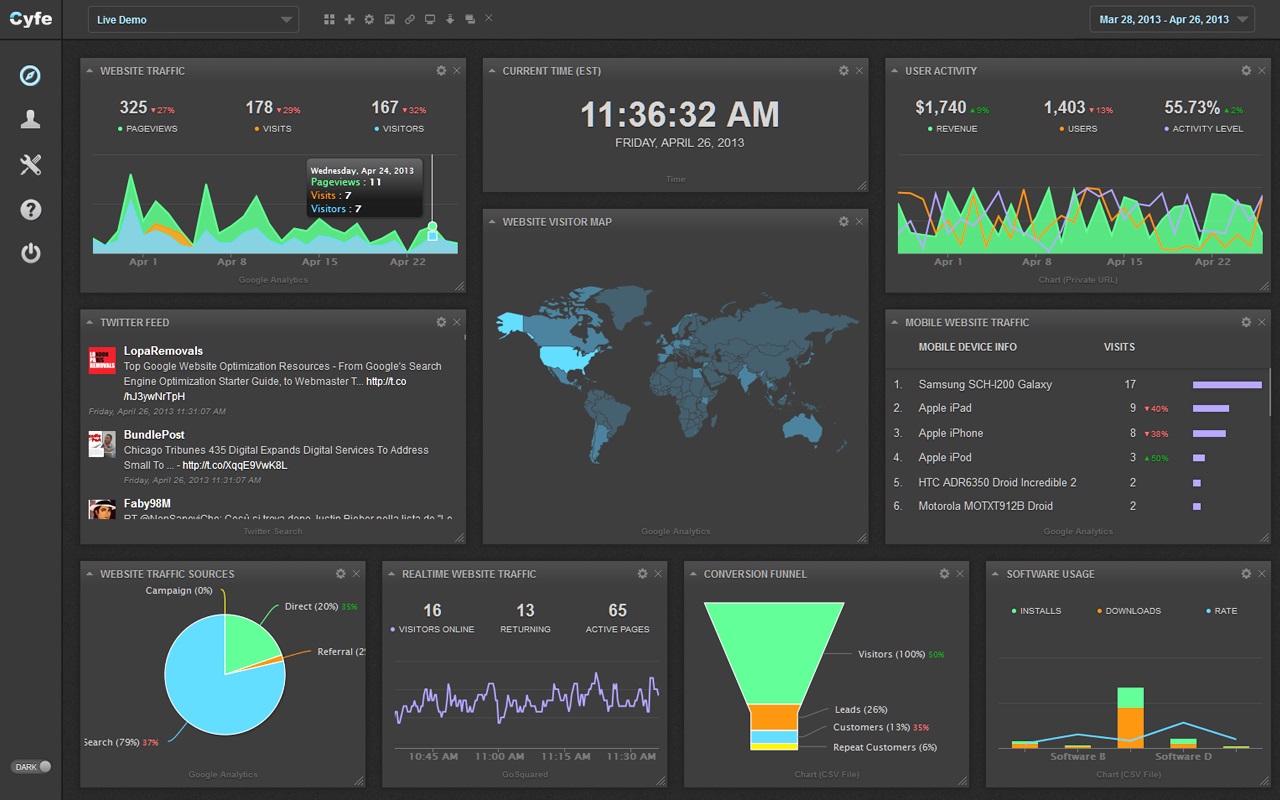 Cyfe is a simple all-in-one business dashboard app that helps you easily monitor all your business data from one place.
Social media, analytics, marketing, sales, support, infrastructure… if you're driving yourself crazy trying to collect and report on all your key business performance metrics from a range of different apps, Cyfe enables you to monitor everything from one place, through visual dashboards that you can customise to your hearts content.
Cyfe is free to sign up and get your first simple dashboard running. If you decide it's for you, the full service is currently $USD19/mth paid monthly, or $USD14/mth if you pay annually.
Cyfe has a huge range of pre-built widgets so you can easily set up your dashboard to view data from common apps like Google Analytics, Facebook, Twitter, Mailchimp, Xero, Salesforce, WordPress, Bitly, Paypal, Basecamp, Zendesk and heaps more. Plus you can connect pretty much any other apps or data sets you want (eg push numbers from a spreadsheet) using custom widgets.
With the premium version you can set up unlimited dashboards with unlimited data sets, so as your business grows in complexity you can start setting up specialised dashboards like:
Sales Dashboard – View sales goals, top sales reps, latest opportunities, win/loss reports, new customers.
Social Media Dashboard – Monitor brand mentions, track number of Twitter followers over time, view Facebook likes and demographics, post performance and more.
Marketing Dashboard – Monitor all your marketing channels like email, SEO, SEM, social media, and analytics from one place.
Customer Service Dashboard – View open support tickets, customer complaints, testimonials.
Finance Dashboard – Keep tabs on business expenses, company revenue, customer invoices, balances and other financial KPI's.
Web Analytics Dashboard – Track multiple websites traffic, visitors, top referring domains, search engines, SEO keyword rankings.
IT Dashboard – Network monitoring, website uptime, server load, app performance, and end-user tracking all in one place.
Startup Dashboard – Track number of new sign ups, app downloads, subscriptions, and other related KPIs in real-time.
Project Management Dashboard – Get a bird's eye view of your latest projects, tasks, to-dos, upcoming calendar events, and more.
Keep your dashboards private to you and your management team, display them on the big screen in your HQ, or publish them to show customers how awesome you are – the choice is yours.
Overview
Who: Cyfe
What: Business dashboard app
Where: www.cyfe.com
Offers/Incentives: Use the code "NZENTREPRENEUR" to receive a 20% lifetime discount if you decide to sign up for their premium service.
---
Like this? Get entrepreneur articles by email.