Auckland based company, UDO Limited have launched the first mobile application to manage flexible working hours of employees in New Zealand.
The unique application, FLEXiU, was developed in response to a major driver in changes in New Zealand's labour market over the last three decades. A recent MBIE National Survey of Employers of the two million paid employees in New Zealand found that the percentage of Non-Standard Working Arrangements has increased to 96,800 casual employees (4.9% of the workforce) and 59,000 (3.0%) fixed-term employees.
To help organisations manage the flexible working hours of their employees, co-founders of UDO Limited, Rachael Turnage and Debajeet Baruah developed FLEXiU – a mobile application which helps plan, work and manage the various needs of employees and employers as they respond to more flexible working environments.
'No matter where staff are – whether they are out on-site, working from home, in a meeting or in the office, the one thing we always have on us is our mobile phones. It just made good sense to develop an app that helps users find out staff availability and whereabouts,' said Rachael.
Carol Brown, CEO of Diversitas, also sees a growing demand for flexible work design. 'Regardless of age, ethnicity, skill set or industry – the common denominator is the desire for organisations to design work that is more agile. If we can get this right, we can tap into a much wider pool of talent – a quantum leap ahead for New Zealand which will undoubtedly have a positive impact on our economy,' says Brown.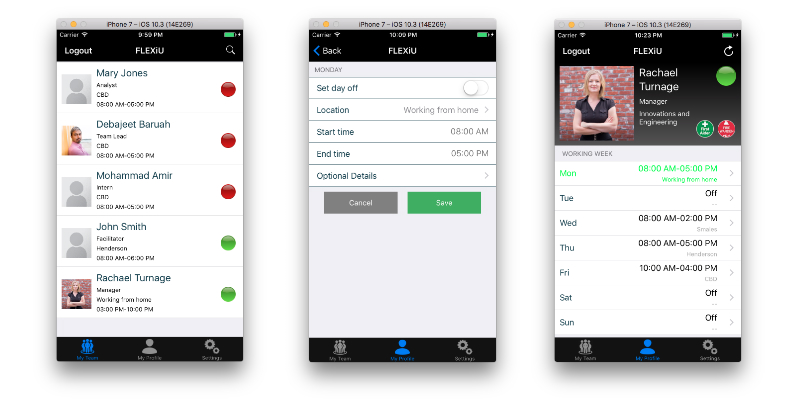 Carol says that the key roadblocks for Employers are understanding their rights and obligations, complying to Health and Safety regulations and having the right tools to manage flexible work.
The app triggers an alert if the organisation is below the required quota of first aiders or fire wardens. In the event of an emergency, the app will also make it easier for the Fire warden to account for staff whereabouts.
Rachael says 'we want to keep staff safe whether they are working on-site, doing flexible hours within an office environment – the app tracks this and covers an organisations responsibilities day-to-day and in the event that a crisis should occur.'  
Developer Debajeet Baruah ensured the application is user-friendly and completely customisable as he believes the application will have benefits to more than one industry.
'I see this being useful for managing employees of any large organisation – particularly those managing multiple sites like in the construction industry, shift workers in the medical industry – anywhere where it would be helpful to know who's available, managing a shift or acting at that go-to person that day.'
Organisations can trial the FLEXiU mobile phone application at udolimited.com
---
For more information please contact:
Rachael Turnage 022 621 1678
rachael@udolimited.com
udolimited.com
---
Innovation Nation is a new series showcasing stories of innovation and entrepreneurship from around New Zealand.
THANKS TO OUR SUPPORTERS: