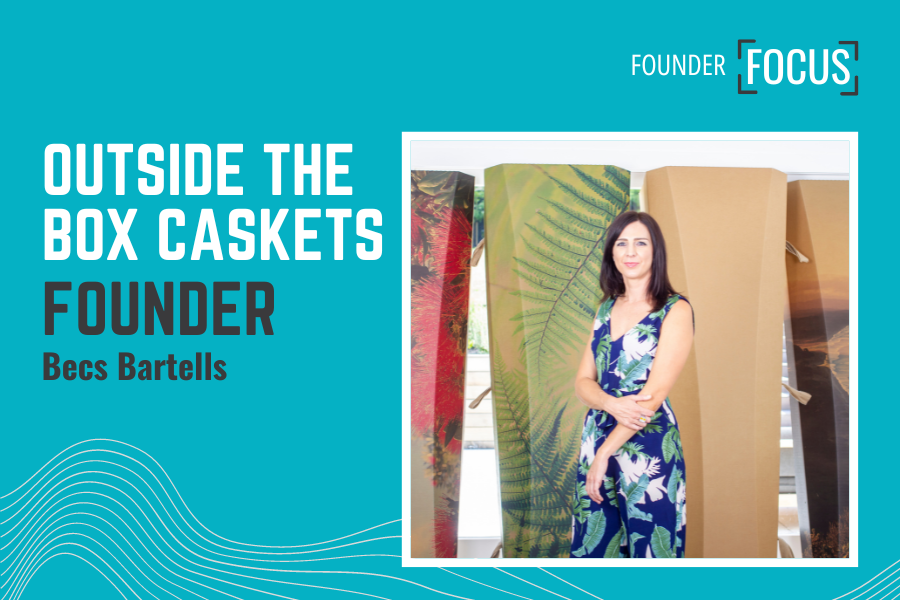 In Founder Focus we introduce entrepreneurs and change-makers working on innovative startups, social enterprises and SME's around Aotearoa New Zealand.
---
At a glance
Founder: Becs Bartells
Founded: 2020
HQ: Auckland
---
Can you tell us a bit about your business?
Cutting down trees which take 28-30 years to grow to make caskets which are going to be buried or cremated doesn't make sense.
Environmental consciousness is not the first thought that crosses our minds when we think of funerals. However, the funeral industry has a very serious impact on the environment. The term, "Eco- friendly" gets thrown around frivolously in the funeral industry. The casket/coffin market is dominated by MDF (Medium Density Fibreboard), a particle board made up of formaldehyde, which is considered by the World Health Organisation as carcinogenic, as it contains formaldehyde.
Also used in caskets are, bleached or waxed cardboard and thermoplastic glues, metal and plastic parts. All this makes them unsuitable for a green burial.
Cleverly engineered, our caskets have no glue, no staples, no screws or metal parts. Our caskets have been designed to meet the strict requirements of the global green burial movement by being a fully compostable casket and are the first cardboard casket in NZ to be fully certified by Natural Burials NZ.
With sustainability and style Outside The Box Caskets also lets you create a personal and meaningful farewell to reflect the life of your loved one. Choose from our range of nature themes, printed with only 100% eco-friendly UV inks or choose the plain Kraft version as a blank canvas to decorate yourself.
We are also celebrating a new milestone, having recently had an Australian company sign a deal to manufacture Outside The Box Caskets in Australia, under licence, for the Australian market.
What's the backstory for your business idea?
Outside The Box Caskets is the brainchild of NZ industrial designer Becs Bartells, who won two gold Australasian Design Innovation Awards for her sustainable casket design.
Becs had the idea a decade ago after being surprised at the limited range of coffins available while preparing for her Nana's funeral. With a vision to create a funeral casket that not only looks different from a traditional casket but is also better for the environment, Becs put her industrial design skills to work and created a casket that met her goals of sustainability, quality and style.
What programmes, learning or mentoring, or resources have been of assistance so far?
NZ Business Mentors
Soda Rise Up Challenge Finalist 2022
I'd recommend not getting too caught up in studying and programs, most of it comes down to putting in the hard work and sometimes all of these courses/programmes that are out there can just take up valuable time where you can be working on your business.
---
WORKING ON SOMETHING NEW, INTERESTING OR IMPORTANT? JOIN OUR COMMUNITY OF FOUNDERS AND TELL US ABOUT YOUR VENTURE HERE.