Core Transport Technologies has set the bar for air cargo tracking capabilities
---
In 2019, a multinational company worth hundreds of millions of dollars came knocking in Nelson. Descartes Systems Group was looking for Core Transport Technologies (CTT) – whose reputation had preceded them when it came to cargo tracking technology – and made them an offer they couldn't refuse. Now this team of 12 is working alongside a global giant, continuing to innovate and pioneer some rather incredible air cargo tracking capabilities.

Simon Gutschlag, VP and product manager of the CTT's IoT Air Cargo Solutions.
Simon Gutschlag is still pinching himself that he has been able to come on board this enterprising business at such an exciting time. The vice president and product manager of the company's IoT Air Cargo Solutions only joined Descartes five months ago, and it has already been one awesome ride.
"For our small Nelson operation to be able to have the backing of such a large organisation has meant we have far more resources at our disposal, like the wealth of knowledge and insights we can glean from their well-established customer base.
"We also don't have to worry about sales or HR, all the administration side of the business is taken care of, so that means we can just purely focus on research and development. And what we are doing here is very exciting."
But how did a world-leader in logistics discover this small Kiwi tech company, hiding in the Southern Hemisphere? Through the cargovine.
"They were looking for a solution to complement the work they were doing in regards to recording and tracking air cargo around the world and, when they asked their customers who they used, the name CTT kept coming up."
With technology that was very niche to the market, CTT was able to provide Descartes with innovative products and services to help global air cargo providers to better track, manage and secure their air cargo shipments – which is actually extremely challenging when you get to the heart of it, for two main reasons.
Firstly, there is the fact that cargo comes in all shapes and sizes and CTT's Bluetooth® devices are able to be used on a wide variety of cargo. And secondly, while Bluetooth is safe for use in and around aircrafts, the range of coverage is not very far. So, in order to get the most accurate positioning and tracking, CTT has been able to gain approval from airports across the world to install and maintain their own Bluetooth readers. When it comes to airport security, this is no easy feat, especially in the locations that these readers need to be, i.e. in highly secured places.
"We are a worldwide leader in this area of specialisation when it comes to tracking, and that is a big part of our value proposition," says Gutschlag.
"We also work with many different airlines, freight forwarders and the four largest ground handlers in the air cargo industry, who have successfully deployed our solutions."
For the general, everyday person, the only concern they probably have about tracking is whether their package is going to arrive on time. But for those in the industry, it is about so much more than ensuring cargo is delivered to where it should, when it should. Of course that is a big part of it, but so is saving potentially millions of dollars in lost products and containers, and also being able to monitor cargo to ensure perishable goods—and even COVID-19 vaccines—are kept at the optimum temperature for transportation.
"I wish this technology was available when I was in a role that was responsible for moving salmon around the world. It would have saved me and my customers a lot of money if we were able to have this level of capabilities with tracking," says Gutschlag.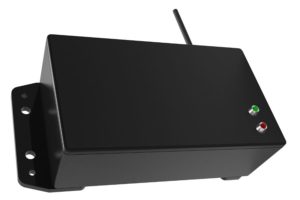 The future is certainly looking very exciting for Gutschlag and his Nelson team, and not only for the fact that the technology continues to advance in a way that allows them to continually innovate. But he is also thrilled that this small South Island town can utilise some of the awesome talent coming out of the local technical institute – giving students and graduates an opportunity to work with a world-leading company.
"I almost think that is the real success story, using the community and skills we have right here to move the technology forward. We can also attract more experienced people to move to Nelson, because there are great opportunities for them. We are growing and there is a fantastic work/life balance to be had. When I speak to my colleagues around the world, they always comment on how jealous they are that we live here.
"I actually know there are a lot of people in the Nelson/Tasman region who are working from home for some amazing organisations, like the World Bank and Coke. And I think that speaks volumes for our town."
Story by Erin Harrison. In partnership with  Nelson Regional Development Agency.
---
Innovation Nation is a series celebrating stories of innovation and entrepreneurship from around New Zealand.
Innovation Nation proudly supported by: