Inbound marketing is HARD. We make it easy.
NZ Entrepreneur in conjunction with Espire Media, is now accepting registrations for the April 2018 intake of our Inbound Marketing Accelerator programme.
If you're a business owner or manager frustrated that your inbound marketing activities aren't getting the results you want, or concerned that your online presence and digital strategy needs a boost, our Inbound Marketing Accelerator is your chance to get your online marketing sorted for 2018.
It's ideal for SME's experiencing the following challenges:
Don't have a clear digital strategy
Need to generate more visitors to your website
Want to improve your search engine rankings (eg Google, Bing)
Your website doesn't convey the image or messaging you want it to
Want to position yourself as a thought leader in your industry
No consistent stream of incoming leads or enquiries
Your content is not engaging visitors when they reach your website
Cost of your Google Adwords keeps going up
Customers have never heard of you before
Little or no social media engagement
Shrinking or stagnant market share
What happens in the programme?
Working closely with you in the first three months of the programme, our team of inbound marketing experts will:
Analyse your target market and key competitors.
Create a brand story that creates the foundation for authentic connection with your target audience.
Develop the sales and marketing messaging that will articulate your purpose, market position, unique value proposition and unique selling points in a clear and compelling way.
Review and upgrade your website copy and email newsletter structure, consistent with your brand story and market messaging.
Develop a content marketing strategy and plan to build credibility and awareness with your target market and a steady stream of inbound leads.
Set up and implement everything you need to run a successful long term inbound marketing programme, including monthly thought leader articles, SEO optimised blog posts, downloadable assets, email newsletter, social media posts.
Once the foundation for your inbound marketing programme is set up, we will organise and run all elements of your programme over the following three months, closely monitoring and measuring the results and implementing regular work in progress meetings and reports.
By the end of the programme you will have a powerful inbound marketing machine in place, and a clear understanding of what to do and how to do it. If after the programme you want ongoing assistance executing your marketing activities, we're there for you too.
Who is this programme suited to? 
Business owners who do not have the time, resource or expertise to execute an effective inbound and content marketing programme.
Startups lacking an experienced marketing lead in the founding team.
SMEs who are growing but are not yet ready to hire an in-house marketing manager.
Next intake: April 2018 – enquire today! 
Be found. Be heard. Be talked about!
Inbound marketing is a critical part of the modern business "go-to-market" strategy and is driven by a great content marketing programme.
In fact content marketing is so important, here's what one of New Zealand's most well known brands has to say about it at XeroCon UK 2016…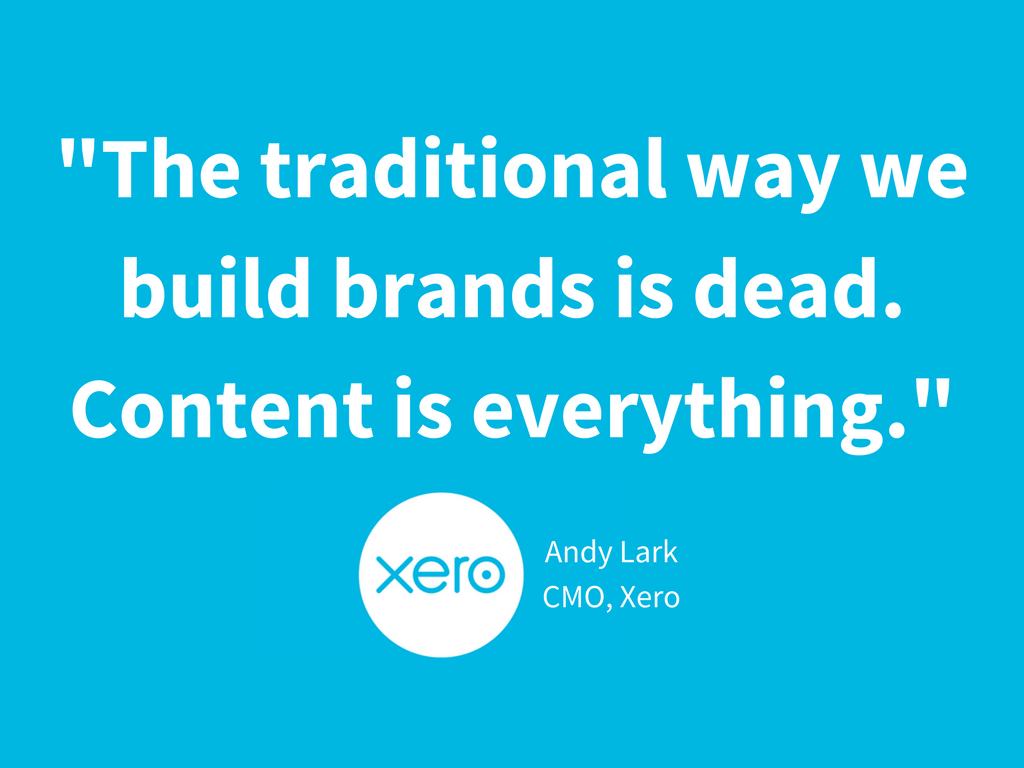 The problem for most business owners is that they simply don't have the time, knowledge or resource to strategise, plan and then execute all the activities required for a successful inbound marketing programme.
Our Inbound Marketing Accelerator has been designed specifically to solve this problem.
It's open to all small and medium businesses no matter where in New Zealand you're located, and provides entrepreneurs and their teams with affordable access to world class inbound marketing and digital expertise to support their sales growth.
Spaces are limited so complete the enquiry form to request a free consultation and learn how to apply.
Free content marketing eBook: "The Rules of Attraction"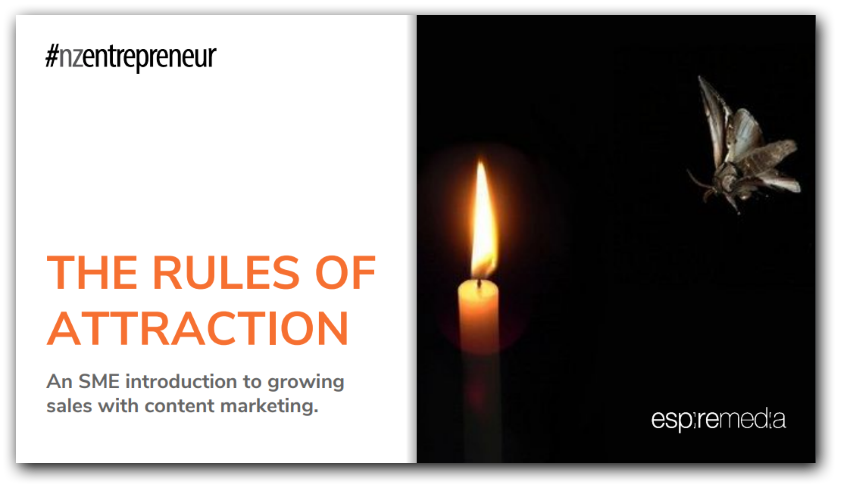 Like to learn more about content marketing? Download a copy of our free eBook here.
No one knows entrepreneurs like NZ Entrepreneur!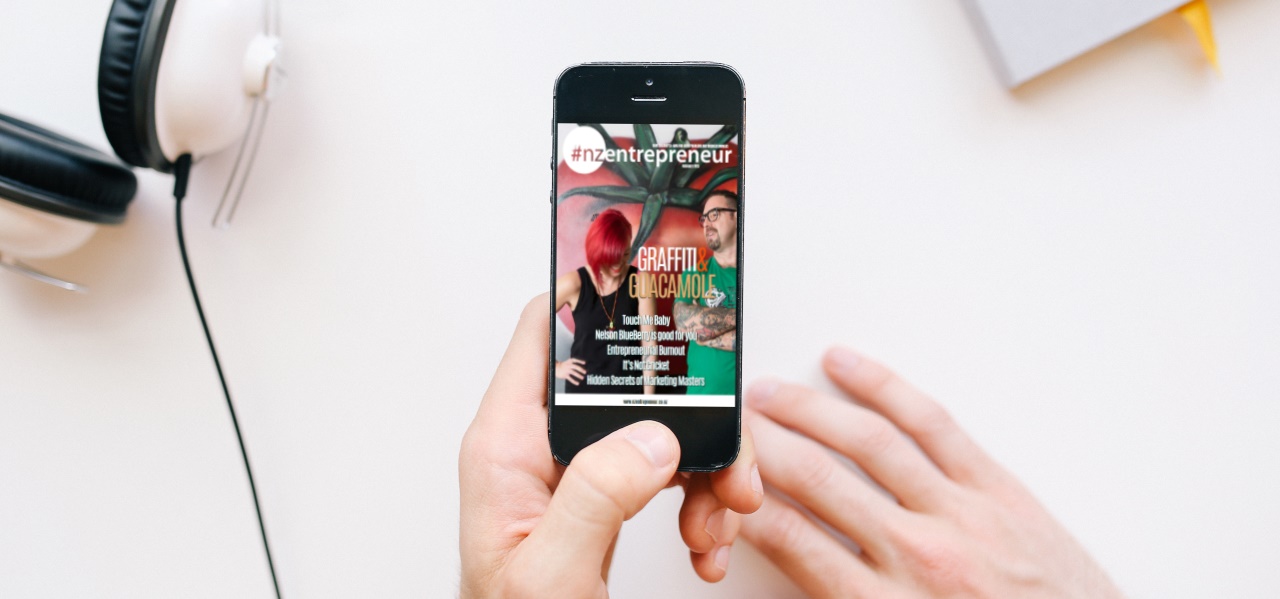 Published by the content experts at Espire Media, NZ Entrepreneur has been inspiring, educating and helping Kiwi entrepreneurs take on the world since 2012. Here's what people say.
"These guys rock! Espire Media really helped us with developing a successful content marketing strategy, along with professional articles that really captured who we are as a company and the services we provide. We would certainly recommend them to other companies who are looking to stimulate interest in their products and services." Kevin Haskins, Wanaka
"Working with NZ Entrepreneur was an amazing experience. Everything was organised in a very timely manner even though we had a tight deadline. The promotion they did for us is something you just can't do for yourself and resulted in an article being published in the NZ Herald. We got such a good response for that article and it really helped us with customer acquisition and brand awareness." Ana Lyubic, Wellington
"As a small startup, marketing's often run on a shoestring budget and squeezed between day to day tasks. Since working with Espire Media it's been like having a whole in-house media department at our disposal at a price that's very affordable. Having them as part of your team's a no brainer." Matt Belcher, Glenorchy
"I had been an avid reader of NZ Entrepreneur for a few months and couldn't help but contact them and find out how they could help me develop my own business. As a result I would recommend anyone who is seeking advice or even reassurance business-wise to contact NZ Entrepreneur as they will go out of their way to help and meet your needs. My experience has opened my business to a new world and has taught me how I can manage aspects better. I would like to thank them for the ongoing help and opportunities they offer." Orion Scott, Kapiti Coast
If you've been meaning to get a powerful inbound marketing strategy in place, now is the perfect opportunity.
Apply for the Inbound Marketing Accelerator today!