We're Celebrating 10 years of entrepreneur ideas, insights and inspiration!
---
Sign up to our email updates below for your own chance to appear in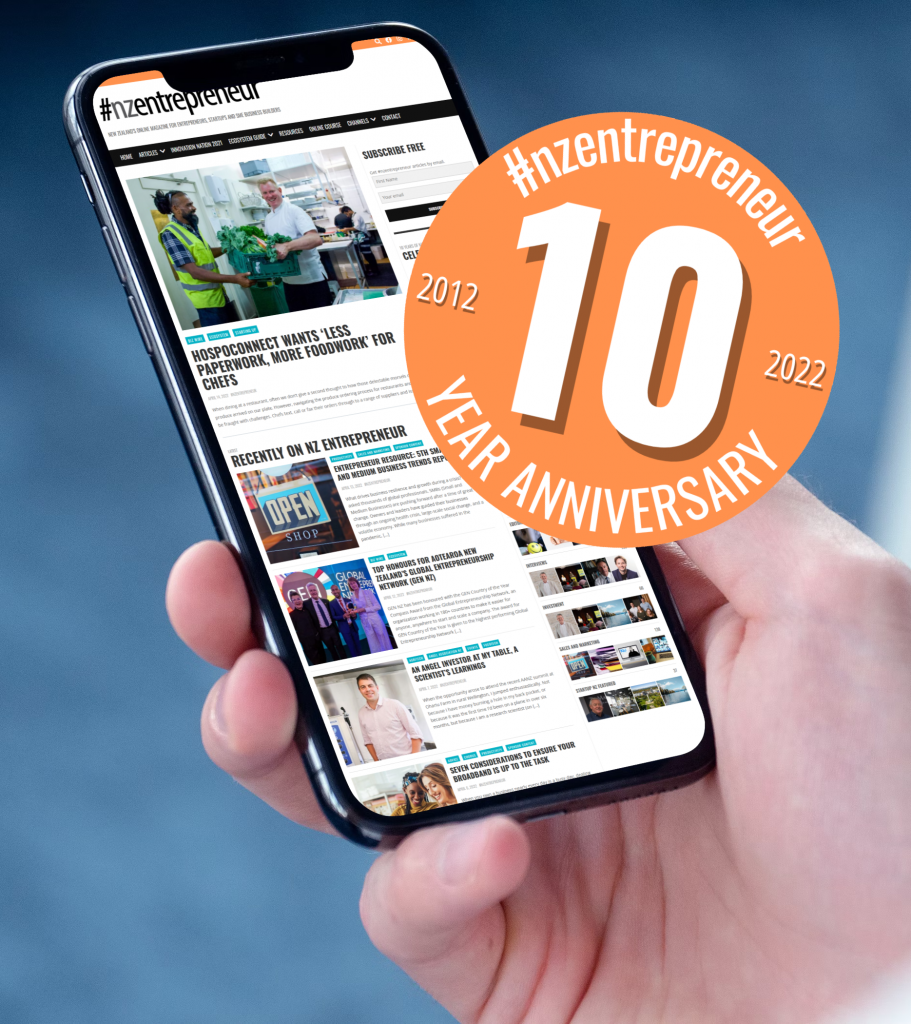 In the last 10 years we've shared stories of some of NZ's most innovative startups, scaleups, SME businesses and social enterprises. Now it's your chance to put your business on the map!
If you're the founder of an innovative Kiwi business started in the last 10 years, subscribe to our free entrepreneur email updates and each week for 25 weeks we'll choose one founder for a business profile story in #nzentrepreneur. That's 25 awesome businesses to be profiled!
Just sign up using the form on this page, look for your name published each Wednesday in our email updates and contact us within 48 hours to claim your story – it's that easy. Big business, small business or spectacular sole operator, if it's innovative we want to know!
The first of our 25 businesses to be featured will be announced in our email update on Wednesday 4 May 2022. Good luck!
(If you're already a subscriber and want to be eligible for this promotion please also complete the form on this page to update your business and website details.)
Terms & Conditions apply. See below.*
Join our Email Updates & 10th Birthday Promo!
---
With thanks to our supporters
Click to check out some of their latest offers and resources for entrepreneurs!
*terms & conditions
1) This promotion is only open to business and social enterprise founders who are citizens or residents of New Zealand. If you are not a citizen or resident of New Zealand please feel free to subscribe to our email updates but your organisation will not be eligible to be featured in NZ Entrepreneur.
2) This promotion is only open to founders who subscribe to NZ Entrepreneur email updates using the form on this page by 11.59PM (NZT) Friday 14 October 2022.
3) If you are already a subscriber, please subscribe again using the form on this page and follow the form and email prompts to update your details and be eligible.
4) The businesses and social enterprises selected to be featured as part of this promotion will be chosen by the NZ Entrepreneur editorial team. Our selection is final and no correspondence will be entered into.
5) The names of the 25 founders and businesses selected to be featured will be published in our NZ Entrepreneur email updates every Wednesday. One business will be announced each week, for 25 consecutive weeks beginning on Wednesday 4 May 2022.
6) If your name is published in one of our Wednesday email updates, to claim your business feature you must contact our editor by emailing richardl@nzentrepreneur.co.nz within 48 hours of the Wednesday email update being sent.
7) If you do not contact us within 48 hours to claim your feature, your feature will be allocated to another business, announced in the week following. To keep things fair for all participants there will be no exceptions for businesses who fail to claim their feature within the 48 hour time window.
8) By participating in this promotion and subscribing to NZ Entrepreneur email updates you confirm your agreement to our Privacy Policy here.